Easy How To DIY Raw Wood Furniture Finish
I've always loved the look of natural raw wood furniture and the charm of the farmhouse look. With a little elbow grease, you can turn your antique pieces into a style you can incorporate into your farmhouse style and preserve the wood's beauty without painting. Read on…
This post contains a few affiliate links to help you find the products I use. You are not charged extra to use any of the links, but any income I make will be used for more fun projects! To see my full disclaimer, click here.
Everything is DO-able! Try a raw wood finish on your wood furniture.
Click To Tweet
How To Get A Raw Wood Furniture Look
It's been 38 years since my Mom purchased this for me. I was 16 years old at the time, and the furniture bug had already bit me hard. I begged Mom to buy this for me. I'm sure it shocked her that I had even asked. The price tag was $75 (that was a lot of money back then), and I just knew that Mom would say no. To my surprise, she said yes, and I was a happy girl. I was the proud owner of my first piece of furniture. It has followed me from home to home through the years, and it has lived in the guest rooms where I knew it would be safe. I've always wanted to paint it, but for some reason, it didn't happen. Now I know why.
GATHER YOUR SUPPLIES
Getting The Raw Wood Furniture Look
I had done this raw wood furniture finish once before on an old armoire, but it had a painted surface, and that piece involved using a paint stripper. That involved stripping. This was way easier! I didn't even know how old this piece was, but the varnish had turned almost black. That's a sign of an old piece. The drawers were dovetailed, and it was as solid as it was 35 years ago, and it was old then. This was the perfect piece for this makeover.
I started my project with my electric Orbital Sander and a 180 grit sandpaper. Carefully I sanded all of the surfaces that I could reach. The old varnish sanded down easy on the top surfaces, but underneath, it was more protected and harder to remove.
I changed out the pad frequently to keep it from gumming up on the pads. When sanding, I was careful not to sand all of the old varnishes off. Just enough to see the raw wood. I left some areas with the old varnish to add a character that only an existing aged finish could give.
Using The Right Tools For A Raw Wood Furniture Finish
The corners and tight areas would have to have another tool to get into those tight areas. For these areas, I used my Dremel Tool. It came with a triangle sanding head and pads. It worked like magic. The raw wood furniture finish was starting to come together! I left a bit of the old darkened varnish in the cracks and around the inside of the corners. It almost looked like someone had glazed it in the corners. Nice!
Cleaning The Raw Wood After Sanding
The surfaces were carefully cleaned with denatured alcohol. The alcohol evaporates quickly and doesn't add moisture to the wood. This was necessary to remove all the leftover dust from all the sanding. I used a paper towel but probably should have used a cotton cloth. 
Touching Up With Gel Stain
I added Old Masters Dark Walnut gel stain with cheesecloth on the areas I chose not to sand. It covered all the scuffed areas on the existing finish beautifully.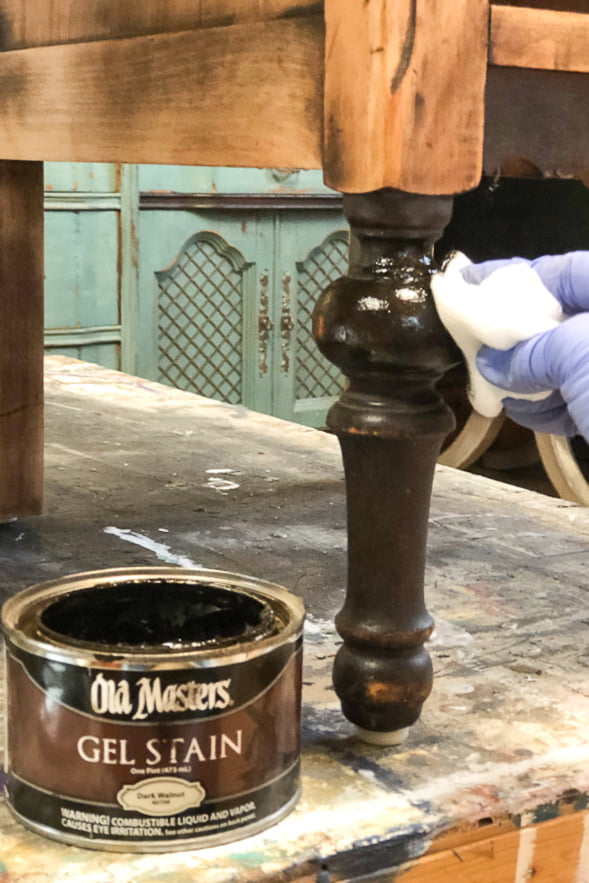 How To Seal Raw Wood Furniture
I used Dixie Belle's Gator Hide to seal the raw wood furniture finish and protect it. Typically I would use this product over painted surfaces, but it worked great on the raw wood. Brushing it on with a soft paintbrush and not overworking it was key as it dries quickly. The wood drank up the Gator Hide, and when it had dried, the finish was smooth and beautiful.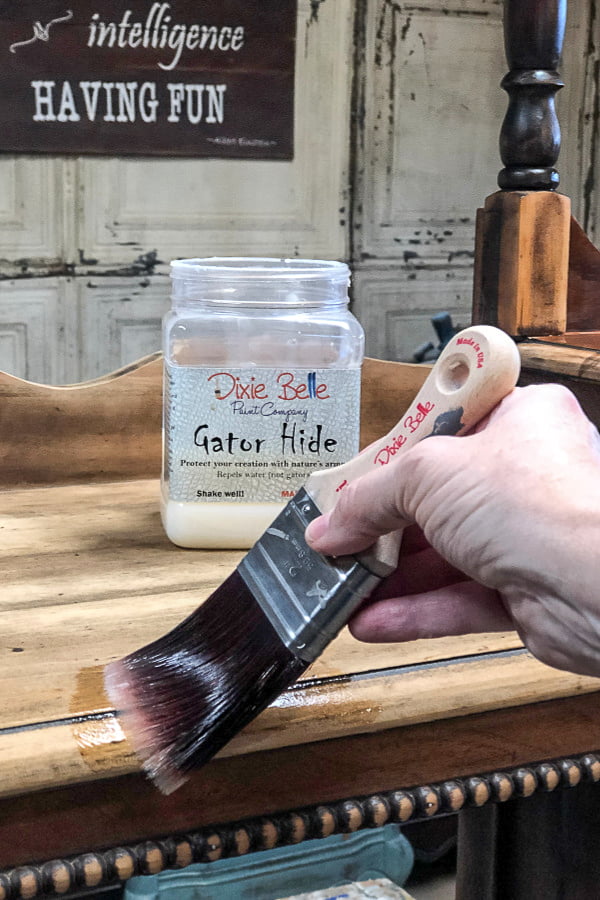 The Natural Beauty of Raw Wood Furniture
It's funny how things play out over time. This project could have gone; another direction had I not just waited for the right time. Although I love to paint, not everything needs paint. I hope Mom likes it. 🙂

Hey, thanks for stopping by! Would you try this Raw Wood Furniture Finish on your antiques? Let me know your thoughts in the comment section below. I'd love to hear from you.
Until the next project… xo, Do
R

elated Posts:
Raw Wood Furniture Farmhouse Style Armoire Makeover
How To Easily Apply White Wax On Wood Furniture
DIY Ombre Raw Wood Look On Furniture
How To Update An Antique Dresser With Chalk Paint
DIY Antique Mirror Tutorial – 4 Easy Steps