Antique Dresser Makeover With Chalk Paint
Please follow and like us:
There are many reasons not to paint an antique dresser. However, I feel strongly about saving these old pieces even if it means to paint them. For this project, I have chosen to do a little of both. Wood restoration and chalk paint. Read on…
This post contains a few affiliate links to help you find the products I use. You are not charged extra to use any of the links, but any income I make will be used for more fun projects! To see my full disclaimer, click here.
Everything is DO-able! Even this antique dresser makeover with chalk paint.
Click To Tweet
Antique Dresser Makeover
Preparing For The Makeover
This antique dresser had seen better days. Her top was pretty beat up and no amount of sanding would repair the beauty of the wood. However, the lower half wasn't too bad. The wood looked okay and I was more than happy to restore it.
The drawers were falling apart and if that weren't bad enough, someone had added wire to the bottom of this antique dresser and several holes on the back. Wanna know why? Scroll down to see more.
Ha! The only reason I know this to be true is that I saw my Grandfather do this to my Grandma's furniture. Mothballs were placed inside the wire to repel varmints. That's what he called them! They had a weekend home in the country and let's just say it wasn't as secure as it needed to be. My nights spent with my Grandparents were sometimes interesting, to say the least.
After the usual sanding, cleaning, and repairing of the antique dresser I decided that I would have to paint it. But rather than painting the whole dresser, I would only paint the part that needed it. That sounds weird, right? Oh, but it's not!
Replacing The Hardware
The hardware was cleaned up and replaced in its original spot. Here's a tip for you. Use a pair of Needle Nose Pliers to hold those tiny nails to avoid smashed fingers. It will seriously change the relationship with your hammer. You're welcome!
Supplies List For This Project
Below are the products that I used to create my antique dresser masterpiece.
Villa (Chalk Synthesis Paint)
Weathervane (Chalk Synthesis Paint)
Spray Bottle (for water)
Putty Knife (for blending the paint)
Lemon Verbena Furniture Salve
I started with a color called Villa from the Wise Owl Paint Line. Wise Owl Paint is a highly pigmented paint and goes on like a dream. Great coverage with usually 2 coats. When painting over darker woods with light colors, it may take three coats of the paint.
I love the Cling On Paint Brushes too! I painted the upper half of the antique dresser with one coat and used my Cling On Brush to make the paint appear to be streak down the front of the wood antique dresser where it gradually faded into the wood. It gave it an artistic look. Normally I would have used a primer before painting, but I didn't mind if stains bled through the paint. The finish I wanted was old and weathered and the few stains just added character.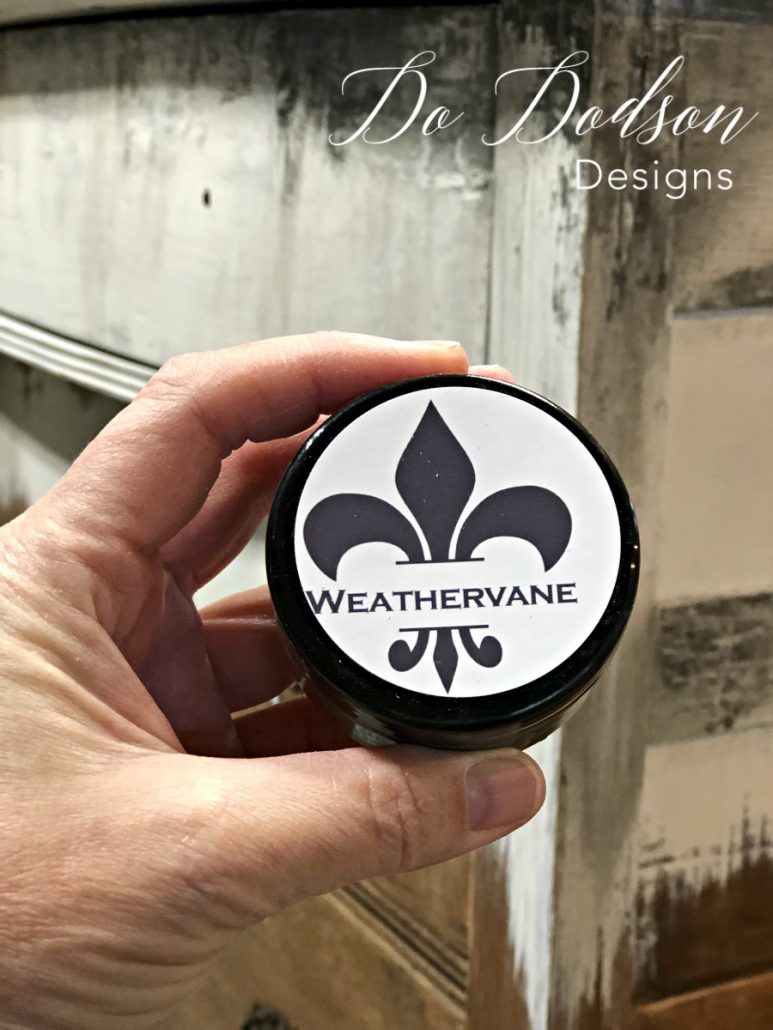 The secondary color used is called Weathervane. It's a yummy dark gray and when blended with the Villa, it creates a beautifully aged finish. I used my Cling On Brush, a spray bottle with water and a putty knife to create this look. After completing the design I wanted, I allowed the paint to fully dry. About 3 hours at room temperature. Wise Owl Paint dries quickly and that helped me complete my antique dresser makeover quickly.
Sealing The Paint And Wood On The Antique Dresser
Wise Owl makes a Furniture Salve that is nothing less than amazing! Not to mention the heavenly smell of my favorite Lemon Verbena. It can be used for so many things. It's great to rehydrate brittle wood, clean old hardware, and even helps with old sticky wood drawers. I applied it over all the antique dresser (even the paint), inside and out using a soft cotton cloth. It conditioned the wood and sealed the paint. You gotta try this stuff! It smells amazing.
The Finished Product
I'm super happy with the finish! Rustic, yummy, aged goodness with the beauty of the wood giving it the appearance of the old school finish. The best of both worlds and as a result, I saved this antique dresser from the landfill. Not your usual painted piece of furniture. I like the artistic vibe!
Thanks for stopping by today. I'm so glad I got to share this antique dresser makeover with you. I'm happy to report that after 2 years, it still looks great and serves as my coffee bar. I get to look at it every morning and smile. I don't think I'll ever get tired of it. What do you think about this wood and paint finish together? It's a little edgy but not borning.
Until the next project… xo, Do
Wait! Don't forget To PIN THIS to your Painted Furniture board.