Pretty often and more times than none, I purchase old pieces based on a feeling or vision. That may sound strange; this antique washstand was one of those visions. I used the little washstand for a short time as a coffee bar in my kitchen, but then "Joanna Gaines" came along with the whole fixer-upper thing. I can't get enough of the rustic farmhouse look.
This post contains a few affiliate links to help you find the products I use. You are not charged extra to use any of the links, but any income I make will be used for more fun projects that I can share with you! To see my full disclaimer, click here!
Antique Washstand – Easy DIY Coffee Bar
I was browsing on Pinterest one morning (with coffee in hand) when I came across a shelf made from a towel harp. They used the towel harp off an antique washstand, flipped it upside down, and built a shelf across the top. It was brilliant! That got my creative juices flowing, and since I already had the antique washstand, I just had to give it a go.
Product List:
Antique washstand… back in the day (because my Grandma told me (*wink *wink) was used to hold a large bowl and pitcher and typically would have a cabinet underneath for storage. When the men would come in from the fields at the end of the day, they would wash their hands and clean up before dinner. This was standard in a well-equipped home. All I remember is that the well water was C-O-L-D.
Transforming The Towel Harp For The Antique Washstand
I used reclaimed fence boards and made a 3'X4′ backing for the towel harp.
Cutting Out The Wood Backing
Next, I laid the towel harp on top of the wood backing I had built and outlined the harp. With my Skil Jigsaw, I cut out the pattern carefully. It was pretty easy. The next step was attaching the harp to the backboard I had built. Again, I used wood glue and wood screws to secure it to the backboard.
I created a cute coffee stencil with my Silhouette Cameo 3 and used that to display the name of the thing that gets me through life. C-O-F-F-E-E
One more board was attached across the top of the antique washstand and secured with glue and nailed into place. This made a cute little mini-shelf. I added a few S hooks to hang my coffee cups from, and it was complete.
Dedicated To My Grandmother- Antique Washstand
The ceramic coffee set belonged to my sweet Grandma. I'll cherish it always. Oh, to have one more cup with her.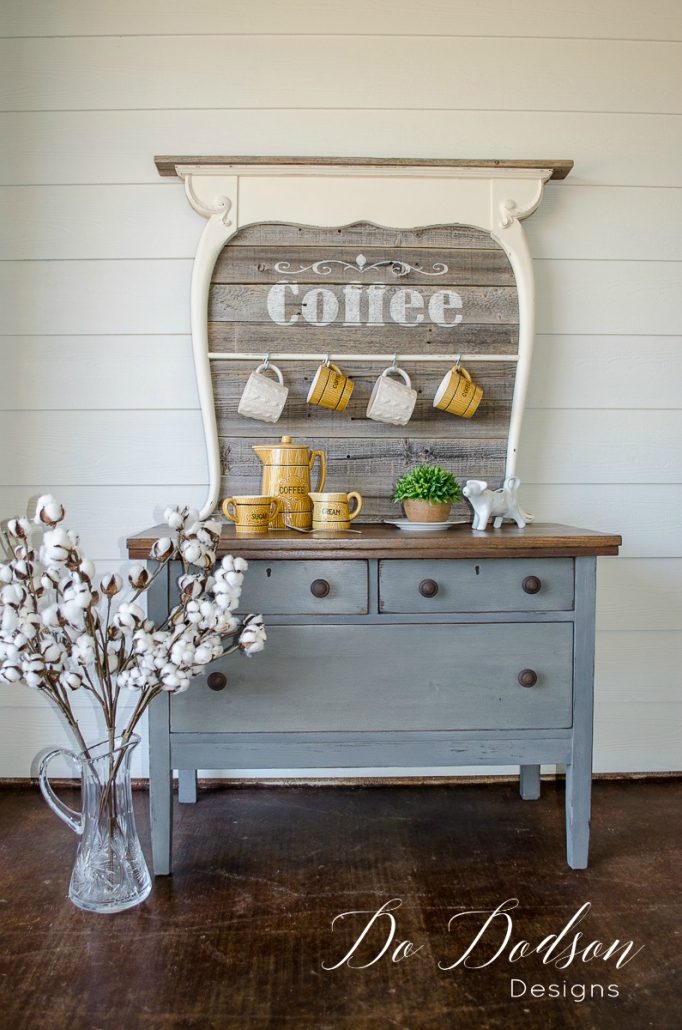 I love these antique washstands, and I try to get my hands on one every chance I get. Solid wood and built to last. They don't make furniture like this anymore, and I am glad I got the chance to save this one. Thanks to Marion with Miss Mustard Seed Milk Paint for the color inspiration.
Thanks for stopping by, and I hope you enjoyed this unique furniture flip. I'd love to hear any feedback or suggestions you may have. Or say "HEY" in the comment section below.
Until the next project… xo, Do