Guilty as charged! I've thrown away a lot of these old mirrors, and I bet I'm not the only one. Today I'm sharing how to update those old mirrors and save them from the landfills with paint. And you can add them to other pieces of furniture to create a one-of-a-kind creation, just like I did in this post. I can't wait to show you. Let's get started on this DIY Antique Mirror Tutorial.
This post contains a few affiliate links to help you find the products I use. You are not charged extra to use any of the links, but any income I make will be used for more fun projects! To see my full disclaimer, click here.
DIY Antique Mirror Tutorial

Supply List:
Below is a list of the supplies used for this project. Feel free to experiment with the paint colors to create your own unique look on your DIY antique mirror finish.
*The mirror used for this project came off of an antique dresser, and some of the paint had already been chipped from the back of the mirror. Score! Remember, every mirror is different, but this process should work on most.
Removing The Paint From The Mirror
Firstly, start by removing the paint from the backside of the antique mirror. This can easily be done with a product called Citri-Strip. It has a pleasant orange smell and is safe for indoor use. But don't forget those gloves because it's super messy and it's a chemical.
Apply the Citri-Stripe orange gel liberally to the backside of the antique mirror with a chip brush or an old brush you don't mind throwing away. It's a pretty messy process of antiquing a mirror. Then you wait! I waited 30 minutes as the instructions said, but it took 2 full hours before I could scrape away the old paint from the mirror.
Be sure to use a plastic scraper when removing the old paint because you don't want to scratch the mirror. Carefully scrape back the melted paint (the best part) to reveal the reflective back of the antique mirror. Once removed, clean the mirror back with water and paper towels. Be careful not to remove or scratch the reflective back on the mirror. The next step is creating a DIY antique mirror patina. Way cool!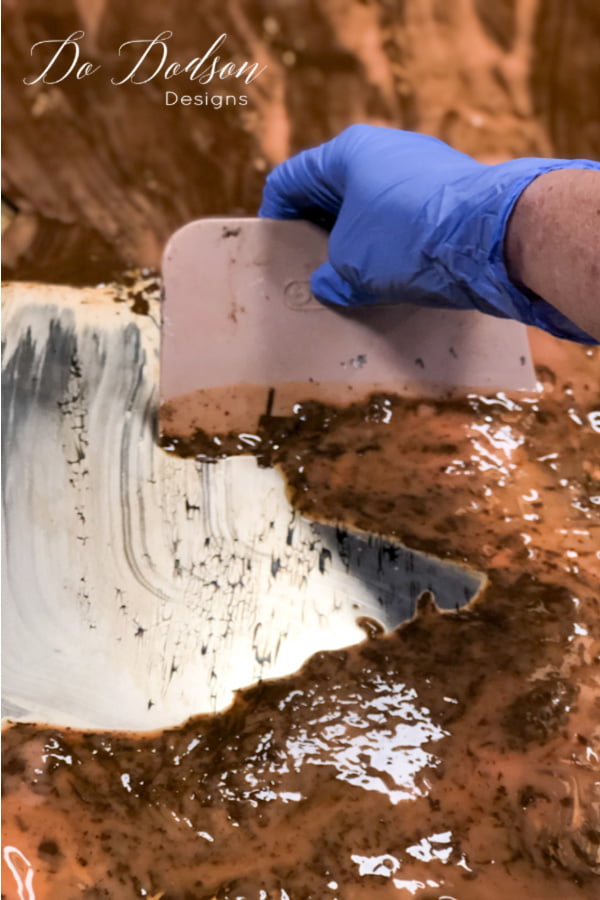 Creating The Antique Mirror Patina
Secondly, the next step in creating a DIY antique mirror is to use a solution of bleach and water 50/50 mixture in a spray bottle and lightly mist over the back of the mirror. The water and bleach mixture will eat away the reflective back and allow you to see through the mirror. You can also use a dropper to create that beautiful round age spots. You can use a dropper if you wish, but I just opened up the spray bottle a shook droplets from the sprayer. Let the mixture do its magic for a few minutes before blotting it off with a paper towel (or soft cloth). Be sure to blot and NOT rub. Rubbing will cause scratches in the mirror. If this happens, no worries! It happened to me, and it still turned out okay. You know, I think perfection is overrated anyway.
If You LOVE fancy… Try Adding A Stencil
Thirdly, before painting the back of the antique mirror, try adding a stencil. This can add a personalized touch and BONUS… if your mirror makeover is an addition to another piece of furniture, you can customize the look for a great match. This one is going on my vintage dresser. It has the same stenciled pattern on the front of the dresser.
How To Create Peek-Boo Colors In The Antique Mirror
Lastly, add chalk mineral paint to the back of the antique mirror! Pick some fun colors that you love and go to town. I used a trio color combination and dabbed the paint on with a flat bottom brush. Kind of like a stenciling brush but much larger. This will allow you to cover the large area of the back of the mirror with paint quickly.
For this technique, I DO NOT recommend brushing the paint back and forth like we traditionally apply paint due to possible scratching of the reflective layer. Dabbing (not the dance, HA!) works great! Allow your mirror to dry thoroughly, and you got yourself an AH-MAZING mirror makeover that looks like it's been loved by time. ♥
Mirror Makeover Results
Wasn't this a fun project??? I'm very pleased with the results, and even better, it was the perfect match for my little dresser—a marriage made in furniture heaven. So, grab that mirror from your garage and start your DIY antique mirror project. Try some different color combinations and make them your own. Or you can join me in The Art Of Painting Furniture to get all the details with a complete video tutorial of the process and so much more. Let's create beautiful things together.
Until the next project… xo, Do