What would you say if I told you that white wax created this whitewashed look on my antique dresser in one easy step? I was totally shocked at the results. Read on…
This post contains a few affiliate links to help you find the products I use. You are not charged extra to use any of the links, but any income I make will be used for more fun projects! To see my full disclaimer, click here.
How To Easily Apply White Wax On Furniture
I thought long and hard before I started this one. This dresser was given to me by a local lady that had been disabled from Lupus. We share the love of making old new again. The day she reached out to me to see if I could do something to save it, I was overwhelmed that she wanted to give it to me, and I had a hard time taking it without some kind of trade. All she wanted was for it to be beautiful again. It had been sitting in her barn for 10 years, and I knew before I even picked it up there would be many issues. The words she spoke to me that day I'll never forget. "I just know you can make it beautiful again." It would be a challenge!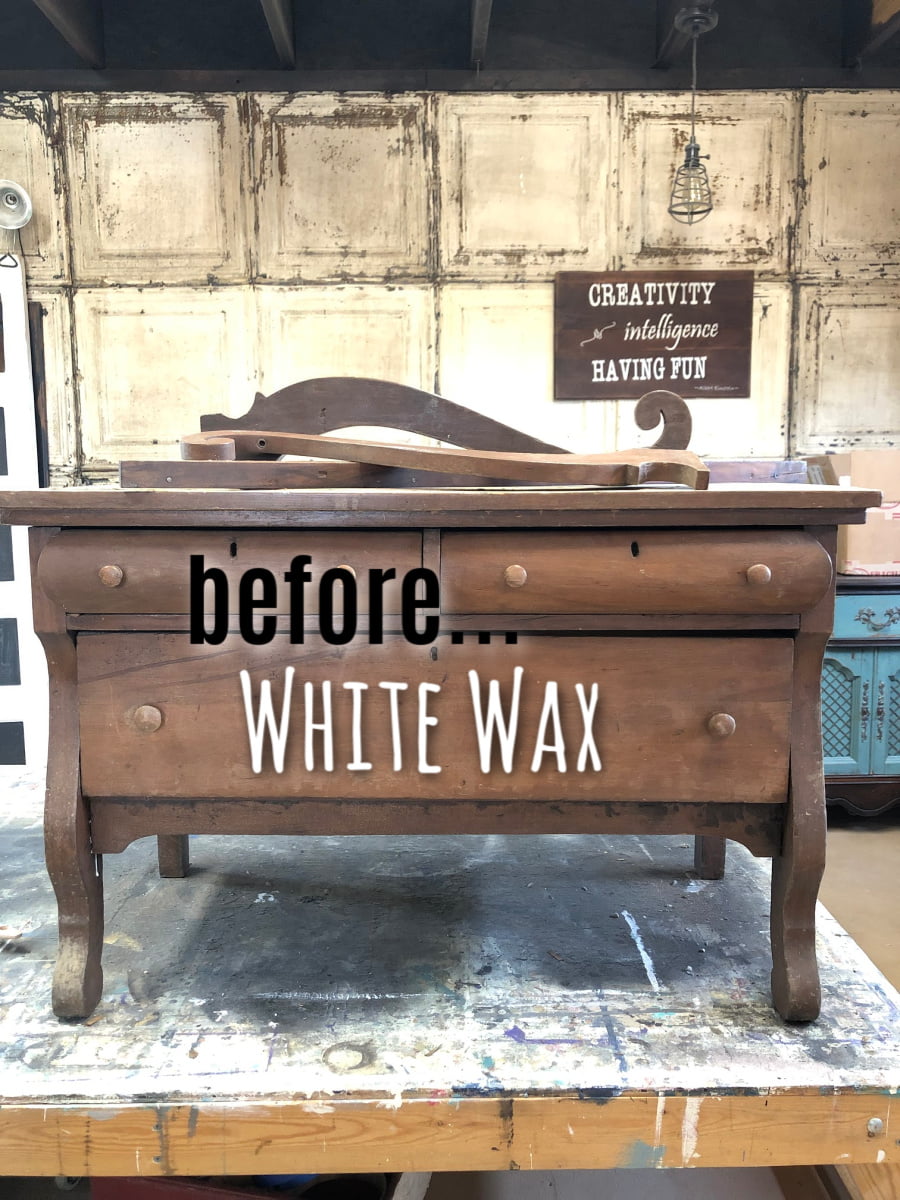 Removing The Old Varnish
First of all, remove the old varnish from the wood to expose the raw wood. I used the Orbital Sander. This made the job quick and easy. I started with 180 grit sandpaper and finished with 220 grit sandpaper. Because the antique dresser had been sitting in a barn exposed to extreme temperatures, the finish had become old and almost powdery. Looking back, I am pretty sure it was easy because my sweet rescue pup "Bud" was helping me. Furniture licking is a thing you know. 🙂
Removing the Damaged Veneer Before Using White Wax
Now the hard part. This is where Bud took a nap, and I called in the big guns for some help. Thanks to Mr. Honey Do for rescuing me because I get stuck from time to time. It seems like the right thing to do. *wink
A heat gun to loosen up the veneer, and the rest was just sheer muscle work. Then I used a hammer and paint scraper to pry the veneer away from the top of the dresser. It always amazes me that they cover up beautiful wood with veneer. Whew! Now for the fun part… white wax!
Applying White Wax
Most importantly, before applying white wax, clean the raw wood with a 50/50 solution of denatured alcohol and water because a dirty piece of furniture and white wax don't mix well. For that reason, I carefully clean it first.
The next part of the makeover was so quick and easy it blew my mind! Using long strokes working with the wood grain, I applied a thin even layer of the white wax with a wax brush over the raw wood, making sure to work it in all the cracks and gaps. Again, I used long, smooth strokes to ensure even coverage.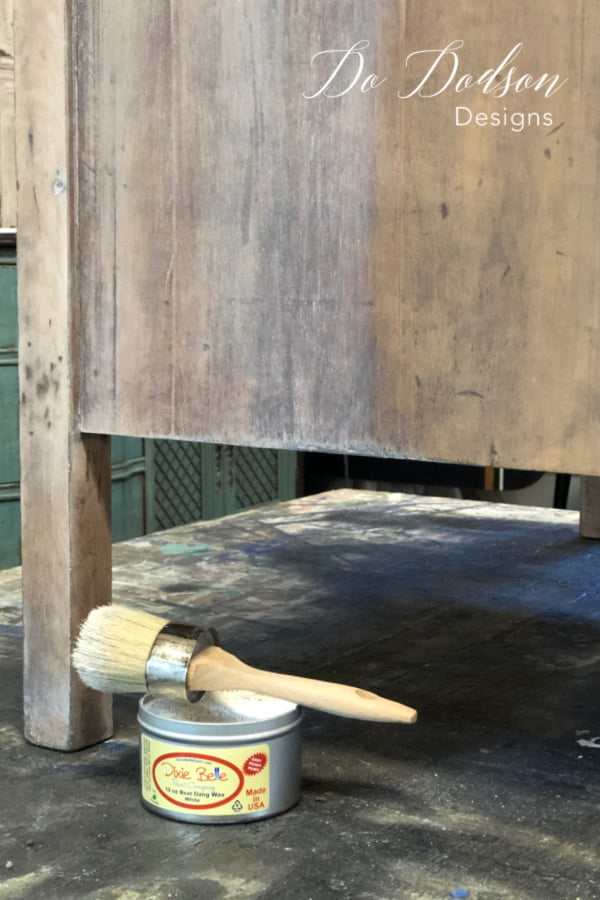 I allowed the white wax to dry for about 30 minutes and buffed it with a soft white cloth. The preparation of the wood was the hardest part of this makeover. Look how gorgeous this is!
White Wax Instead Of Whitewash
I hope this has inspired you to try white wax on your wood furniture makeovers. It's so much easier than that messy whitewash. I like EASY PEASY!
What do you think about this makeover? I'd love to hear your feedback. Please drop me a comment below or just let me know you stopped by.
Until the next project… xo, Do