Hello creative friend! Thanks for stopping in for another DIY furniture makeover. Sigh… it's about all I can do as I sit here and write about my experience with this makeover. Firstly, this makeover is a family heirloom. No pressure! Secondly, it belonged to my hubby's dearly loved, "Granny Kewpie." Yes, she was even more precious than her name. I've mentioned my Grandmother in many of my posts because what I do all started with her influence and a paintbrush and his Grandmother… no doubt left a huge imprint on our hearts as well. This table was special to her and still is to my hubby. Not to mention it's mahogany… one of the most expensive woods used on furniture. I'll go into the details as we go, but the plans were to create a farmhouse whitewash wood table.
To say I was scared to death to mess it up is an understatement. Yeah, I said it. The fearless Do Dodson was scared… scared of failure. My biggest custom job to this date. Painting for a stranger is easy. Family… not so much. So much weighed on me during this makeover, but I was determined to make it work in my farmhouse dining room and preserve her memory at the same time.
This post contains a few affiliate links to help you find the products I use. You are not charged extra to use any of the links, but any income I make will be used for more fun projects! To see my full disclaimer, click here.
Stripping The Wood Table Top
This table was in impeccable condition and was only used for family dinners, and I knew the factory finish was going to be tough to remove. So I chose to use a chemical stripper to remove the heavy varnish finish.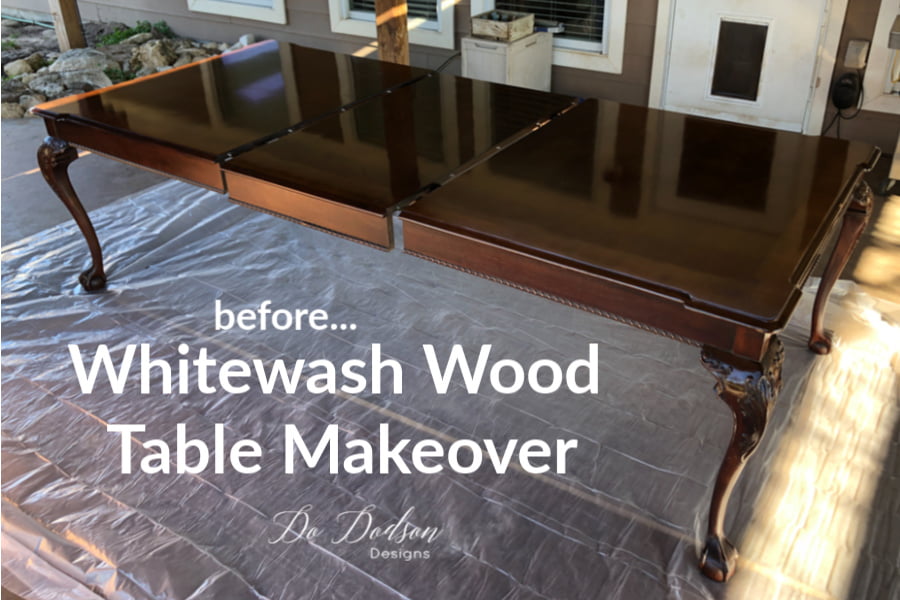 * Be sure to work in a well-ventilated area ( or outdoors) when using these types of chemical strippers with protective equipment.

First, pour the chemical stripper into a disposable plastic container and apply it liberally to the varnish you want to remove… and wait. Pretty quickly, you will notice it working. Use a paint scraper tool to scrape it off. You're gonna use a lot of paper towels! Once the varnish is removed, you will notice some leftover remover on the wood. Use fine steel wool and mineral spirits to clean it up because you will want a clean surface before applying the whitewash wood stain on the table. The freshly stripped wood will need to dry overnight before the next step.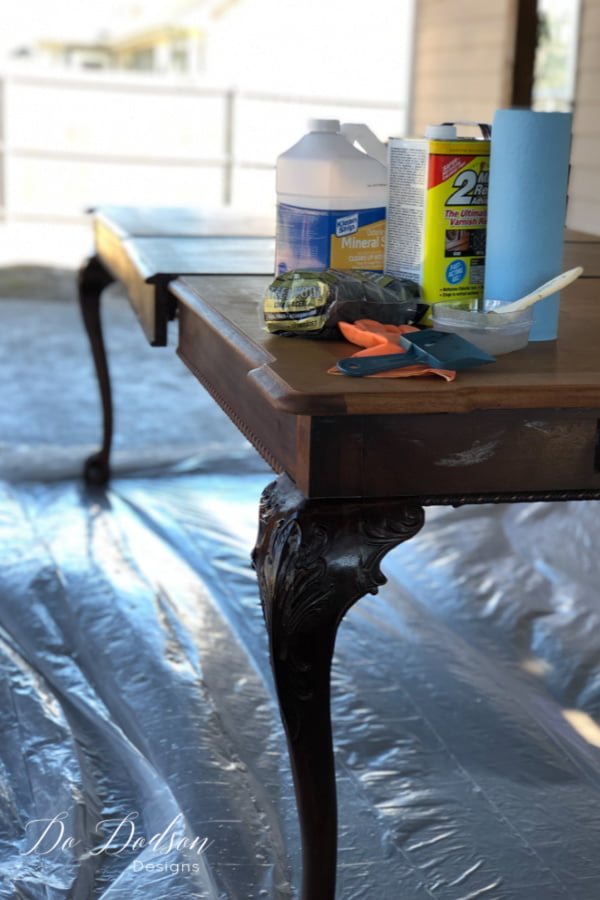 Sanding The Wood Table Before Applying The Pickling Stain
Next, sand the wood table to remove any leftover varnish. I used my sander with padded sandpaper that's great for getting into the detailed wood trim and carvings. Clean the wood after sanding it with a 50/50 mixture of denatured alcohol and water. Mix the denatured alcohol and water in a spray bottle and mist over the wood, and wipe it off with paper towels or a cotton cloth. This will remove all the leftover dust from sanding and if there is anything else left on the wood. No worries about the alcohol, it evaporates quickly, and you'll be ready for the next step of the whitewash wood table makeover.
Whitewash Wood Pickling Stain
Now the easy part! Apply the whitewash pickling stain over the raw, clean wood table with a staining pad, and wipe back any remaining stain with a soft cloth on the tabletop.
You will immediately notice a background of softness on the wood. All wood grains will be more pronounced while revealing a beautiful whitewash wood that is stunning. If you love a farmhouse-style dining room table with a whitewash wood finish, you're in the right place.
Buffing With Steel Wool
Next, use a ball of super-fine steel wool to buff the whitewashed wood table. I use it like super-fine sandpaper, and it gives it one last buffing before the protective topcoat. Lastly, apply 2 coats of Gator Hide to protect your beautiful masterpiece.
Chalk Mineral Paint For The Table Legs
If you're painting the legs of your table to compliment the whitewash wood finish, be sure to use a stain blocker first before painting. Apply 2 coats of BOSS (stain blocker) in clear and allow to dry. Next chose your favorite color (for this project, I used Fluff Chalk Mineral Paint) and applied 2-3 coats depending on the coverage needed. Darker woods will require 3 coats when using a lighter paint color. Seal with Gator Hide topcoat.
Look At All That Wood!
I did it! And I'm happy to report that no one died, AND hubby is happy with the results. He doesn't say much about my furniture makeovers, but this table was special, and now it's not only functional for our family dinners, but it also adds beauty to our farmhouse dining room. Now, every time I walk by our whitewashed wood table, I smile. It was worth all the nail-biting, hair-pulling, worrying, self-doubting, and back pain (this sucker is heavy) it took to accomplish this look. *In loving memory of our Granny Kewpie.
I'd love to hear any feedback or share your experiences with your family heirloom makeovers. Please drop me a comment below or say hello. It's always good to hear from you. But before you go… there was a BEFORE this table. CLICK HERE to see what was in this same space in my dining room.
Until the next project… xo, Do