Do you love the DIY raw wood look on furniture? Me too! I see it pop up all over with the farmhouse style. But I also love paint and wood combinations when it's appropriate. Today's furniture makeover started as an experiment that took me by surprise, and I can't wait to show you how it turned out. Today, I'll show you how to create an ombre paint finish on raw wood furniture. It's pretty cool!
This post contains a few affiliate links to help you find the products I use. You are not charged extra to use any of the links, but any income I make will be used for more fun projects! To see my full disclaimer, click here.
DIY Raw Wood Look Furniture – Ombre Paint Finish
When I purchased this side table on Market Place, I had no idea that it was solid walnut. Can I say I have a thing for beautiful wood? Well, I do, and if you have been following me and my furniture makeovers for a while, you've seen me incorporate the raw wood look with wax but never paint. Here's what you will need to recreate this ombre finish on the wood.
Stripping Wood Furniture
Well, there's more than one way to strip wood furniture. But seriously, when you want a raw wood furniture look… the best way I have found is just sand right through all that old finish. I'm not suggesting that you should strip all wood in this manner. However, what I look for in a wood piece to use this method is age. Usually, those pieces have been stored in storage units, barns, or anywhere where the wood furniture has been stressed and caused to be brittle. The wood is very dry, and the varnish, lacquer, or finish sands away very easily.
What Grit Of Sandpaper Will I Need To Get A Raw Wood Look?
I usually start with an 80 grit paper, and if that doesn't cut through quickly, I step it up to the 60 grit. This side table was stripped in about 15 minutes with my Surfprep Sanding System to get this raw wood look. It's quick and easy when you have the right tools. Of course, you can always hand-sand if that's your thing.
How To Get An Ombre Paint Finish On Raw Wood
Using a paintbrush, paint up into the raw wood and stop where you want the blending to start. Use your imagination with this step and create a unique design. For this makeover, I went in a semi-straight line across… about 2/3 up from the bottom of the piece. Allow the paint to dry a good 24 hours before the next step.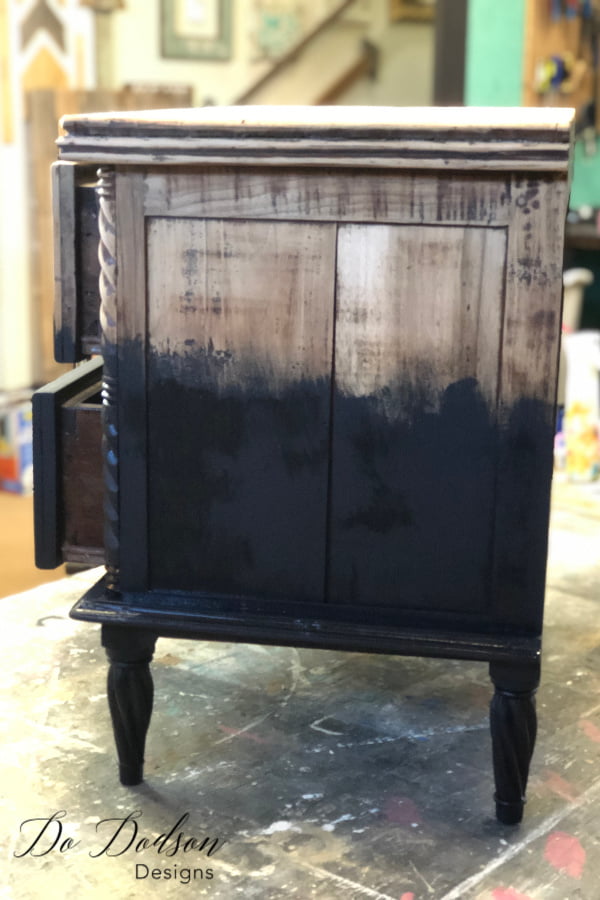 Blending Paint Into Raw Wood
Next, apply the same color of paint (Caviar) right below the raw wood where the paint meets the raw wood. Use your water mist bottle to dampen the raw wood while pulling the wet paint up into the wood. The water will help dilute the paint and aid in blending the paint on the damp wood. Repeat this process until you get the look you want. It's easier than it looks, I promise. But if you're a visual learner (like me) and video is the way you learn best, I created a tutorial for you in The Art Of Painting Furniture Video Library. CLICK HERE to learn more about how to get my latest furniture painting tutorials.

How To Seal The Raw Wood Without Making It Dark
Sealing raw wood can be a challenge. All tops coats will change the look of the raw wood somewhat. But I have found that white wax keeps the raw wood, keeps it light, and gives more of a natural wood tone. And if your wood has undertones of orange-red or yellow, it will help tone those colors down.
For an experiment, I'm pretty excited about this finish. I will be using it again on a larger piece and maybe with a bold color—so many ways to change this look.
So, what do you think? Would you try this look on your furniture? I'd love any feedback on this process and if you would have done it differently. Bend my ear in the comment section below.
Until the next project… xo, Do