Who doesn't love a good pair of faded denim jeans? Jeans are always a good idea, so why not add the look of comfort to the furniture. I have the perfect bench for the project too! Faded blue denim-painted furniture… it just sounds comfortable. I'm excited to show you this paint combination makeover.
This post contains a few affiliate links to help you find the products I use. You are not charged extra to use any of the links, but any income I make will be used for more fun projects! To see my full disclaimer, click here.
Faded Blue Denim Painted Furniture
This bench! Even with its oriental style, it will look amazing with a fresh new denim painted look. Total transformation! I am so ready to dig in.
To create this denim-painted look, you'll need a few supplies. You can find them all by clicking on the products in this list below.
Step #1 The First Color
Before starting your furniture project, you will need to clean your piece thoroughly. I recommend a product called White Lightning cleaner. The paint will not adhere to a grimy, dirty piece, so, therefore, this is a crucial step in any painted wood furniture makeover. *See manufacturer's instructions for use.
I started with a beautiful color called Sand Bar and painted the top 2/3 of the bench leaving the bottom unpainted. I'll be adding a darker color below, so no need to waste paint, right?
Step #2 The Second Color | Faded Blue Denim Look
For the lower 1/3 of the bench, I applied a gorgeous Yankee Blue color by Dixie Belle, and this is where the faded jean look comes in.

Step #3 The Third Color | Blending Paint
The third color I used was Mud Puddle by Dixie Belle. It's a beautiful brown color that well represents its name, and by blending the three colors, I was able to create a beautiful faded look that seamlessly flowed into each other. This technique isn't as difficult as you may think. CLICK HERE to learn more about paint blending.

3 Color Combination Challenge
Here's a challenge for you! Pick three color combinations that complement each other, and paint something. Step out of your comfort zone. It's just painting, so there is no reason why you too can't have beautifully painted furniture in your home. It may take some practice, but that's how we learn.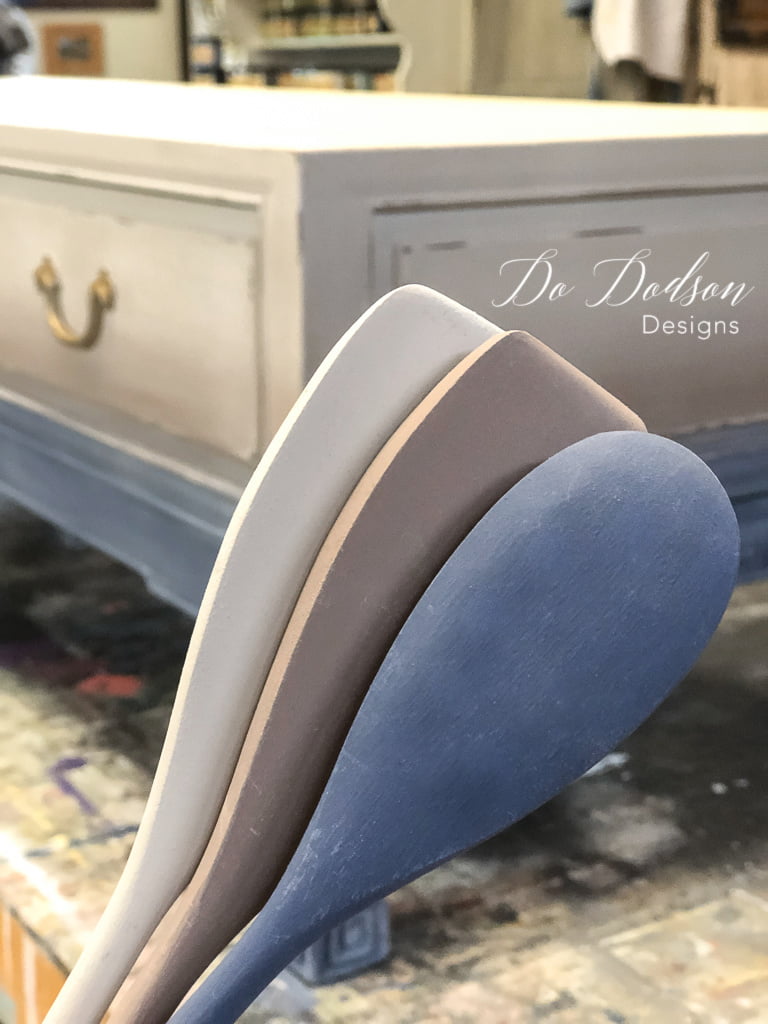 Step #4 Creating The Faded Denim Look
After the paint had dried, I went back with a 220 grit sandpaper and lightly distressed the top half of the bench because I wanted a worn look. The faded denim look was created when I added white wax over the paint. Dixie Belle's waxes are creamy and easy to apply. Simply brush it on and wipe it back with a soft cloth or paper towel. I'm in LOVE! It's exactly the finish I wanted, and this piece will be the perfect addition to a mudroom or entryway.
My Faded Blue Denim Painted Masterpiece!
Gosh, I love painting furniture and creating beautiful spaces! Are you struggling in this area? I'd love to help you if you are. Click here to check out The Art Of Painting Furniture. It might be just what you need to get started because we all have to start somewhere. Hope to see you there!
Until the next project… xo, Do