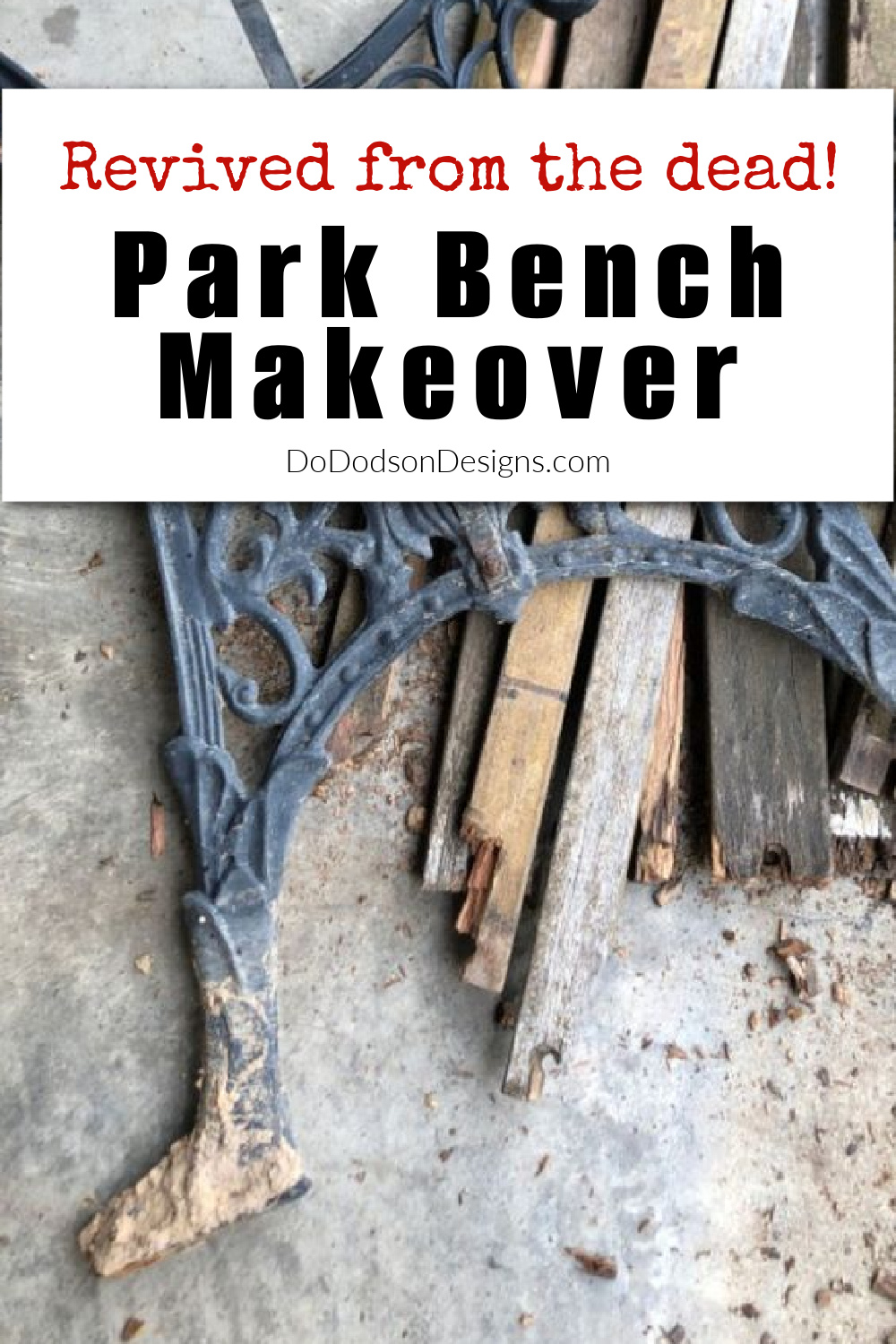 One doesn't think about resurrecting furniture, but there are times I swear that the things I find have no heartbeat! I mean, D E A D dead! Just like this park bench I found on the side of the road. It's the nurse in me that wants to save everything, especially furniture. Besides, it was FREE!
This post contains a few affiliate links to help you find the products I use. You are not charged extra to use any of the links, but any income I make will be used for more fun projects! To see my full disclaimer, click here.
The Park Bench Makeover
Talk about rough shape; this park bench had seen better days. The only salvageable part was the wrought iron end pieces. A good cleaning and a fresh coat of paint will make a world of difference. But before I could even think about paint, I had a real overhaul on my hands. All of the wood slats were rotten and decayed.
Supplies list for this Park Bench Makeover:
This is where I called for reinforcements. Mr. Honey Do to the rescue! We used a pair of bolt cutters to remove the old rusty bolts from the park bench. The bolts and screws were rusty, and this was a quick, easy removal.
We used the old boards as templates and purchased new slats. Nothing fancy, just your basic inexpensive pine.
Staining The Wood Slats On the Park Bench
The wood slats got a beautiful weathered gray look with Dixie Belle's Up In Smoke VooDoo Gel stain. Fast and easy, and it's water-based. A great product to use if you're sensitive to oil-based products and strong smells. Working inside, it's important to me to use those products that work and are safe for indoor use. This park bench is going to look amazing!
Spray Painting The Wrought Iron
The wrought iron ends of the park bench had some areas of rust, not to mention it was faded and just not pretty. The quick fix for this was Rustoleum Hammered Paint and Primer all in one. I sprayed two light coats allowing dry time between each coat. I love this look. It's perfect for those rough metal surfaces that need a new look. The coverage is amazing and will look nice on the park bench.
Securing The Wood Slats To The Park Bench
We pre-measured and drilled the holes where the carriage bolts were to be attached to the end pieces of the park bench. After drilling the holes on each end of the wood slats, we used a cool new tool called a Gyroscopic Inline Screwdriver. Righty tighty, lefty loosey! It's all in the wrist action. Gosh, I love cool tools! This one belonged to Mr. Honey Do. It may not have mysteriously lost its way back to his toolbox.
The Park Bench Reveal!
Oh my goodness! What a transformation! The total cost of this french inspired park bench makeover was less than $30. I think this would make a great bench for a mudroom too! I've done a few of these bench makeovers. Check out this catty leopard inspired bench I made from an old headboard. CLICK HERE to see the full makeover.
Until the next project… xo Do