Adding furniture feet to your furniture can give it a fresh, updated look. I found a great way to save money and used the pressure-treated wood finials designed for outdoor decking at half the cost. And they're prettier too!
This post contains a few affiliate links to help you find the products I use. You are not charged extra to use any of the links, but any income will be used for more fun projects! To see my full disclaimer, click here.
Furniture Feet Made Easy
The wood finial on the left was $3.87 at Home Depot. The furniture foot on the right was $9.60. That's a huge difference! But you can also find them on Amazon. See the products list below.
PRODUCT LIST:
Wood finials at Home Depot or
primer (if you're painting the wood)
First, you need to make sure that the furniture you want to add feet to will support the wood finials. The base needs to be solid wood so that the screws will hold and be secure. You may have to modify your furniture a bit if the structure isn't solid.
Start with removing the existing bolt. I found that a Channellock tool works best for this.
Replacing The Bolt For the Furniture Feet
The next step is a bit tricky, and it took Mr. Honey Do to explain why this step was so crucial for me to understand it fully. The hanger bolt itself needs to be screwed into the wood, but the threads on the hanger bolt need to be protected.
Next, you will need to purchase 4 hanger bolts. These will be used in place of the bolts that were removed. The bolts have threads that allow you to screw them into the top plate.
Next, take 2 nuts and screw them down to the level that you want sticking out of the wood. Take your crescent wrench (actually, you will need two wrenches for this) and tighten the nuts into themselves. This is done by turning the nuts into themselves, creating a lock between them.
Then you will take your crescent wrench and use the top nut to screw the hanger bolt into the wood without damaging the threads. Remove the nuts once it's in place and you have the correct hanger bolt for your top plate to screw into.
Attach your top plate and secure it with wood screws.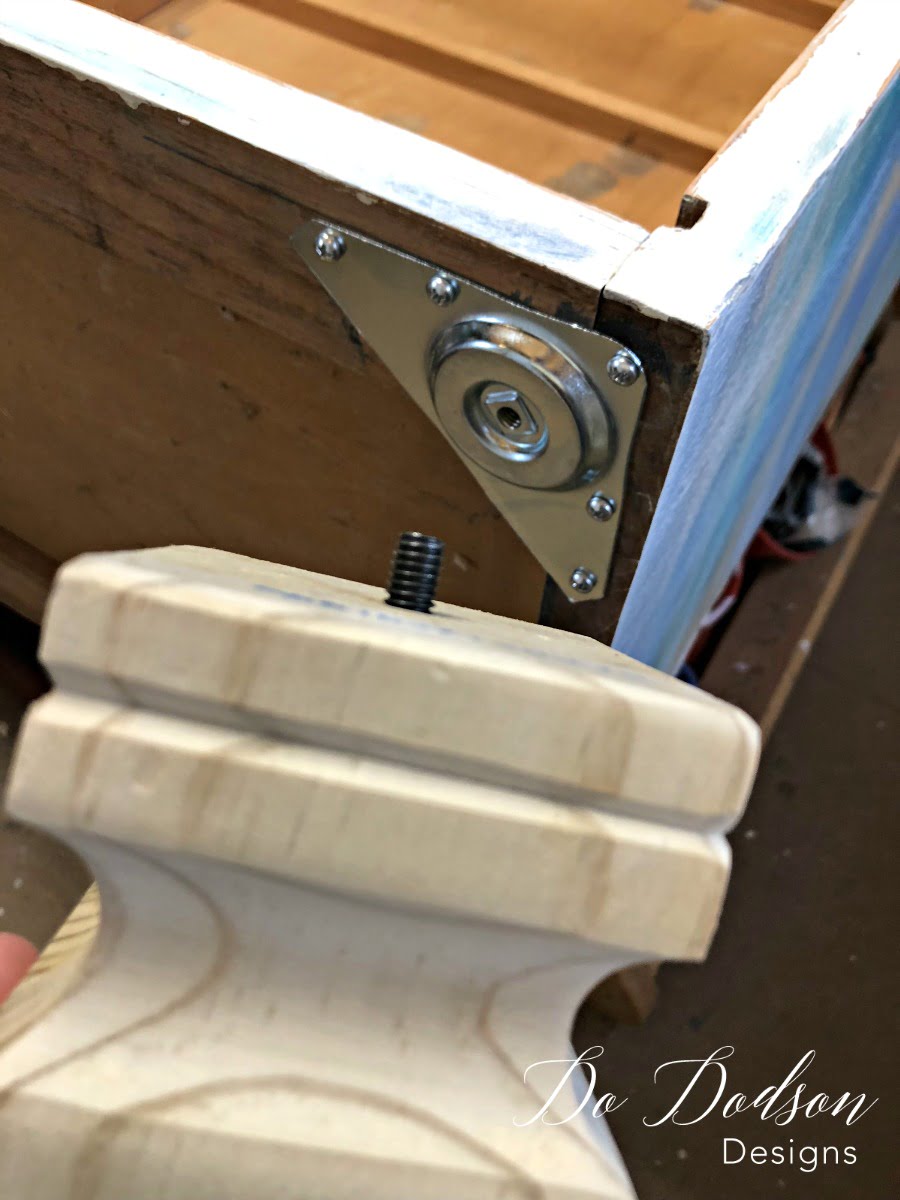 Be sure to seal the treated wood or whatever wood you use with primer before painting to prevent the wood tannins from bleeding through your finish.
And there you have it! Furniture feet that change the whole look of your furniture.
Want to see how this project looks now? CLICK HERE to read Behind The Scenes of a Furniture Painter. It's a true story of a furniture painter. ME!
Until the next project… xo, Do