How To Quick & Easy Decor Transfers For Painted Furniture

Notice: Undefined offset: 4 in /www/clients/dododsondesigns.com/htdocs/wp-content/plugins/ultimate-social-media-plus/libs/sfsi_widget.php on line 1356


Please follow and like us:

I've always proclaimed not to be a fan of the floral patterns, but sometimes I have to eat my words. That was before I discovered decor transfers at [re] Design With Prima. If you're looking to add that over the top look on your painted furniture, this may be your thing. I was blown away what a huge difference it made on my 1930's Art Deco Sideboard. Even with all the curves of this piece, it just needed something and I can't wait to show you the after.

This post contains a few affiliate links to help you find the products I use. You are not charged extra to use any of the links, but any income I make will be used for more fun projects! To see my full disclaimer, click here.

Everything is DO-able! So why not add a decor transfer with your paint to update your Grandma's furniture. She would LOVE it!

Click To Tweet
Decor Transfers On Furniture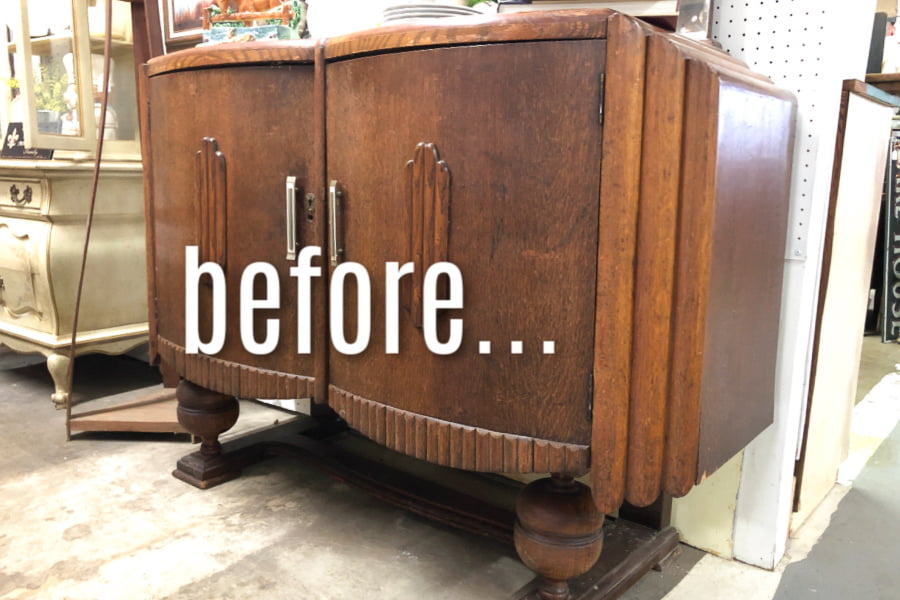 So here she is! Sweet and curvy in all the right places, but before I get started there's one step that always gets done before the paint and that's cleaning the wood. Cleaning the wood with White lightning removes all the grime and things you can't see that can cause your finish to fail and NO ONE wants that! Do it right the first time and always prep.


Here is a complete supplies list for this project to help you find the products I love and trust with my furniture makeovers.
Painting the Sideboard
An ombre effect was painted with three beautiful colors by Dixie Belle Paint Co. Using this neutral palette allowed me to play with the colors that I chose using the decor transfers.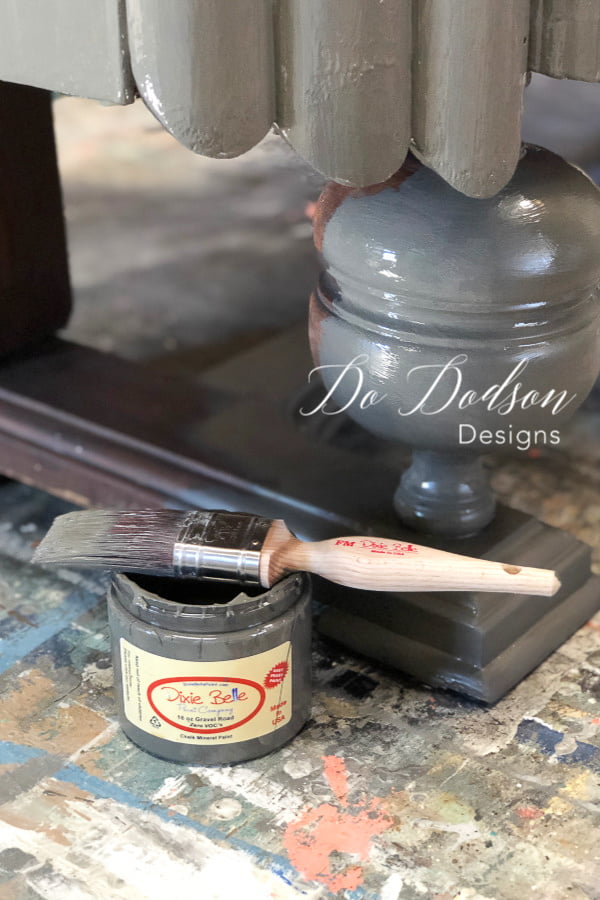 Two shades of gray were used to create the ombre blended look.
Applying Decor Transfers To Painted Furniture
The decor transfers I chose popped with COLOR and the neutral background is a perfect choice. Applying the transfer is simple and easy. Remove the sticky back of the transfer and place over the painted furniture and secure with painters tape. With the wooden stick provided, rub gently over the transfer to secure it to the surface.
Gently pull the plastic backing as you rub. If the transfer doesn't stick completely, lay the plastic backing back over the transfer and rub more. You can repeat this process until the transfer adheres. It does take some time but the results are so worth it! Apply a top coat over the decor transfer to seal it. I used A flat topcoat by Dixie Belle because I wanted to keep that old fashioned flat look to my paint.
Grandma Approved!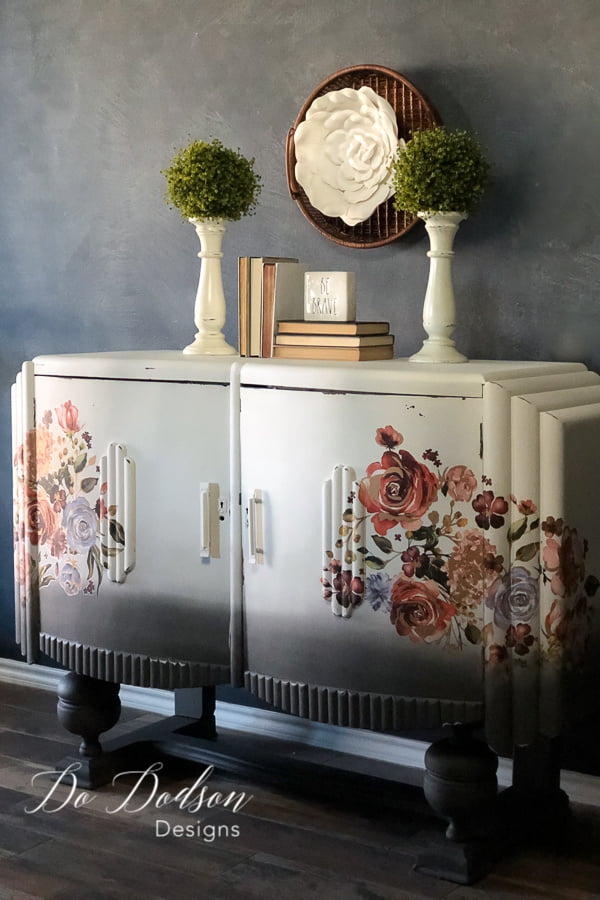 I'm pretty sure you'll see more of these designs because I have been bitten hard by the decor transfers fairy. Guess what??? I kept this art deco sideboard! Wanna see how it looks in my home? Come on over and take a TOUR OF MY HOME and see how I sprinkle my furniture projects throughout with my unique style.
Until the next project… xo, Do
PIN IT NOW… for later!