How To Apply Gold Leaf To Almost… Anything!

Notice: Undefined offset: 4 in /www/clients/dododsondesigns.com/htdocs/wp-content/plugins/ultimate-social-media-plus/libs/sfsi_widget.php on line 1356


Please follow and like us:

GOLD LEAF… those two words can stop a gold lover dead in their tracks. I'm that gal! This shiny metal leaf (I'm using imitation gold leaf)) that can literally float in the air and is nothing less than magnificent on almost any surface. It adds a bit of glamour to whatever it touches. In today's post, I will show you how to apply gold leaf to almost anything. If you LOVE gold, this is for you.

This post contains a few affiliate links to help you find the products I use. You are not charged extra to use any of the links, but any income I make will be used for more fun DIY projects that I can share with you! To see my full disclaimer, click here.

Everything is DO-able! Even adding gold leaf to almost any surface.

Click To Tweet
How To Apply Gold Leaf To Almost Anything
Below are links to the products I have used before, on this project and other metal leafing projects. The difference is in the size of your project. Small kits are available for smaller jobs but if you're tackling a massive project like this one, you will want to buy individual adhesive and sealant.
Products List:
Large projects
For Smaller Projects
*Gold leafing can be applied to almost any surface that is clean and free of debris. Wood, glass, ceramic, metal, fabric, painted canvas, etc.
Preparation For Paint and Gold Leafing
To start with, my client brought me three HUGE oriental mirrors. WOW! Was my first thought. WOW! Was my second, third, and last thought. Applying gold leaf is pretty straight forward… but it takes a certain amount of WOWs to complete a project of this size and magnitude.
Clean the surface
Paint the surface (background) first if you have a design that you're wanting to apply the gold leaf to.
Apply the adhesive.
Apply the gold leaf
Seal the gold leaf.
Things You Should Know Before Applying Gold Leaf
Have a designated area to work in. One that isn't going to get disturbed by your precious Pup or kiddos.
Turn off your ceiling fan… if you have one. The air-conditioned vents should be adjusted as well. No direct airflow should be on your project.
You will need a shop vacuum. Wearing a mask is a good idea as the metal leaf is extremely fragile and will break off and float in the air. Protect your lungs.
Don't sneeze! LOL, I did.
Don't get in a hurry. This is a timely process and will be worth the effort and finesse you give it in the end.
The adhesive is water-based so wash out your brush after each application… or it will be a mess.
Apply the gold leaf in small sections.
Adhesives Matter When Applying Gold Leaf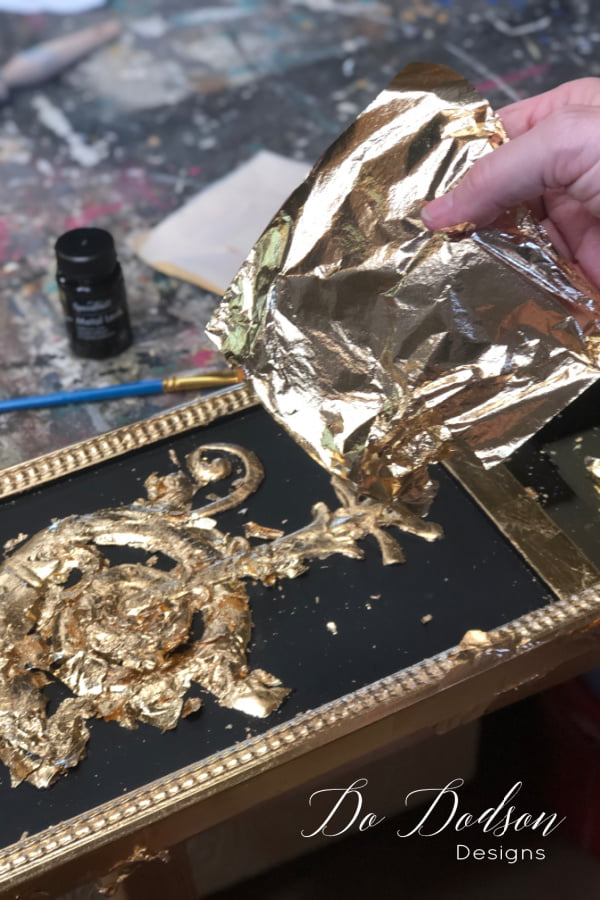 Adhesives matter. With an artist brush, apply the adhesive (it looks milky in appearance when you first apply it, and then it turns clear as it becomes tacky) to your project. Wait the appropriate time for it to become tacky enough before applying the gold leaf. The instructions say anywhere from 15-30 minutes. That will depend on the temperature and humidity of your environment that you're working in. My wait time was about 5-10 minutes in a 74-degree room. If the gold leaf is applied before the glue is tacky, it will not adhere. Carefully tap your finger on the surface after the adhesive has become clear to check if it has become tacky. This is the best way to know. Do not allow the glue to pool in areas. This will affect dry time as well.
How To Apply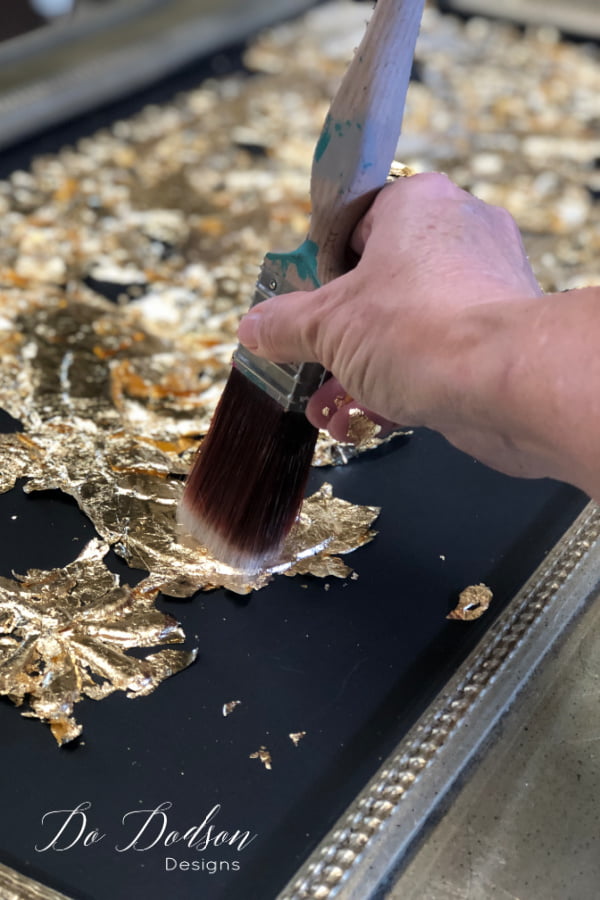 Once the adhesive is ready "tacky", gently lay the gold leaf sheet across the surface. I like to do this in small areas so that I have more control. Use a soft-bristle paintbrush to gently smooth over the surface so that the metal leaf comes in full contact with the glue. When you're working with an uneven surface you will need to use additional sheets. Full coverage can be tricky and subtle cracks are almost always viable. If you don't get the coverage you're wanting the first try…no worries. Just apply more glue and gold leaf over those areas. You can see how this could become time-consuming. That was my second WOW!
*Full disclosure… I wore gold leaf on my legs for days and didn't even know it until my neighbor noticed. The adhesive works!
Sealing The Imitation Gold Leaf
Imitation Gold Leaf and Copper will tarnish so it's important to use a varnish or sealer over the top of these to prevent the tarnishing process. My go-to topcoat for metal leafing is Master Clear. I also use this topcoat on my metallic paint finishes as well. It's good stuff! Apply a thin coat and allow it to dry. The gold leaf was only applied to the details on this mirror. The black background was painted with Dixie Belle's Caviar (black) which is a flat chalk mineral paint. No topcoat was applied to the painted surface… that's why I used my artist brush. That was my 3rd WOW!
I used my usual Paintbrush when top-coating the gold leaf on the frame. Apply two coats of the Master Clear with a light sanding after the first. I find this works well on larger pieces that are likely to have high traffic. Since these are mirrors, it will need extra protection from frequent cleaning. If you're just doing a small project like a picture frame. One coat is fine.
The End Results
If you're asking yourself, "did she gold leaf all three mirror frames?" The answer is, yes! That was my last WOW. There's no denying that applying gold leaf adds glamour and sophistication to just about anything it touches and these certainly swoon-worthy in my opinion.
It really is easy. Try a small project first and before you know it, you'll be gold leafing like a pro in no time at all. Try it on glass vase!
Hey, thanks for hanging out with me today and I hope this inspires a gold leaf project in the near future for you and I would love to hear any feedback good, bad, or ugly in the comment section. Tell me what you think?
Until the next project… xo, Do
Wait! Don't forget to PIN THIS to your DIY Home Decor Board on Pinterest.