Forget Paint, Try Copper Leaf Finish On Your Furniture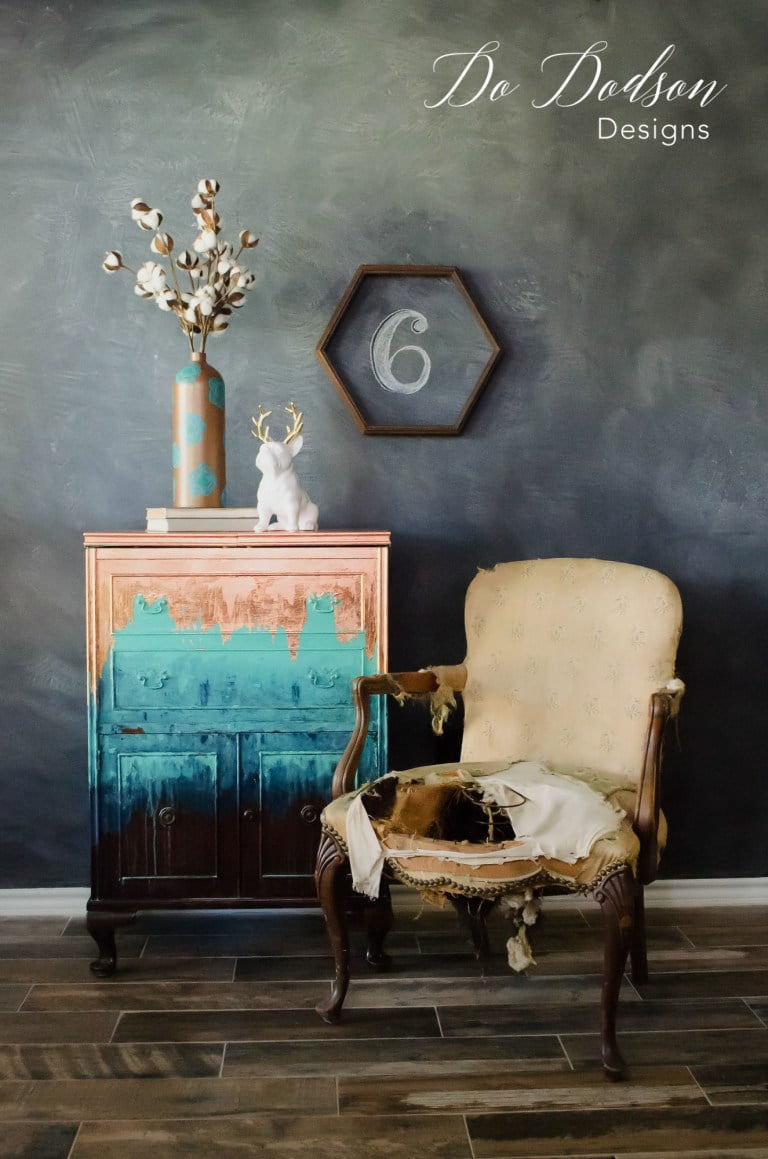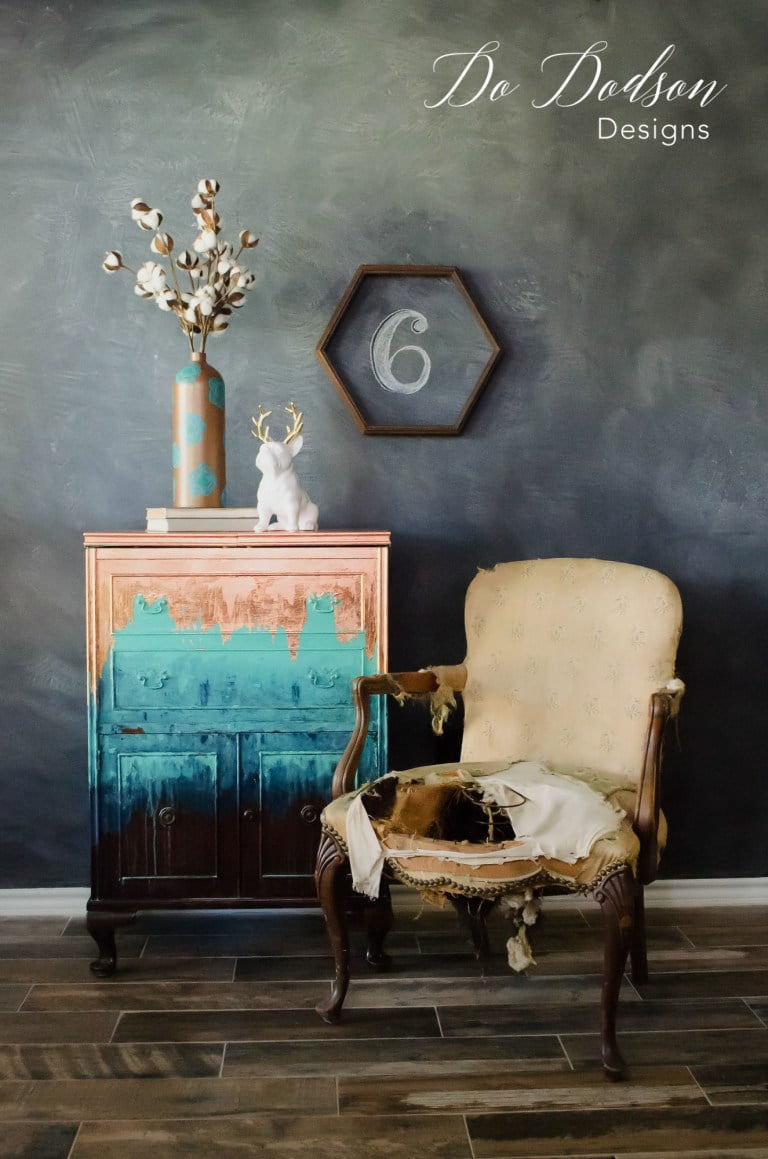 Look at this sweet little chest! I snagged it from a friend that was wanting to clean out her stash of unfinished projects. Lucky me! The most amazing thing I discovered about this piece is that it's a minibar. Yep, the top opens, and out pops up a bar set up. Cool, huh? I'm thinking maybe a little copper leaf? I've always wanted to try it on furniture.
This post contains a few affiliate links to help you find the products I use. You are not charged extra to use any of the links, but any income I make will be used for more fun projects! To see my full disclaimer, click here.
*This post is not sponsored and the opinions of the products are my own.
Everything is DO-able! Forget Paint, Try Copper Leaf Finish On Your Furniture
Click To Tweet
Copper Leaf, Not just for Faux Finishes – BEFORE
Product List:
Here are the products that I used to create this finish.
Mermaid Kiss & Anchor (Wise Owl Chalk Synthesis Paint)
Minwax Polycrylic in a satin finish
Always prep and clean a piece before painting. Aggressive sanding isn't needed with this type of paint. A light scuff sanding will do with 220 grit sandpaper. Clean away the dust after sanding with a damp cotton cloth or tack cloth.
I normally would use a stain blocker/primer before painting, but for this makeover, I wanted the wood to be exposed on the lower part of the chest, so I left that finish intact.
*Alternative paint colors that I have used similar are Dixie Belle's Mermaid Tail and Bunker Hill Blue.
  I Painted Over Everything!
Who paints over hardware? Yes, I know, that's sacrilegious. Normally I don't, but with this project, it works!
STEP 1 Apply one coat of Mermaid Kiss to the top 1/3 of the chest.
STEP 2 While the paint (Mermaid Kiss) is still wet, overlap with the second paint color (Anchor). Nothing is fancy about this technique.
Creating an Artistic Finish
STEP 3 With a paint scraper, drag both colors (spraying with water to keep the paint movable) into each other to create an artistic look. I went back with the Mermaid Kiss and added some different brush strokes to add character and blend the colors a bit more. You can learn more about mixing paint colors by CLICKING HERE.
Drippy Paint Finish
Here is where the fun begins! Yes, painting is fun and should never be considered work.
STEP 4 After the paint begins to dry, a paint scraper is used to add even more texture using the beveled edge of the scraper to drag it across the paint and create vertical and horizontal lines. This may look like a hot mess right now, but it's a work of art in progress.
STEP 5 Next, place a waterproof liner or anything that will catch what is about to happen. Using a large trash bag works well too. Spray over the painted areas with water in your spray mister, and watch the magic begin. Next, take a paintbrush and gently blend the colors a bit more. Not too much. You'll want all that texture to be somewhat visible. The results will blow you away! My mind was already wondering about how the copper leaf would look with this finish.
The Paint On Your Artistic Paint Finish
STEP 6 Allow your painted masterpiece to dry overnight or longer. It depends on the temperate and humidity of where you are working from. The layers of paint that were applied will take longer than usual to completely dry.
Applying The Copper Leaf!
STEP 7 Apply a thin layer of the adhesive with a small brush where you want the copper leaf to be placed. After applying the glue, give it a few minutes to become tacky before applying the copper leaf. The adhesive has a milky consistency and appears white when it's applied to the surface. If you use the copper leaf before the glue gets tacky, it will not adhere properly. Trust me! I learned the hard way. You might want to give it a test try before jumping into a big project like this one.
Take Your Time Applying Copper Leaf
If you miss a spot, you can always go back and patch it. It's is very forgiving. Use a smooth cloth or fine bristle paintbrush to ensure that the copper leaf and the adhesive come in direct contact with one another. I used cheesecloth on this project, and it worked well for me. Go slow and take your time. Metal leafing can be time-consuming on large projects but worth the effort.
How To Seal Copper Leaf
I had a question from a reader that wanted to know if a varnish needed to be applied to the copper leaf to preserve it. The answer is no. Below is the product that I use to create a durable finish.
STEP 8 After applying the copper leaf in all the right places, seal your copper leaf with MasterClear. MasterClear has been specially formulated for metallic finishes. You can use other products, but this one allows the metallic shine to show through the best. It's worth the money, in my honest opinion.
*Sealing copper leaf is essential to preserve brilliance. If left unprotected, the air will eventually cause oxidation and discoloration of the copper leaf. Be sure you don't miss this step. Most importantly, after all that work, you'll want to keep that brilliant copper finish for a long time.
The Stunning Results Of Copper Leaf On Painted Furniture!
Thanks for joining me today for this unique painted furniture makeover. I hope this inspires you to try some copper leaf on your furniture projects and have fun with it. Add your own creative design. It's a great way to add expression and character to an old piece. A real conversation starter!!!
Until the next project… xo, Do
Related Posts:
How To Add Copper Patina To Painted Furniture
12 Amazing Metal Leaf Furniture Makeover Inspirations
DIY Copper Patina Deer Head Décor
How To Apply Gold Leaf To Almost Anything!