I've always wanted to have a chalkboard wall in my home, and I thought I'd share my experience with you here. Not only does it serve as a beautiful statement wall, but also it has been extremely functional. I use it every day! Ever since I was a little girl in elementary school, I've always wanted to be the one chosen to erase the chalkboard. The teachers always felt that it was a punishment for some strange reason, but it was FUN to us kids! This is why sometimes being the good girl doesn't pay off.
This post contains a few affiliate links to help you find the products I use. You are not charged extra to use any of the links, but any income I make will be used for more fun projects! To see my full disclaimer, click here!
Product List:
How To Make A Chalkboard Wall
Because my dining room had the chair rail all across the back wall, it had to go. I used an Exacto knife to score along the chalk line and remove it from the wall. If you're not familiar with this next step, get some help, and be careful. These things are sharp!
Scoring the caulk allowed me to easily pry the trim away from the wall using a scraper and hammer as a wedge. I was careful not to damage the wall as I knew that would lead to more work and repairs.
This actually took me about 30 minutes once I got going. Not too shabby for a girl.
HERE COMES THE FUN PART
I used a pre-mixed all-purpose joint compound that I purchased at Home Depot. The reason for using the joint compound was to smooth the rough-textured surface. Trust me when I say don't skip this step. Your wall needs to be super smooth if you want to write on it. To create a smooth finish, I purchased a taping knife to spread the joint compound and a tray to hold it with as I applied it. This tool turned out to be extremely helpful with a huge wall and being on a ladder.
After I skim-coated the WHOLE wall (10 ft ceilings), I allowed it to dry overnight. The next morning was the most difficult step for me. It was climbing a ladder and sanding down every square inch of that wall, from the baseboards to the ceiling. Okay, learn from my mistakes. NEVER sand joint compound in your home without some barrier from the dust. It looked like the abominable snowman had powdered the whole room with the North Pole. I'm still cleaning.
Priming The Wall
Once I stopped up my vacuum with dust, it was time to apply the drywall primer. Ha! It would be best if you primed the wall before applying the chalkboard paint. I researched this quite extensively because I'm all about a shortcut if I can. After careful consideration and speaking with Lowes' nice paint man, I purchased Kilz General Purpose Primer Sealer. I wanted this wall to be super durable as my Grandkids will be using it as well. They get a little excited when it comes to chalking and can be a bit aggressive.
Painting The Wall
Time for the REAL paint. The wall was fairly large, so I purchased three 1 quart cans of the Rust-Oleum Chalk Paint. Using a 6-inch 1/4-inch nap roller, I rolled the whole surface and did the cutting around the trim and ceiling using a brush. I repeated a second coat that same day after it had fully dried. Always follow the directions on the can for dry times.
You'll need to wait a full week before the next step. It was so hard for me! The chalkboard paint needs to be fully cured and hardened before you can use your chalkboard wall. After waiting 1 week, the surface will be ready for the next step, called priming with chalk.
Priming Your Chalkboard Wall Before Use
Priming with chalk is a MUST before using your chalkboard wall to prevent what they call "ghosting." Ghosting (an outline) will appear on the board if the board is not primed with the chalk. If you use the board before this step, it will leave permanent ghosting of what you applied.
You will need GOOD chalk. Not the sidewalk chalk you get at your friendly Walmart Store. That's great for concrete with the kiddos, but you want perfection on your wall. The recommendations from all the tutorials I have read say to use soft chalk. I found this Dustless Chalk on Amazon. To prime the wall with chalk, I laid the chalk stick flat against the wall and rubbed it over the whole surface. Using a Dry Eraser, I gently erased all the chalk and blended it into the chalkboard for a beautiful chalky finish. I like small sticks that are easy to hold.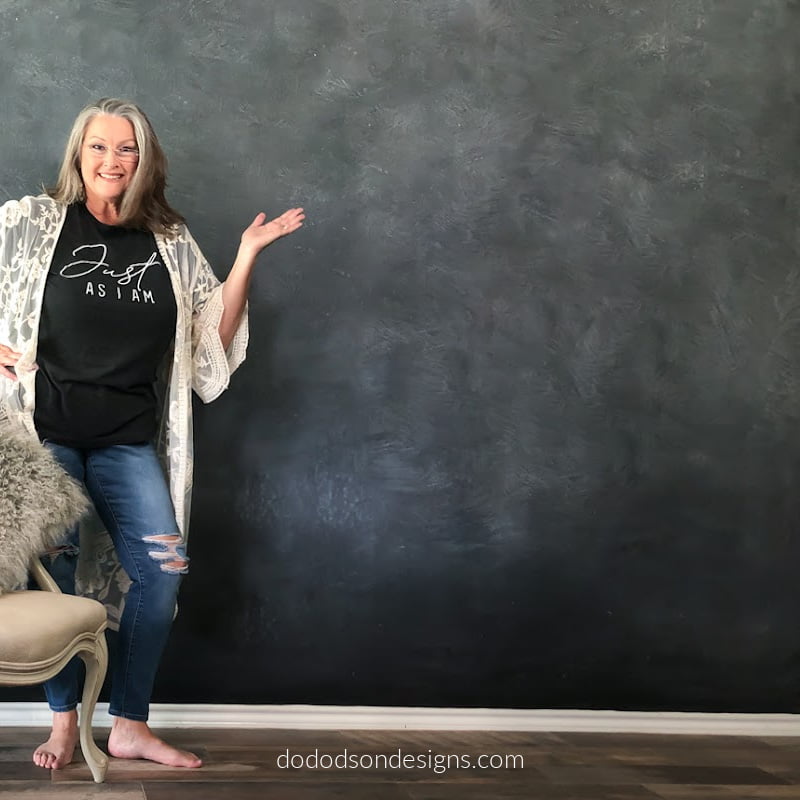 My Chalkboard Glam Wall!
And at Christmas, I love creating a theme using chalk on this wall. Isn't this a fun idea?
You can see more of my chalkboard wall here. Do Dodson Designs Christmas Home Tour
It turned out even better than I expected. I'm in love with my wall! Every day I use my chalkboard wall, be it memos, notes, motivational quotes, or a quick game of tic tac toe with the grandkids. Not to mention that HONEY DO list! Plus, it doubles as my staging wall for all of my furniture makeovers. Thanks for hanging out with me, and I hope this inspires you to create a fun and functional wall in your home or office.
Until the next project… xo, Do