Hello sweet friend! Do I have a Christmas craft project for you? Today I want to show you how to use reclaimed wood to create beautiful rustic wooden churches. With a few simple angled cuts and some glue, you'll have a project that you can be proud of. And I'll show you how to add the crowing touches with some cool texture for a dreamy snow-kissed look.
This post contains a few affiliate links to help you find the products I use. You are not charged extra to use any of the links, but any income I make will be used for more amazing DIY projects to share with you! To see my full disclaimer, click here!
Wooden Churches – 4 Simple Cuts
These wooden churches are such fun to make, and I believe that almost anyone that can cut a board can do this. Below are the cuts you will need to create these cute little shelf sitters. I used weathered fence pickets for this project, but you can use what you have. That's why I always save these scraps! You can adjust the Steeple centerboard to whatever angle you want.

Product List For This Project
Sanding and Assembling The Wooden Churches
Once you have your wood cut to the appropriate length and you're happy with the angles, you'll need to give them a good sanding before (especially if you're using weathered lumber like these fence pickets) doing a "dry fit" of your wooden churches. A dry fit is where you put the boards together to make sure everything lines up before they are secured together.
Lay the boards on a flat surface and use wood glue to secure them together. This will be the front side, or you can also use the backside as the front. Both look cute! The wood glue is really all you need, but I was in a hurry and didn't want to wait for the glue to dry, so I pin-nailed the wood together after applying glue.
Securing The Wooden Base To The Churches
Next, apply a small bead of wood glue to the bottom of the wooden church and secure it in the center of the baseboard. Again, you can also add a few pin nails if you are impatient like me. 🙂
Aren't They CUTE??? Time To Paint… Or NOT!
I made two wooden churches, but one (centerboard) had a greater angle for a higher steeple. That one had to be cut with my circular saw instead of my chop saw. I decided that I only wanted to paint one of the churches. I used chalk mineral paint for this church and dry-brushed it over the wood, not giving it full coverage. I wanted to leave just enough wood showing to give it that rustic look.
After the paint had dried, I used a sanding pad to sand back the edges and add some distressing.
Adding A Snow Kissed Look To The Wood Churches
Here is the fun part! Who am I kidding? It's all fun. Using a texture additive in the Butter Cream chalk mineral paint (I didn't measure. It's not that important.) I just added a little to the paint until I get the consistency I wanted. I recommend using a disposable bowl. Use a palette knife to scrape the thick texture paint over the church, focusing mostly on the peaks to give it that snow-kissed look. I choose not to seal the paint, but if you're displaying them outdoors, I recommend a Gator Hide topcoat sealer.
* The church doors were also painted with chalk mineral paint.
Rustic Wooden Churches- Winter Home Decor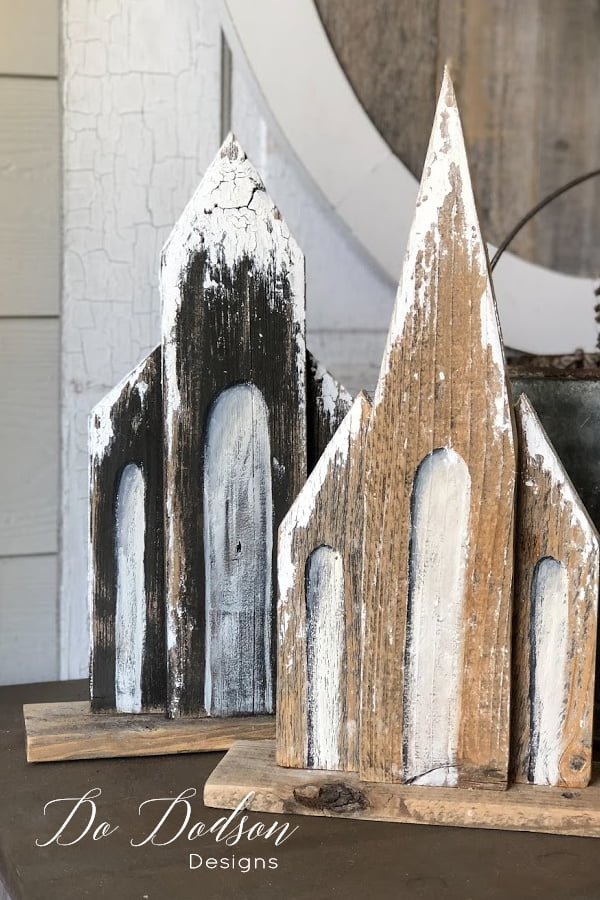 And just like that, you have beautiful wooden churches. Not just for Christmas but all through the winter. Paint or no paint, I think they both are FABULOUS! You could even leave off the snow kisses, and they would be perfect all year round.
Did you enjoy this project? I have more for the holidays too. Check out the related post below for more DIY decor ideas.
Until the next project… xo, Do