So, what do you do when you can't decide? You go with a DIY peel-and-stick wallpaper backsplash. It's a great alternative idea for the kitchen and it's removable.
* As an Amazon Associate, I earn from qualifying purchases and through other companies as well. You are not charged extra when you purchase through these links, but any income I make helps me create more amazing DIY projects to share with you! To see my full disclaimer, click here!
DIY Peel And Stick Kitchen Backsplash – 4 Easy Steps
When we replaced the countertops of our newly purchased ranch home fixer-upper, we knew that we would need a new kitchen backsplash. We really didn't want ceramic tiles. They're such a hassle to install and way too permanent.
Me being the impatient one in the family (shocker, right?), I wanted to install the shiplap kitchen backsplash we had in our prior home, but I just couldn't make up my mind. I'm pretty sure, but not sure. Does this sound familiar?
So, after some "careful" online research, I'm going with a DIY peel and stick wallpaper for a temporary removable backsplash until I can decide on a permanent one. It sounds easy enough. There's no glue involved, it's peel and stick, and I have scissors; this would be a quick 1-hour project, and no one will notice its wallpaper. So I thought.
The one thing that I thought wouldn't matter is that the wall is TEXTURED! And it has a bit of sheetrock damage from my aggressive demo skills.
Before starting, use kitchen and bath silicone to seal the countertop to protect it from the water before applying the wallpaper.
SUPPLY LIST:
Peel And Stick Back Splash (Easy Installation)
Here is what I figured out really quickly. For the best and long-lasting results, it's best to have a smooth wall. Our wall is textured, but I knew this peel-and-stick wallpaper would be a temporary solution at an affordable price. I was totally on board with that, so I pushed on. I'm a trailblazer!
STEP 1:
Determine the amount of wallpaper you need for your project. Our kitchen countertops are approximate 10'X10′. I used less than three rolls to complete this peel and stick wallpaper backsplash. CLICK HERE to see where I purchased the wallpaper from.
Remove covers on electrical outlets, and be sure to clean (wipe down) your wall to remove any dirt, grease, or grime it may have accumulated and allow it to dry. It is a kitchen, and things do tend to splatter.
* Before working on any project around electrical outlets, turn off the electricity to prevent serious injuries or death.
Pick A Design That Is Easily Matched
STEP 2:
Measuring from the top of the backsplash to the bottom of the kitchen counter, cut a piece of the wallpaper about 1/2 inch longer than you need for wiggle room. Any extra can be cut away after applying with a utility knife or whatever you have in your kitchen junk drawer. I used a scraper blade. Use what you have!
For this peel-and-stick wallpaper kitchen backsplash design, I chose vinyl paper (which repels water) with a pattern that can be easily matched. There is less waste when the design is repetitive. That's less waste, more savings.
I also noticed after purchasing that the white wallpaper is a bit transparent, and if you look closely, you can see the line of sheetrock damage behind the paper. From across the room, it's not visible. Yeah, I'm going with that. Remember, it's temporary, I kept telling myself, pushing on!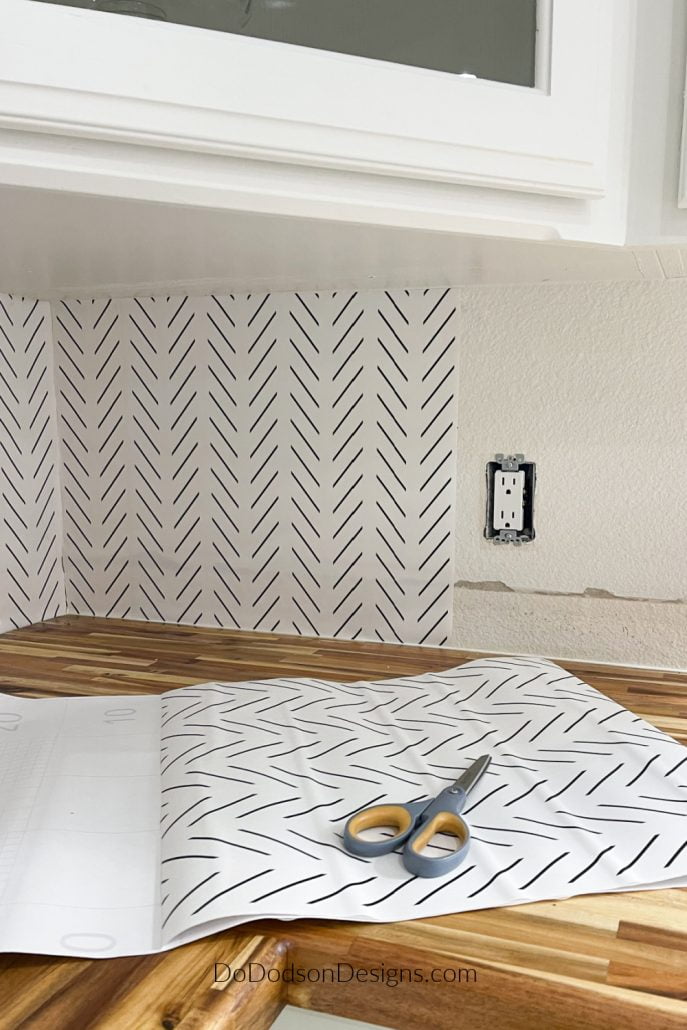 Top To Bottom Application – Removable Peel And Stick Wallpaper Backsplash
STEP 3:
After cutting (use the cut lines) the wallpaper into the size strips you need, then peel away the back sheet to expose the sticky side of the paper about 1/3 of the way down. Don't try to remove the whole back sheet because I promise the results won't be good. Trust me, and I tried it. Learn from my mistakes.
Start the application of the peel and stick wallpaper backsplash from the top, smoothing the paper as you work your way down with your hand.
STEP 4:
Once you have the DIY peel and stick wallpaper backsplash in place, use a utility knife to carefully remove the excess at the bottom of the paper and cut around electrical outlets.
Replace all outlet covers and turn the electricity back on so you can see the beautiful results of your labor. Time to take some Aleve!
Here Is How It Turned Out!
I love how the natural light reflects off the backsplash giving the kitchen a fresh airy feel.
Is it perfect? No. Is it a great temporary solution? YES! And it's removable!
My total out-of-pocket was about $30 for this DIY peel and stick wallpaper backsplash in my kitchen. Not bad, but it could be better if my wall had been smooth. It'll DO for now.
So, what do you think about this temporary kitchen backsplash idea? Are you one of those that can't decide like me? Let me know in the comment section, or just let me know you stopped by. I love hearing from you always. Don't forget to share this post. I appreciate you! kiss kiss
Until the next project,
xo, Do