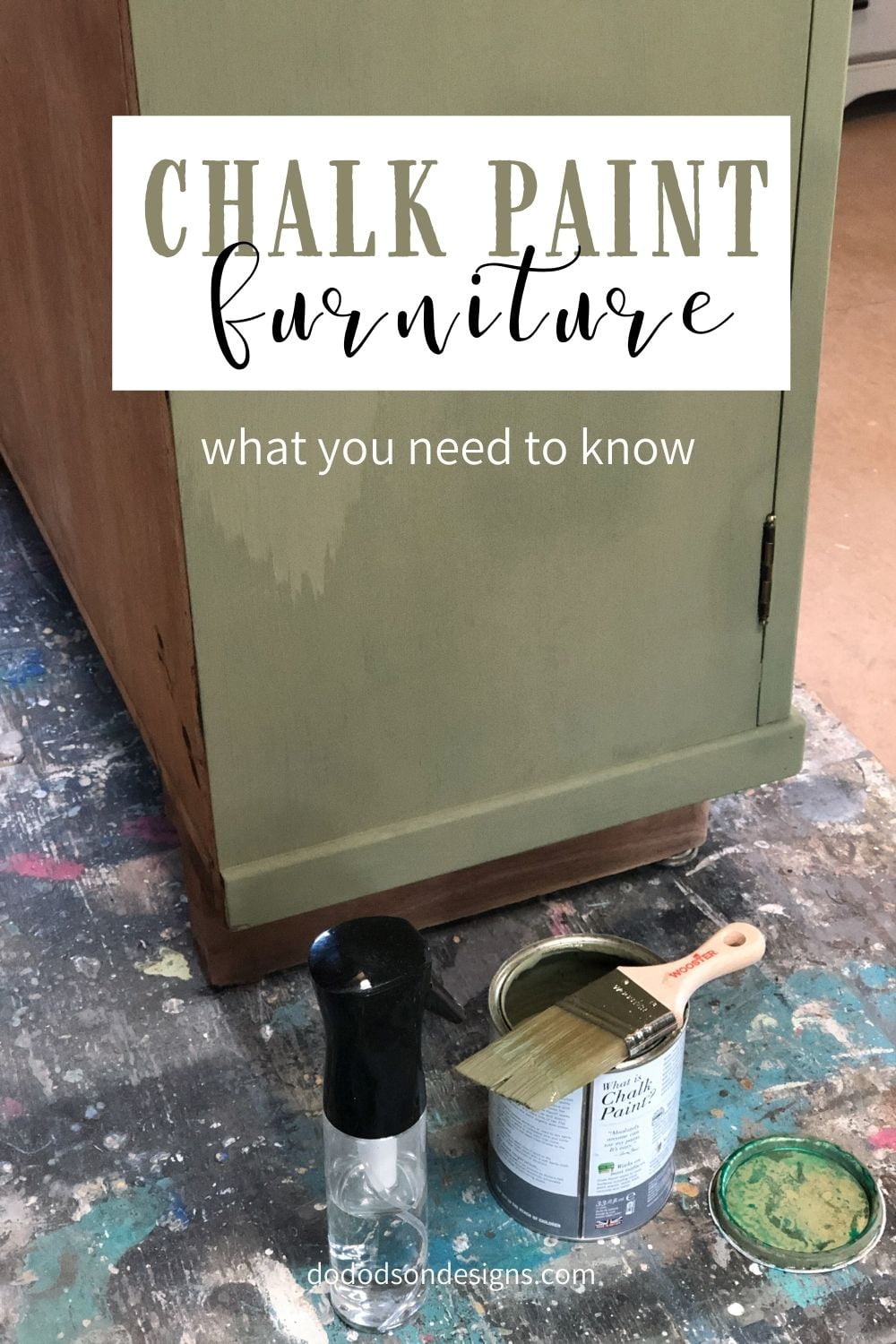 Hello creative friends! Today I'll be sharing my honest opinion of "chalk paint." I've been painting furniture for a long time and have used many brands except for this one. Shocker right? I'm sure I am the last furniture painter on earth that hasn't. Especially since this chalk paint has been around since the 90s. I was still stuck on latex back in the day, and it wasn't until years later that I started playing around with mixing my own budget-friendly chalk paint recipe. Now that I'm all grown up (insert eye roll), it's time to try it and see.
*This post is not sponsored and all opinions are my own.
This post contains a few affiliate links to help you find the products I use. You are not charged extra to use any of the links, but any income I make will be used for more fun projects! To see my full disclaimer, click here!
Lessons Learned Using Chalk Paint
Product List:
Click the product below to find where to purchase it online.
Always Prep Before Painting
I don't care what the chalk paint manufacturers say; I always start my furniture makeovers with the proper prep needed to ensure a beautiful finish. Been there and done that failure one too many times. Lessons learned the hard way. Sanding is just one of the steps. CLICK here to learn more about the prep before painting. This one needed it!
And before we get started with chalk paint, I wanted to share this new paintbrush I found. It's called a Wooster. LOL, I like saying that. The price for this one is $6.39 on Amazon. Great price! Perfect for furniture painting and general all-purpose use. CLICK HERE to add it to your stash too.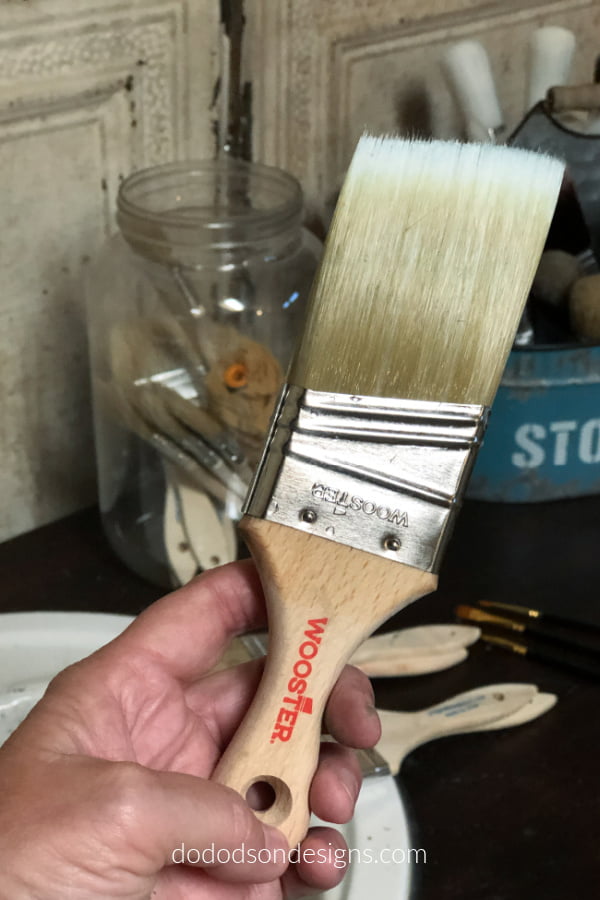 Chalk Paint… First Time Using
Let me start and tell you I need to get out of the house more but doing what I do, I tend to stick with what works. It just so happened my client requested this specific color and isn't it gorgeous? It's called Olive. I tried mixing a few colors to see if I could get close to the color she wanted with my current brand. It just wasn't happening, so I decided to splurge and purchased 1 Qt of the "Chalk Paint," and I'm so glad I did! Chalk paint is chalk paint. Huh, that's what I thought.
I'm excited to try this brand of chalk paint. So, here we go! I opened the can and stirred the paint with my tongue depressor, AKA craft stick… until it was mixed well. The paint is very smooth and creamy and sticks well to the brush. So far it's very nice!
Right away, I notice that this chalk paint is a bit thicker than what I prefer, but that's no biggy. The new paintbrush seems to be working well in the cut-in areas, and it stuck right where I put it. No drips or running with this paint. Yay!
Stirring The Paint Well
One of the first things I noticed was that the chalk paint needed to be stirred pretty often while painting. The pigments were very visible when allowed to sit for a short period. After the first coat of paint was applied, I allowed it to dry. I know that chalk paint always looks different when dry, and it was a good way to judge how many coats would be needed for full coverage.
Chalk Paint Coverage…
Before applying the second coat of chalk paint, I decided to tackle those brush strokes. I can fix that! So, I pulled out my trusty spray mist water bottle using the trick I know that always works on the brush strokes. WRONG! I tried a couple of different ways. The first attempt was to spray over the painted area with a fine mist of water and blend the chalk paint into it. This is my blending technique.
The second attempt was to use a damp brush and apply the paint. Neither of these worked. As you can see in the picture above, the water changed the color of the paint. What I should have done was to add water to the whole can to thin it (as directed on the can 🙄) before painting. This chalk paint can not be altered outside of the can. Note to self, read the labels first.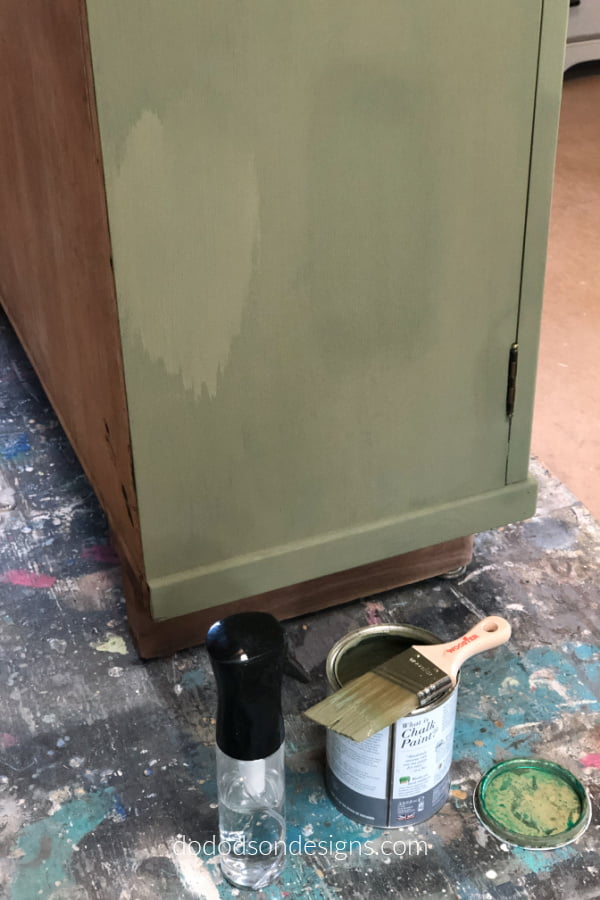 3 Coats of Paint To Cover
It took 3 coats of paint to give full coverage, and that's all I have to say about that. Why is my arm so dang tired? I have to admit that this chalk paint was a little more difficult to work with. Maybe because I should have thinned it before, at this point, I was hoping for a miracle because the beautiful Olive green color was… well, not one color. I was getting a little nervous.
Smoothing Out The Brush Strokes
Great news! This chalk paint sands very easily, so that's what I did. I used a hand sanding pad (220 grit) and gave it a once over. It was a lot of sanding to get it as smooth as I would have liked, but brush strokes give it character. Right?😮 The dust was everywhere, and I decided to leave a few! Looking back, I should have worn a mask.
I hooked up the shop vac and cleaned up the paint dust the best I could. I used a damp paper towel to wipe down any leftover dust from the sanding of the chalk paint on the furniture. After the sanding, I was a bit worried that I screwed up! The paint was all kinds of colors… but it was pretty. Like I could see the different pigments used to create the Olive green. But then again, I like unusual finishes, but this was my client's piece, and she wanted OLIVE GREEN.
Sealing Annie Sloan Chalk Paint
It is recommended that Annie Sloan's chalk paint be sealed with wax. I did know that. Unlike the chalk mineral paint that I prefer, it does not have to be sealed. Both paints have a chalky matte finish.
It Was PURE magic!
Guess what happened when I applied the wax over the paint? The chalk paint Gods released their miracle. AMEN! The uneven colors richened, and my OLIVE green came back. Glory, glory! I didn't know. As for the paintbrush strokes, I'm calling it good cause pretty sure that was my bad for not reading the can. And come to think of it… I probably should have used a chalk paintbrush instead of the Wooster. I'm blaming it on the Wooster! That's what you get when you have a name like Wooster. LOL
Lessons Learned From Using This Chalk Paint Brand
Always read the instructions on the can.
Not all chalk paints are the same.
If you love your brand and it works for you, that's all that matters.
All chalk paints take time to master use.
Blending with a brush and water doesn't work well for a one-color finish.
Don't be afraid to try other brands.
So, the question is… would I use this chalk paint again? I would have to say no for a couple of reasons.
Almost $40 for 1 quart (that's a lot of $$ in my opinion)
It took the whole quart to paint it. (that's a lot of paint)
The brush strokes are an issue for me. (thick paint)
It has to be sealed. (that's even more money on another product)
I'll stick with my tried and true Dixie Belle chalk mineral paint. It works well with my style of furniture painting. Sometimes you gotta try other products to know what's out there. Testing the waters is always good, and you don't know what you don't know.
The End Results Of Chalk Paint On Furniture
Wow! It sure is a step up from before. All in all, it turned out great. Isn't this Olive chalk paint a gorgeous color?! And can I get an AMEN for those chartreuse pillows that I paired with it? I found them on Amazon for $10. Adding pops of color (pillows) in a home is a great way to spruce up the look in a hurry without breaking the bank. Especially if you have Amazon Prime. *wink *wink
Want to share your feedback on this makeover? I'd love to hear. Or say HEY to let me know you were here in the comment section below. Thanks for stopping.
Until the next project… xo, Do