My Top 40 Dixie Belle Chalk Paint Furniture Makeovers

Notice: Undefined offset: 4 in /www/clients/dododsondesigns.com/htdocs/wp-content/plugins/ultimate-social-media-plus/libs/sfsi_widget.php on line 1356

Please follow and like us:
Hello, my fabulous Dixie Belle Chalk Paint Furniture loving friends! If you're new to chalk painted furniture and Dixie Belle Paint Products I'm sharing my top 40 furniture makeovers today just for you. So, if you need a little furniture refurbishing inspiration you can always find some here.
This post contains a few affiliate links to help you find the products I use. You are not charged extra to use any of the links, but any income I make will be used for more amazing DIY projects to share with you! To see my full disclaimer, click here!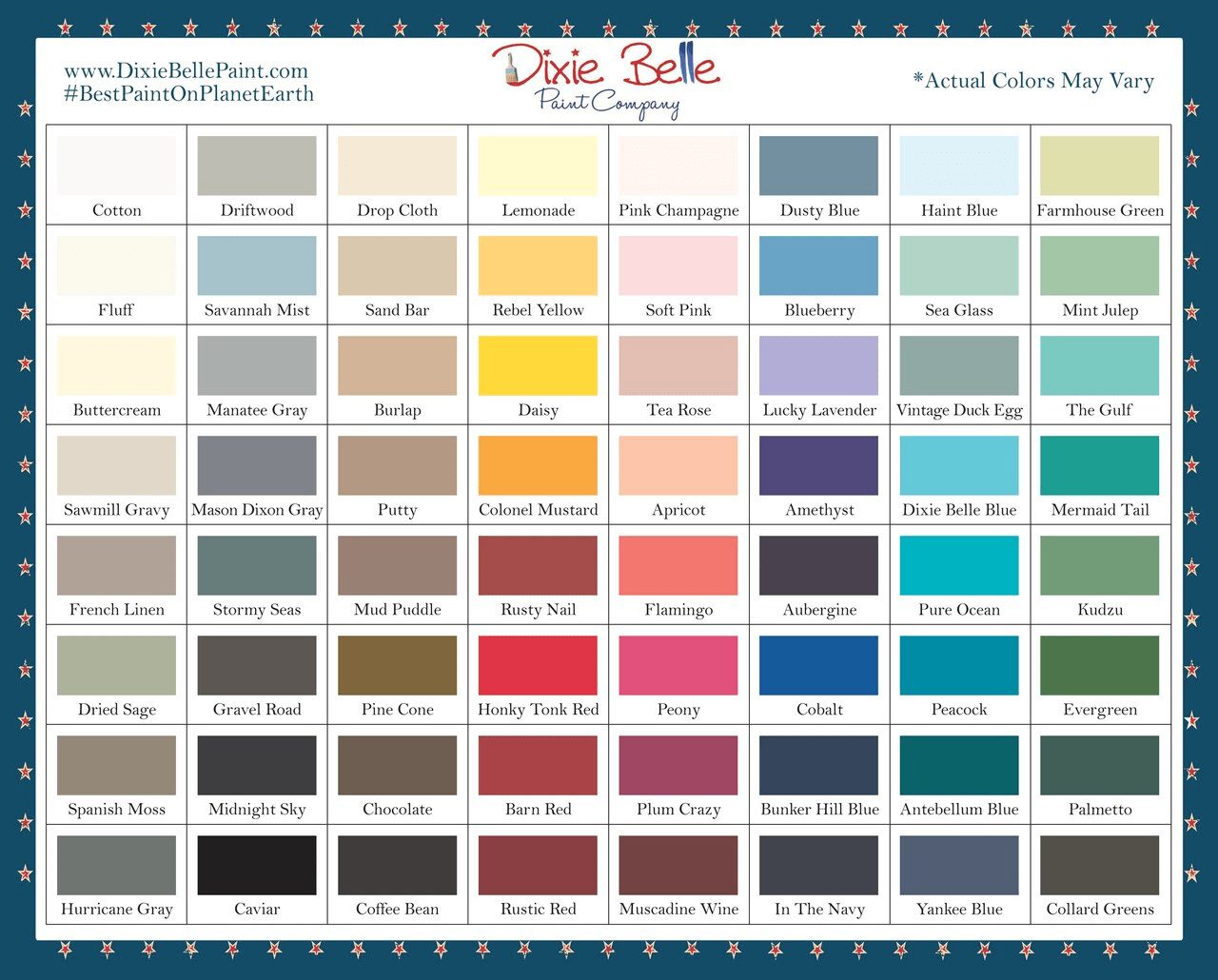 40 Dixie Chalk Paint Furniture Makeover Ideas
WARNING!

You have just entered the furniture flipping zone! You have been warned! Proceeding from here is almost guaranteed to make you want to paint all furniture you see. Especially the ugly ones! 🤣
#1 This color makes me so happy! 2020 needs more of this chalk paint color… don't you agree? Dixie Belle did well when they created these colors. CLICK HERE to see how I blended this happy look.
#2 I would have never dreamed that purple chalk paint would look so elegant but being a Donny Osmond fan (google him if you're under 40 🙄 ) I couldn't resist giving this BOLD color a go. CLICK HERE to learn more about why I'm not afraid of bright colors.
#3 I have no shame in telling you that some of my furniture in my home has been chalk painted multiple times. This one is no exception but I'm thinking after all that stenciling, I'll never touch it again. CLICK HERE to learn how to create a Bone-InLay Dresser with stenciling.
Keep Going… More Chalk Painted Furniture Ahead!
#4 Holy Guacamole! Seriously, that the name of this chalk paint color by Dixie Belle. I added the decorative molding and finished off with a white wax. CLICK HERE to learn more about this makeover.
#5 When In The Navy and Gray by Dixie Belle chalk mineral paint come together in blended fashion you get this subtle look. Just the right amount of highlighting on those drawers.
#6 By now you've noticed a trend with my chalk paint makeovers. I can't use just one color. That's the beauty of Dixie Belle chalk paint. Easy to blend and you can custom mix your own colors. Just like I did on the coffee table. CLICK HERE to learn the colors I combined for this gorgeous Teal color.
Don't Stop… More Chalk Painted Dixie Belle Furniture Below
#7 Did you know you can chalk paint a piano in one day? I sure did and it wasn't as hard as I thought it would be. I used Dixie Bell chalk mineral paint in the color Driftwood. CLICK HERE to see the before.
#8 My client brought me this hutch one day and I was like… no way am I going to be able to make this look good. Guess I was wrong! CLICK HERE to see how I created those french grain sack stripes inside the hutch.
You're Sinking Into The Abyss Of Chalk Paint Now!
#9 When I was asked to participate in a charity auction for MS (Multiple Sclerosis) I just had to give it all I had. The vintage desk they provided me to flip was really a challenge but I think it turned out beautiful. CLICK HERE to see the before.
#10 Does this buffet table look familiar? If you've been following me a while you will probably recognize this piece. Bless it's heart! It's been chalk painted 3 times and now it has a hairy cow hanging over it. 🤣 Okay, I'm done. No more painting… but I can't promise. CLICK HERE to see the blended stenciling with chalk paint that you can't see in this pic. Thank you Dixie Belle!
#11 I bet you don't see furniture painted like this everyday. I was playing around with raised stenciling and came up with this! I thought surely no one would want it. It sold the same day I posted it. What do I know??? 🙄 CLICK HERE to learn more about raised stenciling.
You Know What's Up Ahead… More Dixie Belle Chalk Paint!
#12 I love me some Art Deco Furniture and I knew when I seen this one exactly what I wanted to do to it. With a little chalk paint and a floral transfer, I transformed this into a lovely statement piece. CLICK HERE to all the deets on this makeover.
#13 Did you know that when you add Dixie Belle's texture additive to chalk paint you can create a finish that covers a multitude of sins? I did it on these end tables and it turned out great! CLICK HERE to see how I did it.
#14 Does this one look familiar??? This the same buffet I paint 3 times! This was my second attempt to please my farmhouse loving self. I couldn't get past the pink but it I thought it was pretty. CLICK HERE to see how I achieved this look with chalk paint and furniture transfers.
You've Gone Too Far To Turn Back Now!
#15 I get a lot of compliments on this vintage Armoire cabinet. The mixture of floral and chalk paint once again wins. You're going to want to CLICK HERE to see the before.
#16 The transformation of this Pub table and chairs was another one of those "why did I say yes" makeovers. But the end results always make it worth the effort. These were previously chalk painted Turquoise. 😮 CLICK HERE to see what I'm talking about.
#17 My client wanted a french farmhouse look and requested a custom color. Once again I was able to use Dixie Belle chalk paint to create this one of a kind color. CLICK HERE to get the color recipe.
Almost Half Way…
#18 Ah yes, the subtle look and feel of Gray. This vintage eye catching sideboard was in bad shape… (like most everything else I flip) but it's rare I give up on a piece. Like the sign says above it, "I'm doing to make everything around me beautiful and that will be my life". CLICK HERE to see the full makeover.
#19 This one is for FANCY NANCY! There's just something about these vintage vanities with the round mirrors. I love a good paint and stain combo and this one works with this precious Tea Rose color. CLICK HERE to see the full makeover.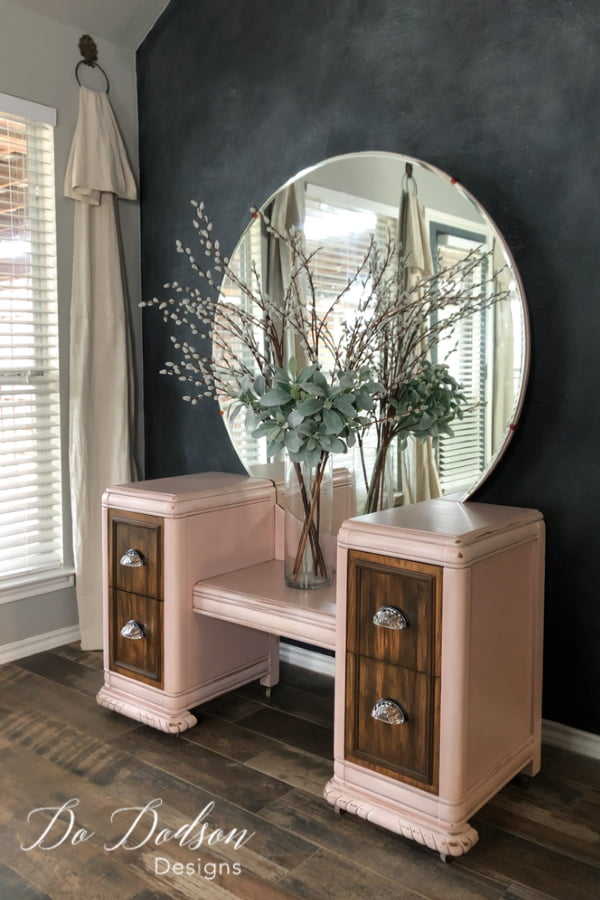 #20 Steel Magnolia! Who doesn't remember how Julia Roberts stole our hearts in that movie. And let's not forget my ole buddy Wheezer! 😆 Great movie and beautiful chalk paint color when it's applied to furniture. CLICK HERE to learn how to apply metallic paint the right way.
Half Way… More Chalk Paint Makeovers!
#21 There's nothing I love more than beautifully painted white furniture. It may look simple but it's one of the hardest colors to paint. It's all about the prep with this makeover. CLICK HERE to learn how to master the basic steps and ace white chalk paint on furniture every time.
#22 The Old World Finish on furniture is still popular and so easy to create with chalk paint. CLICK HERE to learn about this fun technique and layering paint.
#23 Because the little girl inside of me never grew up! Ever so often you'll see me hop on over to the playful and whimsical side of furniture painting. This was just for fun! Pink and Gold inspired nightstands. CLICK HERE to see a cool blending video tutorial on these chalk paint colors.
There's More Amazing Makeovers A head… I promise!
#24 And then there's chalk paint with a rusty crusty patina! Oh, but this technique is so much fun! The chemical process literally changes right before your very eyes with Iron Patina Paint. It's amazing! CLICK HERE to see the man cave furniture makeover I did for my hubby. Then I sold it! 😀
#25 By now you probably think you're hallucinating after looking at all the painted furniture but you're not. That is a painted sofa and I used Dixie Belle chalk paint to do it. CLICK HERE to get the goods on this unbelievable makeover.
#26 Who doesn't love these old chests? Fun to chalk paint and they are still very useful for storage. This makeover got a texture finish with a vintage wordy transfer. I'm not sure what it says but it sure is pretty. My vintage quilts look good in it too. CLICK HERE to see how I did it.
Who's Idea Was It To Share 40 Chalk Paint Makeovers?
Oh, that would be me…. my arm is tired but I must push on. 🥱 I hope I'm not boring you. This could take a while.
#27 Another painted fabric makeover! Chairs are a dime a dozen and I can't think of a better way to learn how to chalk paint fabric than with a cheap chair. CLICK HERE to learn more about this fun makeover and how I used Dixie Belle Paint.
#28 You would not believe how this gentleman's chest looked before I gave it a restoration hardware makeover. The man I purchased it from wanted $50 for it. I offered $10 and he took it. He should have gave it to me for free. It was horrible! Broken leg, messed up drawers… you know the look. CLICK HERE to see how I achieved this look with chalk paint.
#29 Raised stenciling on the doors of this vintage dresser gives it an embossed metal appearance. It's just chalk paint with a texture additive. CLICK HERE to learn how to create this raised stencil look on your furniture.
10 To Go! Refinished Wood Makeovers Too… just because.
#30 Shocker! I don't chalk paint every thing. On the contrary, I love a beautiful wood finish more than most and you'll see I do quite a few of these makeovers. This Mid Century Modern dresser was stripped and refinished with a beautiful dark Walnut gel stain. CLICK HERE to see the products I used and a detailed tutorial on refinishing wood furniture.
#31! BOLD stripes are not for the faint at heart but I love them paired with a soft floral transfer. This makeover was special and dedicated to my BFFF. You can take the girl out of the country but you can't take the country out of the girl. That would be me! CLICK HERE to see the full makeover.
#32!! I created this look on this vintage dresser with chalk paint and a stencil. I used the same chalk paint colors to create the antiquing on the mirror. CLICK HERE to see how I created the matching antiqued mirror. And it's not even the original mirror!
Hang In There… Just A few More Chalk Paint Stories
#33!!! Well, the story on this DIY rolling kitchen island is it isn't painted with chalk paint either. But I did use Dixie Belle paint products so I figured you would want to see it. CLICK HERE to see how I transformed this old cabinet into an amazingly useful tool in my small kitchen.
#34!!!! Here it is again! Remember my vintage buffet table? This was the first makeover and I really liked it. But obviously not enough to not repaint it. CLICK HERE to see how it all began.
#35!!!!! When penny tiles meet chalk paint on this vintage pie crust table it's a match made in heaven. Talk about a fun project… CLICK HERE here to see how to create a tiled tabletop.
Are You Still Hanging With Me? Almost There!
#36!!!!!! And how about this nautical themed chest? Of course, I used multiple colors of chalk paint, a mermaid transfer, and some Zinc Gilding Wax. Shimmery high lights!. CLICK HERE to learn more.
#37!!!!!!! It is well with my soul… and it is well within my Gold loving self to step outside of the usual and create something just for fun. I used chalk paint and "WRAPPING PAPER" I found in my closet to create this little beauty. CLICK HERE to see how I created this look.
#38!!!!!!!! Blame it all on my roots, I grew up in boots. The country is strong within my soul and when I found this amazing charcoal horse transfer I knew it was happening. CLICK HERE to see the full tutorial.
#39!!!!!!!!! Because I love a pop of color and a bold pattern I completely refurbished this vintage armchair in the colors of my area rug. Chalk Paint and Dixie Dirt! Yep, I was playing in the dirt. CLICK HERE to see how to add an amazing dirty finish to your next project.
The Last But Not Least… #40 No Chalk Paint Makeover!
#40!!!!!!!!!! Whew! That was a lot of flipping in one blog post. Well, as you can see this beautiful washstand did not get chalk painted. I L-O-V-E my wood. Shocker! Instead, I used Dixie Belle's White Wax over the raw wood to create this soft dreamy farmhouse feel. This little cutie lives on my front porch. CLICK HERE to learn how to create this look on your wood furniture.
That's just scratching the surface of all the Dixie Belle chalk paint furniture makeovers I have done over the years. I just thought it would be fun to take a walk down memory lane and sure enough, it was. If there's one thing you should know about furniture makeovers with chalk paint is that with every project comes a story and you'll always learn and grow with each one. Take your time and enjoy the process.
Thanks for allowing me to share my passion with you. Furniture painting in itself is a lesson in life.
Until the next project… xo, Do 😘
RELATED POSTS:
The Best Chalk Paint For Quick & Easy Furniture Makeovers
Easy Thrift Furniture Makeover That Will Save You $$$