How To Paint Metallic Furniture The Easy Way
Learning how to paint metallic furniture is easier than you may think. I can show you how to get a flawless finish on your furniture with a paintbrush with the right paint. Let's dig in!
This post contains a few affiliate links to help you find the products I use. You are not charged extra to use any of the links, but any income I make will be used for more fun projects! To see my full disclaimer, click here!
Before The Metallic Paint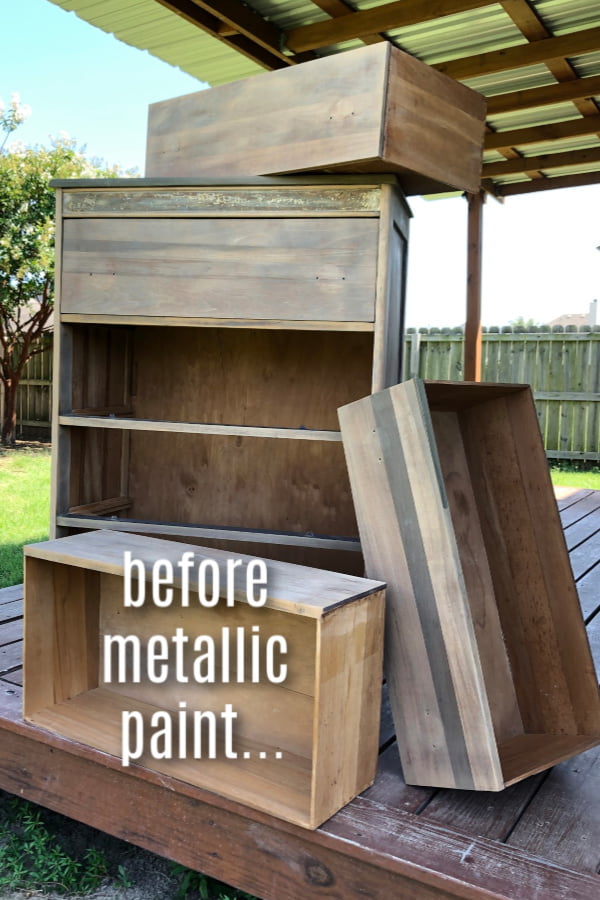 Here is a complete supplies list of the products that I know, like, and trust. You can find where to purchase them by clicking on the individual products below.
Adding Detail To A Plain Chest
To add a bit of decorative detail, I used Decor Moulds and added the designs across the top of the chest to create a consistent design and attached them with wood glue. The process is fairly simple. It's like a play dough consistency. Do you remember that stuff as a child? Press the Paper Clay into the Decor mold and remove it. Instant detailing! Apply the designs while they are still damp. This will allow you to bend and shape them the way you want. You can even bend them around corners. I waited 24 hours before painting them, but I have seen others paint them while they were still damp.
WATCH THIS Video to LEARN MORE
Prepping Before Applying Metallic Paint
I chose a color that is similar to the metallic paint color for the basecoat. For this project, I used one coat of Dried Sage Chalk Mineral Paint. Be sure that you have a good solid base coat of that color. Also, make sure you have a super smooth finish before applying the metallic paint. I suggest using a Finishing Pad to smooth out any rough areas of the chalk mineral paint or imperfections. You can also use sandpaper if you wish. Any lumps or bumps will stick out like a sore thumb once the metallic paint is applied.
Paintbrushes Matter
First, you will need a great paintbrush! I can't emphasize this enough. When working with metallic paints, the paintbrush matters. Metallic paint has tiny particles of metal flakes. That's what gives it its brilliance. You will want a super smooth finish on your metallic painted furniture, especially if you are working on a flat, smooth wood piece.
So, let me say… inspirations come from some of the strangest places. Can you guess my inspiration for this piece? You can CLICK HERE to get a bling cap just like my inspiration.
Steel Magnolia Metallic-Painted Chest
The metallic paints are not like your typical chalky type of paints. They will take more coats for full coverage. Apply 2-3 coats over the base coat. When applying the metallic paint, be mindful to paint one direction with your paintbrush and use long even strokes on flat surfaces. This will help with the streaking. Metallic paints have somewhat of memory, and depending on the brushstroke's direction, they will hold that pattern. Painting with metallic paint can be tricky, but so worth the effort! The results are stunning and can turn a plain Jane piece into a showpiece.
The wood top was refinished with No Pain Gel Stain in Walnut to complement the metallic paint finish. I never knew wood and metallics would look so good together!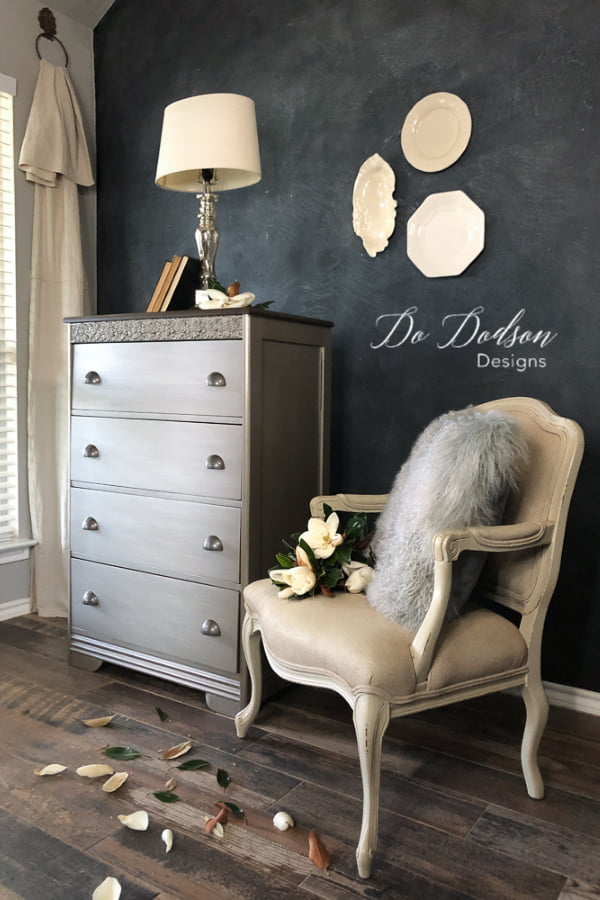 So, what do you think about this plain Jane makeover? Shocker, right? I'm super happy with the results, and I love how versatile this finish is. I can see this metallic beauty used in many different design styles. Farmhouse Glam, Modern, Fleamarket Decor, etc. Love this look? You can see more of my metallic painted furniture projects below. And as always, I would love to get your feedback and thoughts on the metallic finishes. Drop me a comment below, or just let me know you've stopped by.
Until the next project… xo, Do
RELATED POSTS:
Metallic Paint On Furniture You Can Apply With A Paintbrush
Insane Metallic Painted Furniture
How I Painted A Metallic Finish With A Putty Knife
Cabinet Door Wall Art – 10 Upcycled Inspirations