Upcycling cabinet doors is a thing, ya know. Well, it is for me. I like to use repurposed those old cabinet doors to practice my painting techniques before applying them to my furniture. Afterward, I have a beautiful cabinet door wall art for my home and it's budget-friendly. DIY home decor at its finest. Today I'm sharing a few of my favorite finishes here and the products I used to achieve the look.
This post contains a few affiliate links to help you find the products I use. You are not charged extra to use any of the links, but any income I make will be used for more fun projects! To see my full disclaimer, click here.
10 Up-cycled Cabinet Door Wall Art Inspirations
One of the places I like to shop for old cabinet doors is the Habitat For Humanity Re-store. They usually have a large section of cabinet door designs to choose from. If you visit often, you never know what you'll find. I snagged these cabinet doors for 98 cents each. SCORE! The perfect canvas for a creative that loves to play with paint.
Gold Leaf Cabinet Door Wall Art
This finish was inspired by my love of gold leafing. CLICK HERE to see a Mid Century Modern cabinet with this design.
Rust Paint Cabinet Door Wall Art
This is one of my favorite finishes. I have applied this rust patina finish to wood, glass, plastic, and ever over metal. You should see this on furniture too. CLICK HERE to see how this finish looks on a wooden chest of drawers.
Silver Metallic Grunge Finish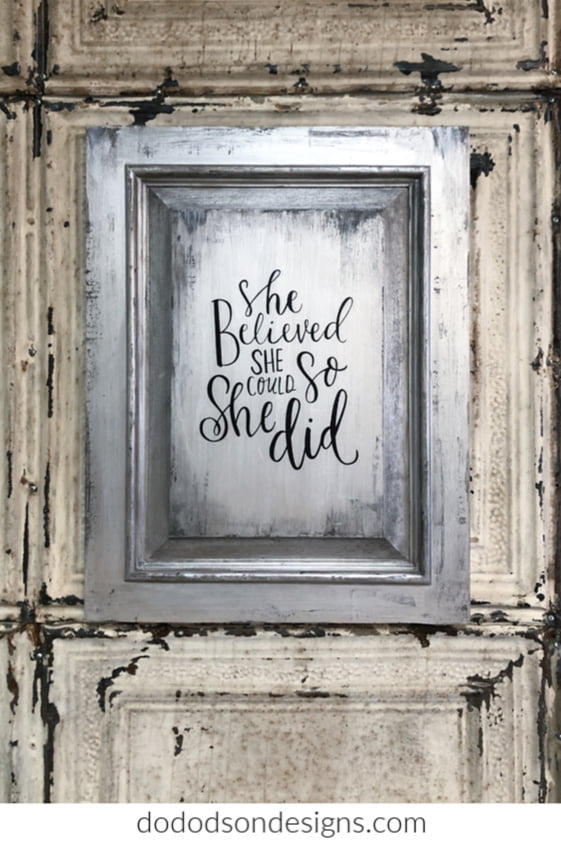 Silver Metallic Grunge finish makes an interesting background for wall art with your favorite saying or quote. I used a putty knife to create this look and you can view the full video tutorial by CLICKING HERE.
Breast Cancer Awareness Cabinet Door Wall Art
This finish on this cabinet door has a little bit of everything. If you want to read more about this project… CLICK HERE. It's dear to my heart.
Raised Stencil Wall Art
Give me all the texture! Raised stencils are quick and easy to apply to many surfaces. I used a product called MUD to create this look on this cabinet door wall art. Want to see it on furniture??? CLICK HERE to see more on raised stencils.
Buffalo Plaid Cabinet Door Wall Art
This one is "I was just messing around and bored" finish. The buffalo plaid pattern was easy and I just free-handed it. It's the no tape method. It's not perfect but it sure is cute. Perfection is overrated with this pattern. CLICK HERE to see how I painted this popular pattern and created a cute DIY home decor jar.
Farmhouse Inspired Wall Art
Isn't this rooster adorable?! It's perfect with this style of door. My sweet friend Tammy with Rustic Orchard Home helped me apply this with her Chalk Couture one day when we were having a girly painting session. Farmhouse decor rocks! You can learn more about Chalk Couture by CLICKING HERE.
Metallic Warm Silver Cabinet Door Wall Art
THIS… I'm totally in love with this color. The day I painted this cabinet door, I knew it was the perfect color for my dresser in my bedroom. And I painted it with a paintbrush! To see my dresser I painted metallic warm silver (it looks more like GOLD) CLICK HERE. And how funny is that stencil? It's a good reminder that God is always present.
Decoupage Paper Cabinet Door Wall Art
How about decoupage tissue paper? Have you tried it? It's a bit daunting at first. Another good reason to use cabinet doors to practice on. I have a video tutorial on the application process and you can watch it by CLICKING HERE.
Paint Blending
I created a video tutorial with this finish. CLICK HERE to see how I created this look. To see the products used on this project, CLICK HERE.
Cabinet Door Wall Art Series
I hope you enjoyed my cabinet door wall art series. Of course, I'll be adding more, so check back often to see the newest additions. And as always, I would love to hear your opinion on cabinet door wall art. Have you considered using them for practicing your techniques? Sometimes the greatest creations come from experimenting and that in itself is fun.
Until the next project… xo, Do