I love the look of GOLD metallic paint on furniture. It seems the Farmhouse style is taking a turn, and I see more and more color and bling in the mix. Hallelujah! I have arrived! I admit I love to stand out and walk in my own direction, and I encourage you to do the same. Remember, the style inside your home only needs to make you happy. Oh, I want to give you a heads up… the paint color is called warm silver by Modern Masters, but it has gold undertones.
This post contains a few affiliate links to help you find the products I use. You are not charged extra to use any of the links, but I make a small commission that I can use for more fun projects! To see my full disclaimer, click here.
Before Applying Metallic Paint
I've had this french provincial dresser just waiting patiently for her turn to get the perfect makeover and I think I found the right shimmery finish she deserves. Because this dresser has a slick surface already, it's the perfect choice for a metallic finish.
I don't recommend painting just any old piece of furniture with metallic paint. It has to be deserving of the work and effort that it takes to make it look amazing and an already smooth finish will show the brilliance of this gold finish the best. Some details are okay but for the most part, choosing a simple piece with large wooden surfaces is best.
Modern Masters makes a beautiful line of shimmer paints that looks gorgeous when applied the correct way on your furniture. This may come as a shock to you, but I painted this dresser with a paintbrush. It looks like a sprayed finish, right? I promise that you can achieve the same great finish with a paintbrush.
SUPPLY LIST: What you'll need for a good quality finish.
Prepping Your Furniture Before Painting For Best Results
I began by cleaning and scuff sanding the whole piece. This paint finish (all paint finishes) is only as good as the prep work and the best way to prevent a failed finish is to prep and prep right the first time. There is no such thing as prep-free paint in my honest opinion. A coat of primer goes a long way.
Because this dresser had a slick surface (better for metallic paint finishes), after cleaning it well, I applied two coats of primer using a foam roller and allowed it to dry overnight. My favorite go-to primer is Zinsser 1-2-3 for all surfaces. I use it with all my favorite paints.
How To Paint Your Wood Furniture
Using this metallic gold paint was the right decision for this dresser. I've used other paints like chalk paint with a gold glaze over it but it doesn't compare to the mica pigments in the modern master's metallic line. If you want brilliance, this is your paint! It reminds me of gold leaf.
STEP 1: Always stir your paint well with paint sticks before applying it to your flat surface.
Apply a thin coat with a 1/4-inch nap roller. Using a roller with a tray is a great way to cover larger surfaces like furniture and larger projects. You'll want to work quickly with this paint due to the dry time. It doesn't dry super fast but faster than some I've used in the past.
Immediately after applying the first coat with a roller, using a quality paintbrush smooth the paint in one direction. Do not use back and forth brush strokes in different directions.
The shimmer paint is transparent, and the first coat is always the ugly duckling. This is normal, and I promise it will get better.
STEP 2 & 3: Repeat the above steps for the second coat and again with the third and final coat. Be sure to leave ample drying time between coats. The third and final coat should give you good coverage.
*Tip To Remember
The reason I say not to brush back and forth in different directions is that metallic paints have "memory' from the metallic flakes in the paint. When you brush in one direction, it will look differently brushed in the opposite direction. Therefore giving you a streaky finish.

The Best Top Coat For Metallic Paint
The next step is to apply a protective topcoat to ensure the protection of the beautiful flawless finish you worked so hard to get. I love that it's a quick-drying formula, water-based formula with low odor and low VOCs. So you can feel good about painting indoors with it.
STEP 4: Using a high-quality paintbrush apply Modern Master's protective clear top coat. I recommend 1-2 coats. If you have a high traffic area go with two coats for extra protection and durability. You can lightly sand between coats for a super smooth finish.
This top coat dries hard and provides great durability. I've used this dresser for about 5 years now and it still looks great. Also, this top coat is specially formulated for metallic paint and won't dull the finish.
Best Metallic Gold Spray Paint For Hardware
I sprayed the original pulls with my favorite gold spray paint. Rustoleum Bright Reflective GOLD. To me, it looks more like real gold. It's also a great paint for small DIY projects like picture frames.
If you're wondering about how to clean and spray old metal hardware, CLICK HERE for a complete tutorial. I like to use aerosol spray paint to update old hardware and I use it quite often with my furniture makeovers. The bright reflective shiny finish is a great compliment and adds that extra eye candy to draw attention to what you've worked so hard on. That is if you're a GOLD LOVER like me.
Just because I'm extra, I added gold mercury glass knobs from Hobby Lobby for a contrast of gold on the drawers in the midsection of the dresser.
I had a small issue with the drawer holes. They were a tad too large for the screws with the new hardware! CLICK HERE to see how the fix. No one wants wobbly Hobby Lobby knobs! This happens a lot with old furniture.
Metallic Paint Has My Whole Heart!
Yes, it took 3 coats of paint for full coverage but the end results are so worth it. Modern Master Clear Coat was used to seal the paint to give it a durable finish.
Going with the metallic gold in warm silver was a clear winner and a good idea for updating this old dresser. The combination of the two golds really compliments each other.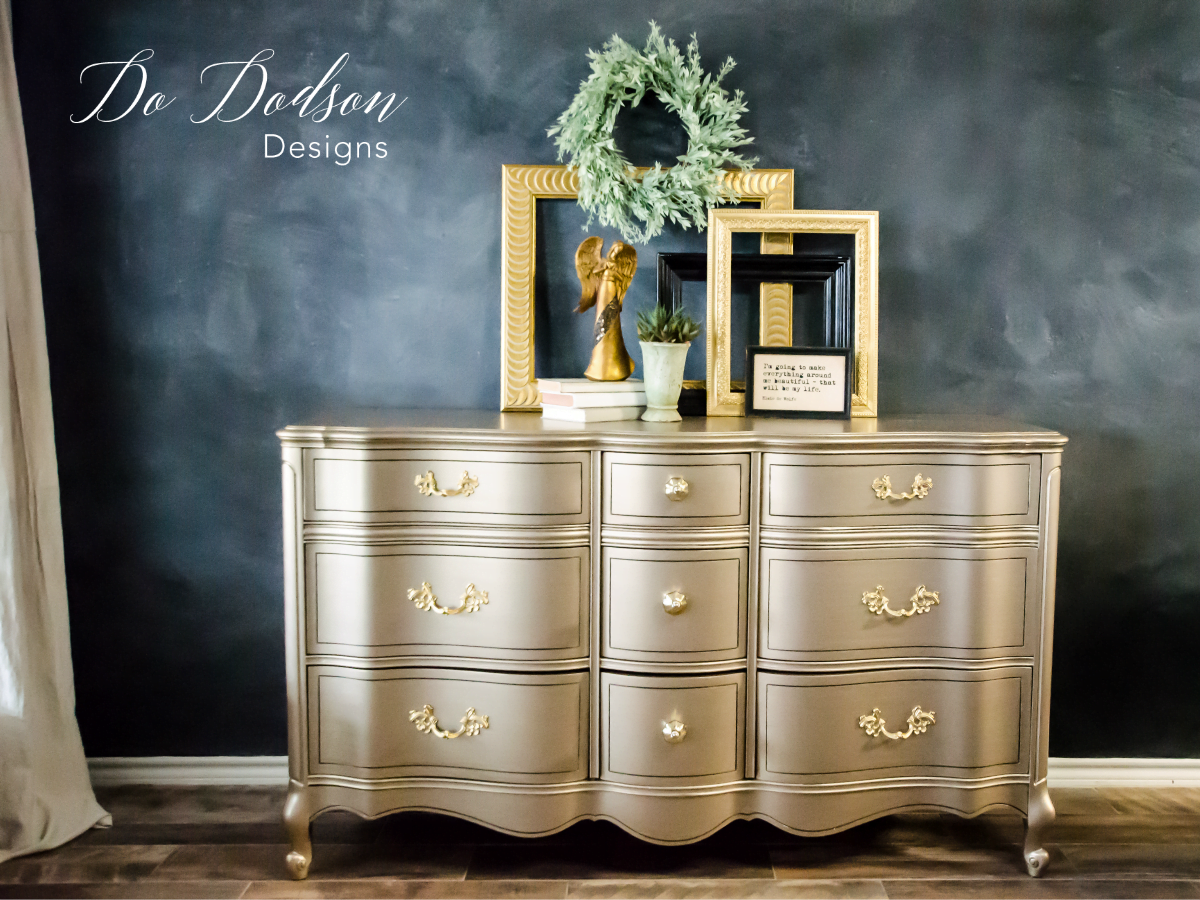 I'm so glad you joined me today. GOLD is such a classy choice of paint colors and can compliment just about any design style. Farmhouse GLAM!
Got questions about this finish? Please, feel free to leave me your questions and comments below. And as always, I also love hearing that you stopped by.
Oh, and one last thing… don't forget to PIN this to your favorite painted furniture board. Thank you!
Until the next project… xo, Do