Metallic Paint On Furniture You Can Apply With A Paintbrush

Notice: Undefined offset: 4 in /www/clients/dododsondesigns.com/htdocs/wp-content/plugins/ultimate-social-media-plus/libs/sfsi_widget.php on line 1356


Please follow and like us:

I love the look of GOLD metallic paint on furniture. It seems the Farmhouse style is taking a turn and I'm seeing more and more color and bling in the mix. Hallelujah! I have arrived! I admit I love to stand out and walk in my own direction and I encourage you to do the same. Remember, the style inside your home only needs to make you happy. Oh, I just want to give you a heads up… the paint color is called warm silver by Modern Masters but it has gold undertones.

This post contains a few affiliate links to help you find the products I use. You are not charged extra to use any of the links, but any income I make will be used for more fun projects! To see my full disclaimer, click here.

Everything is DO-able! Even metallic paint finishes with a paintbrush.

Click To Tweet
Before The Applying The Metallic Paint
I've had this french provincial dresser waiting patiently her turn for the just the right finish. Because it has a smooth, slick finish already, it's perfect for metallic paint. I don't paint just any old piece with metallic paint. It has to be deserving of the work and effort that it takes to make it look amazing.
Modern Masters makes a beautiful line of shimmer paint that looks fabulous when applied the right way to your furniture. This may come as a shock to you, but I painted this dresser with a paintbrush. Looks like a sprayed finish, right? I promise you, you can paint metallic paint with a paintbrush.
Prepping Your Furniture
Here is my supply list for the job:
I began by sanding and cleaning the whole piece. If you like, I can show you more about prepping your wood furniture before painting here. CLICK HERE to learn more. The finish is only as good as the prep.
Painting Your Furniture
After the prep and cleaning, I applied one coat of the Zinsser Tintable Primer. The purpose of using a tintable primer is to have it tinted a similar color of your paint. This metallic paint is opaque so having a similar color as the base coat helps with the coverage.
It took 3 coats for full coverage but the end results are so worth it. Modern Master Clear Coat was used to seal the paint to give it a durable finish. Here's a tip for you. Metallic paint has a memory so I like to roll it on first. This method worked best for me. Then I used a paintbrush to smooth it out. Always paint in one direction with your paintbrush when using metallic paint to minimalize brush strokes.
Metallic Paint Has My Whole Heart!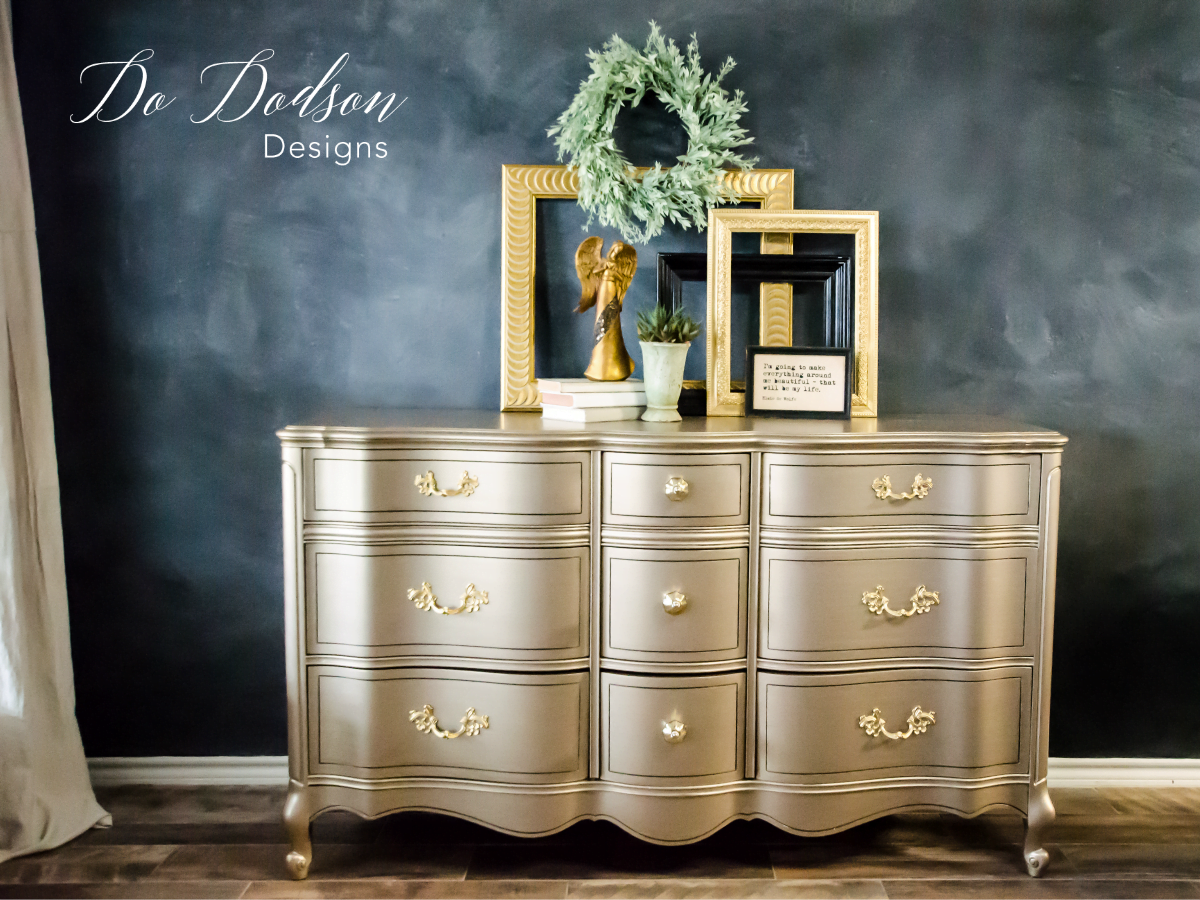 Going with the metallic gold theme was perfect with the warm silver as it has a hue of gold. I think the combo looks great! I sprayed the original pulls with Rustoleum Bright GOLD spray paint. The knobs are gold mercury glass from my favorite Hobby Lobby store but I had to correct an issue the drawer holes first They were too BIG! CLICK HERE to see how I fixed them. No one wants wobbly Hobby Lobby knobs!
Thanks so much for hanging with me on this metallic paint makeover. Metallic GOLD is such a classy choice and I used a similar paint on a chest of drawers that turned out lovely too without a sprayer. Metallic GOLD leaf is also G O R G E O U S and if you're a gold lover like me… CLICK HERE for more inspiration. Happy painting!
Until the next project… xo, Do
Related Post:
How To Paint Metallic Furniture The Easy Way
Insane Metallic Painted Furniture
How I Painted A Metallic Finish With A Putty Knife
How To Quickly Update Your Hardware With Spray Paint
Don't forget to
PIN THIS

to your Painted Furniture board for later.