Blending paint can definitely make you put on the breaks when painting furniture. What if I mess it up and have to repaint it? This was the question that went over and over in my head the first few times I tried this technique. With a few simple tools and tricks, you will be blending paint on your furniture like a pro. I'm sharing a quick video tutorial that's great for beginners.
This post contains a few affiliate links to help you find the products I use. You are not charged extra to use any of the links, but any income I make will be used for more fun projects! To see my full disclaimer, click here.
How To Master Blending Paint Like a Pro

You can purchase all the products I used on this project by clicking on the products below.
Products list:
The Base Color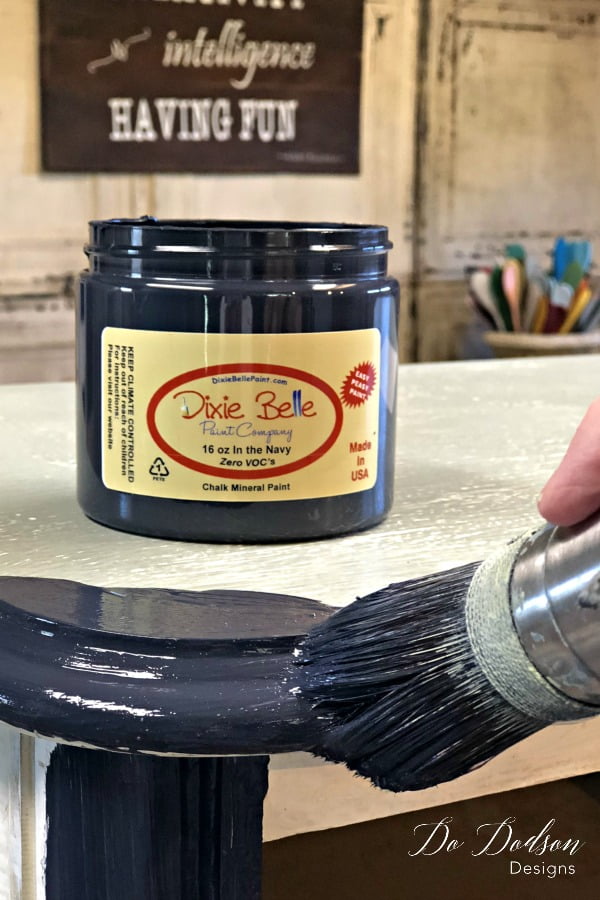 I chose a beautiful color called In The Navy. A rich masculine blue that will be perfect for this makeover. Before blending paint colors together on your furniture, be sure to paint a good base coat and allow to dry 24 hours. 2-3 coats if necessary for full coverage. This will allow the base coat to hold up to fresh paint and water from the fine mist sprayer that you'll need to blend with. If you don't allow the base coat to completely dry, you will risk pulling back the paint down to the wood when you begin blending your paint colors. Don't get in a hurry and with this step.
Blending paint on the front of the drawers with Driftwood added a bit of visual interest. Nothing fancy but just enough to dry the eye in. Need a little help with this technique? Watch this quick video tutorial to learn more.
Sealing The Painted Dresser
Dixie Belle makes a radical sealer for those high traffic areas and ones that need a bit of water resistance. It's called Gator Hide. I apply it with a sponge.
The Results of Blending Paint on Your Furniture
Hey, thanks for joining me. I'm always sharing my projects. Do you prefer a clean looking, classic piece of furniture? I have on those too! CLICK HERE to see a beautiful farmhouse style makeover. It's a classic!
So tell me… do you struggle with blending paint colors on your furniture? I can help! Drop me a comment below and tell me all about it. I'd love to hear from you.
Until the next project… xo, Do
Don't forget to PIN IT NOW… for later!