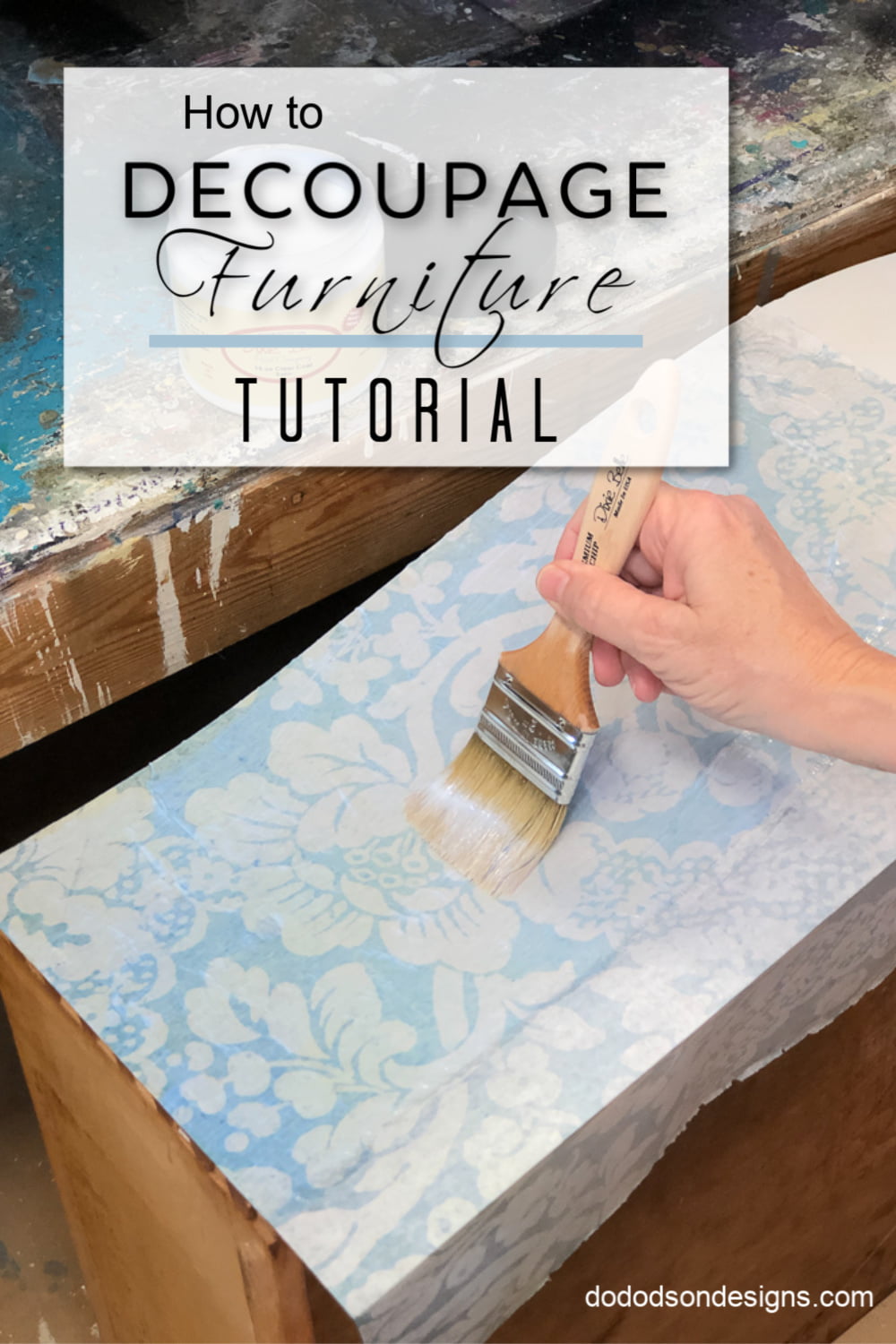 Decoupage furniture??? Where have you been all my life? Last week I went thrifting and came across this perfect little rounded front dresser. Oh yeah, decoupage tissue paper is going down!
This post contains a few affiliate links to help you find the products I use. You're not charged extra to use any of the links, but any income I make will be used for more fun projects! To see my full disclaimer, click here.
How To Decoupage Furniture Tutorial
Supply List:
Click on the products below to find where to purchase them.
Watch The TUTORIAL HERE!
Applying the Top Coat AKA Glue
*Before painting furniture, don't miss these steps. CLICK HERE to learn more.
Step #1 Apply a liberal amount of the Top Coat (aka glue for this project) to your surface. For this project, I painted the drawers with a light color first because the tissue paper is so thin. Keep in mind that with tissue paper, the color behind the paper can change the appearance of the paper due to its transparency once applied.
Step #2 Apply the tissue paper over the topcoat. The tissue paper will draw itself into the topcoat quickly. Kind of like toilet paper to water… just be ready for it to absorb into the topcoat quickly. After applying the tissue paper, brush the topcoat over the tissue paper on the decoupage furniture to seal it in place.
Imperfections In The Tissue Paper
Step #3 Apply a small amount of the topcoat to your fingertip then use your finger to smooth any air pockets or tiny lines that have surfaced upon the paper of your decoupage furniture. You'll see a fair amount of bubbles and lines but with a little patience, you can work the majority of them smooth. Apply another topcoat over the paper and smooth it in place.
Trimming The Tissue Paper On Decoupage Furniture
Step #4 With a 220-320 grit sanding block, trim the decoupage tissue paper by brushing away from the paper on the edges that need to be trimmed. The wet paper will easily tear away and create a clean smooth edge where the paper was applied. After the topcoat has dried, apply a second coat of the topcoat for extra protection. Use the same sanding block to smooth any rough edges after the topcoat is dried.
Chose A Complimentary Color
Step #5 Chose a complementary paint color if you're painting the remainder of the decoupage furniture. For this project, I chose Sawmill Gravy because of its vintage color.
Choosing the Right Hardware
The vintage tissue paper really needed just the right hardware. These old fashion antique style clear glass knobs (depression glass knobs) are just like grandma had on her kitchen cabinets and drawers. The glass knobs are made with original antique glass formulas, so they may age to a mellow champagne color over time when exposed to sunlight. You accelerate this process by placing them in the strong direct sun outside. You can find these and other amazing hardware by CLICKING HERE for your next decoupage furniture makeover.
Wow! Do you love the way this little dresser turned out? I'm really happy that I kept some of that beautiful wood to complement the vintage look. I'm still pretty new at this paper stuff, but it's really pretty straight forward. And the options for colors, patterns, and textures are endless. Are you a fan of tissue paper? I'd love to hear what you think about this makeover or even your experience with decoupage furniture. Drop me a comment below. Or check out this decoupage makeover on this vintage door! Let me know what you think.
Until the next project… xo, Do