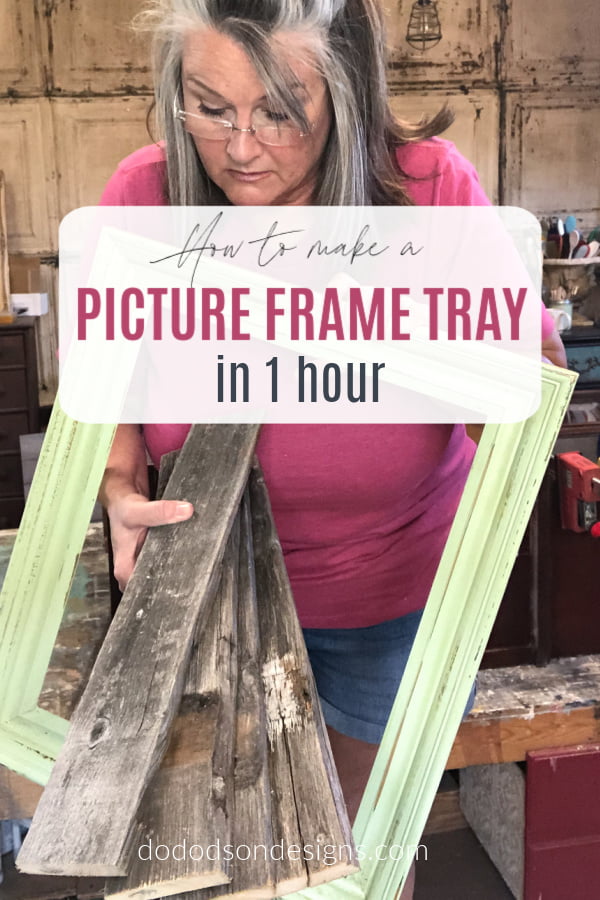 Hello creative friends! Today's project was a "let's see what I can create with this" idea. Actually, I was waiting for the paint to dry and was bored. After a quick search on frames via Pinterest, I came up with this DIY Tray made out of an old picture frame. Here is how it turned out. Super cute and easy!
This post contains a few affiliate links to help you find the products I use. You are not charged extra to use any of the links, but any income I make will be used for more fun projects! To see my full disclaimer, click here!
DIY Tray From Old Picture Frame
SUPPLY LIST:
Prepping The Frame
I found this vintage frame at a garage sale for .25 cents. SCORE! That's why I have a junk pile laying around for picking. HA! But you never know when the creative mood strikes, and I want to be prepared.
The bonus with this frame is that someone had already painted it a beautiful farmhouse green. I could have used it as is, but I want a more subtle look for my picture frame tray. The first thing to do is to clean up the frame. I used my foam sanding pad to remove any chipped-off paint and clean it with a damp cloth. Now it's ready for paint.
Painting The Picture Frame Tray | No Prep Paint
The next step is to paint. I used my favorite chalk mineral paint in buttercream. A beautiful vintage color that works well with my farmhouse decor. The reason I love this paint is that there is very little prep when using it for home decor. When I'm creating DIY home decor, I usually paint right over whatever I'm working on. Just like I did here. As long as the paint is intact, you should have no problems painting over the existing finishes. It seems like I find someone else's projects more and more and give them a third time to go around. I LOVE that!
Measuring The Boards For The Tray
BUSTED! I didn't paint the underside of the frame. So, if you happen to come to my home, don't turn anything over. LOL, it's a waste of good paint.
Next, you'll need to measure the opening for the bottom of the picture frame tray. You'll do this by flipping the frame over and measuring from edge to edge where the picture is inserted. Since it will be used as a tray, I measured from the longest end to end. Then you'll need to cut your boards to the correct size. Because every frame is different, you'll need to adjust the boards (or wood) you're using. For this project, it just happened to work out without having to adjust too much. I did leave a little gap between the boards to make up for the difference. And I see no reason that you couldn't use different-sized boards. That would add to the charm.
Securing The Boards For the Picture Frame Tray
Use good wood glue to secure your boards to the picture frame. You can use glue, but you may also want to secure them with nails. It just depends on what you're using it for. Is it functional or decorative? I didn't nail my boards because it's just for decor, and I have had no issues with it being secure.
Distressing The Paint For An Authentic Farmhouse Look
What's a farmhouse picture frame tray without distressing? Everything I have is scuffed up. If it's not, to begin with, I have grandkids and furry friends that will take care of it for me. So why not? Remember, these were beautiful farmhouse green in the beginning. Distressing over the chalk mineral paint allows the beautiful farmhouse green to peek through. It's perfect!
*In the finished pictures below, I added little dry brushing with the buttercream chalk mineral paint over the rough fence picks. It was just a bit dark for my like. Much better.
How about that for a "waiting on paint to dry" project? Now I have a beautiful picture frame tray that will surely spark conversations when guests come to visit. Yep, I did that! And my favorite part of this DIY home decor project is the visible holes in the fence pickets. 10 years ago, I put those holes there while building that fence. It feels like an old friend has come to visit.
Love this project? Let me know in the comment section. I'd love to hear your feedback. Or just say hey!
Until the next project… xo, Do