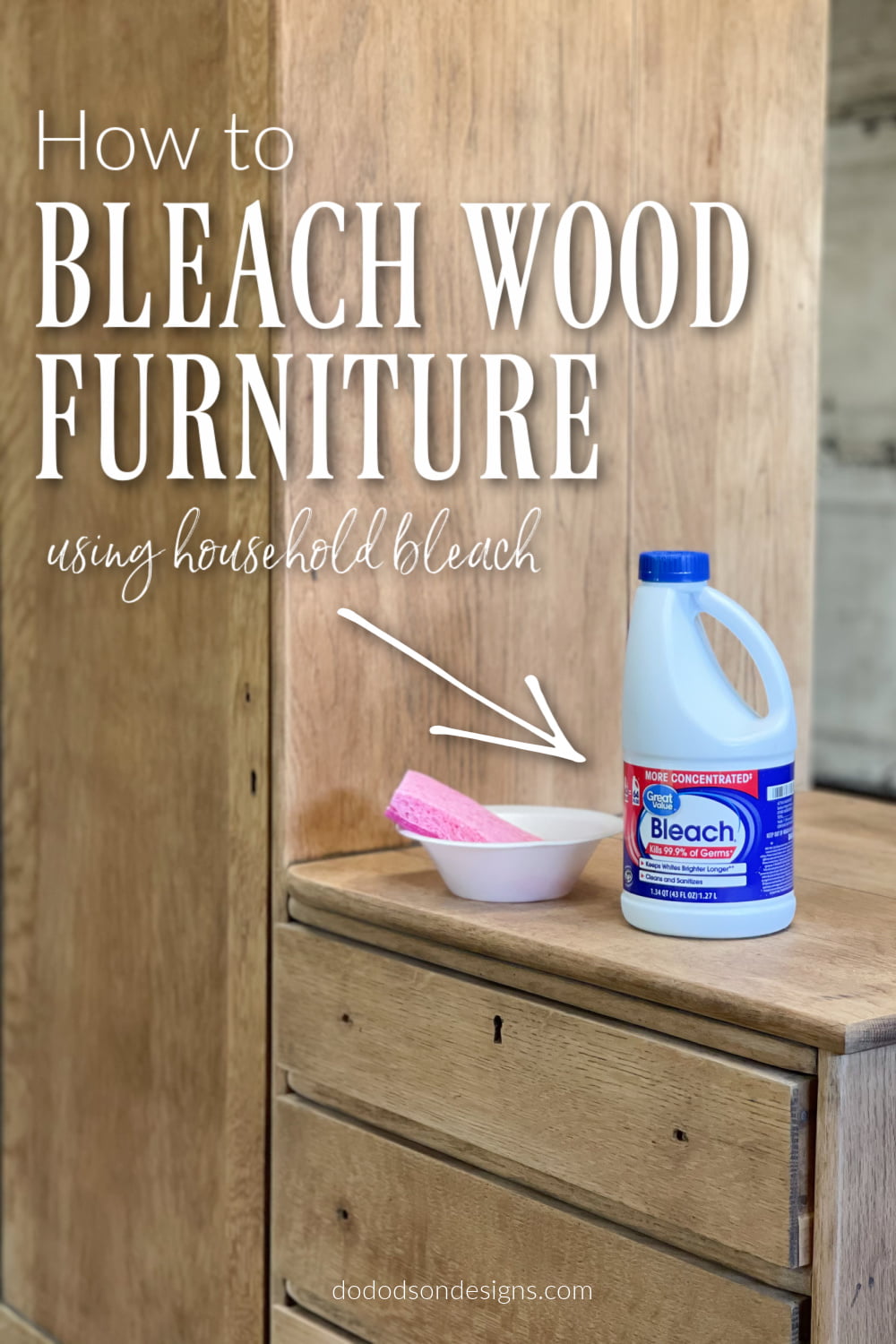 Have you ever wondered if you could lighten and brighter dark wood? Me too! So, I decided to do some research and came up with this solution. It's my very first attempt to bleach wood furniture, and I killed it. Not literally, but this antique tiger oak chifferobe sure does look amazing now.
* As an Amazon Associate, I earn from qualifying purchases and through other companies as well. You are not charged extra to use any of the links, but any income I make helps me create more amazing DIY projects to share with you! To see my full disclaimer, click here!
The Cheapest Way To Bleach Wood Furniture
While spending the summers with my Grandma on the farm, I fondly remember this one piece as a little girl. It was filled with linens, quilts, and all kinds of pretties but I don't remember ever seeing clothes hung inside.
The wood grain on this antique was nothing like I had ever seen as a child and I'll always remember using my fingers to trace the tiger like stripes. There was no way I could ever paint it, although it would be stunning.
I recently read a tutorial by a blogger friend who used household bleach to bleach wood and decided to give it a go. If she did it, I knew it would be okay to try this method. Thanks, Denise!

SUPPLY LIST:
Protective Equipement
Respirator or mask (always work in a well-ventilated area) outdoors preferred
* Work in a well-ventilated area when bleaching wood furniture, outdoors preferably.
Preparation Before For Bleaching Wood Furniture
The finish on this antique was really dark. Not uncommon for a 100-year-old piece. The first step before you bleach wood is to remove the finish down to the bare wood. It's the wood I wanted to bleach, so stripping it was easiest for me using my SurfPrep Sander. 👈 Click here to learn more about why I love this tool so much!
You can always choose to remove the existing finish by using a chemical stripper as well.
Believe it or not, you can bleach wood furniture with everyday common household bleach, and here's how I did it.
STEP 1 How To Bleach Wood Furniture
Start with clean wood. After sanding or stripping, make sure the wood is as clean as possible. If you're sanding off the existing finish, wipe clean with a water-damp cloth to remove any residual dust. There will be a lot of dust if you chose to use the method.
*Always work in a well-ventilated area. The fumes from the bleach can be hazardous to your health.
STEP 2 Applying The Bleach On Wood Furniture
Add the full-strength household bleach (I bought the cheap stuff) to a disposable Styrofoam bowl. Be sure to use your protective equipment to avoid splashing the bleach on skin, eyes, or clothing… unless you want the tie-dye look.
STEP 3 How To Apply Bleach To Wood
Carefully apply the bleach to the wood with a sponge, and be careful not to puddle the bleach as this can cause uneven bleaching. You'll want to apply an even amount. The bleach will soak into the wood pretty quickly, so you'll want to work quickly. Allow the bleach to dry overnight and observe the level of lightness obtained the next day.
*The wood will get dark after the bleach is applied but will lighten again after drying.
STEP 4 Repeat STEP 3 To Lighten Even More
More than likely, you're going to need multiple bleach applications to get the desired effect on the wood. You can repeat this step as many times as you need. After the second application, I decided to move the Chifferobe out in the sun. I had heard that this helps the bleaching process, and it worked!
On the 3rd application, I applied the 3rd application of bleach and allowed it to dry. The drying time was so much quicker in the sun. DUH! I don't know if it was the 3rd application or the combination of bleach and sun, but I highly suspect the sun had a huge part in the success. It makes sense! I'll be trying this again for sure.
STEP 5 Neutralizing The Bleach
Once your wood has achieved the level of lightness you want, to stop the bleaching process, mix a 50/50 mixture of white distilled vinegar and water in a bowl and with a sponge, apply it to the wood, and allow it to dry.
The Results After Bleaching Wood
Bleaching the wood allowed the wood grain to really show it itself off. Here's how it looked after the 3rd application of bleach.
*NOTE… I noticed that the grain didn't lighten as much, but overall it's a great look on a grainy wood like the tiger oak.
STEP 6 Smoothing The Wood Grain After Bleaching
After bleaching the wood, you will notice that the wood will be rough and the grain raised somewhat. That's because the bleach has dried out the wood. To smooth the wood grain, use a 220 grit sanding pad or sandpaper and then remove the residual wood dust with a water damp cloth.
STEP 7 Sealing The Bleached Wood
Once you have achieved the perfect shade of your wood, the last thing you want to do is add a topcoat and darken the wood you just bleached. That would be a disaster!
Almost all topcoats will darken raw wood, and the best way I have found to keep the wood light and bright is to use a water-based WHITE WAX. Apply it with a wax brush all over the wood and buff to a beautiful finish with a soft cotton cloth. The wax will dry overnight and cure to a hard finish in about 30 days.
After it has fully cured, you can apply a durable water-based topcoat like Gator Hide if you desire, but I personally see no need for it unless you're refinishing a tabletop that is going to have a lot of traffic and needs extra protection.
Here's The Look You Get When You Bleach Wood Furniture
Hello, beautiful! Look at all that wood grain beauty. You can really see the tiger oak after bleaching the wood, and I'm so pleased with how it turned out. Even happier that it now lives in my office. 🙂
Thanks for joining me today, and I would love to hear what you think about this DIY bleach job. Have you tried it or have additional info to share? Please drop me a comment below. I always love hearing from you.
Until the next project… xo, Do