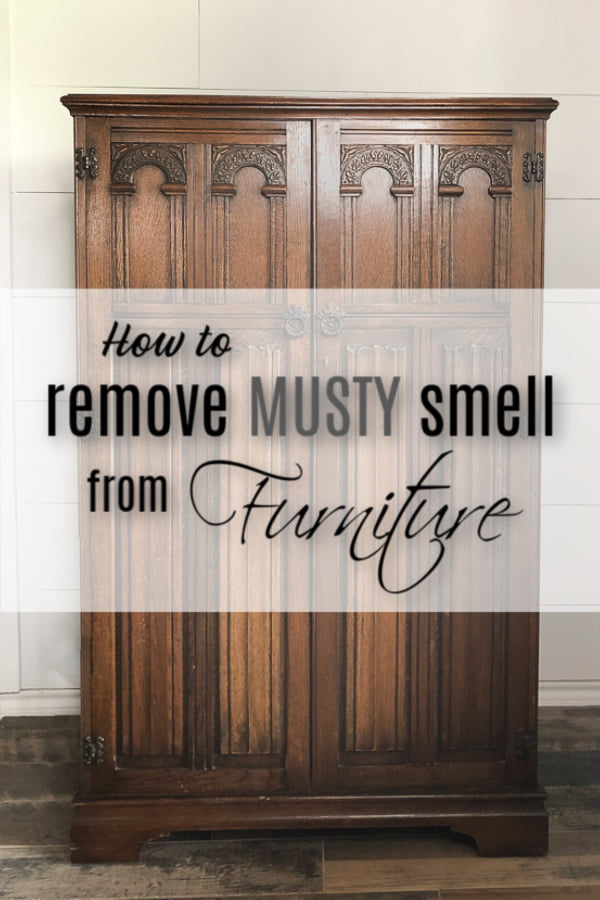 Have you ever wondered how to remove that musty smell from furniture? Like that beautiful curbside find that you were so proud of until you got it home. Yep! That happens a lot to me too, but I have several methods; undoubtedly, one of them will be your solution.
This post contains a few affiliate links to help you find the products I use. You are not charged extra to use any of the links, but any income I make will be used for more fun projects! To see my full disclaimer, click here.
How To Remove Musty Smell From Furniture
STEP 1: Clean The Surface
I always start by cleaning the wood thoroughly. Bacteria and mold can cause wood to smell old and musty. It will take a good cleaning to remedy it. Use a damp cloth with a vinegar and water solution (50/50) and wipe over the whole piece inside and out. Remove all the drawers and get up and underneath as much as you possibly can.
You can also use a 10:1 water and bleach mixture. Add the solution to a spray mist bottle and spray over the wood and wipe back with a damp cloth. This is a great way to kill the bacteria that cause smells. Nurses LOVE bleach! I admit I'm a bit of a germaphobe. The bleach solution works the best for me!
Be cautious if you're planning on stripping the wood for refinishing because the bleach can cause the wood to lighten. Not a bad thing if you love the bleached wood look! CLICK HERE to learn more about bleaching wood.
STEP 2: Direct Heat | Sun
Try setting the furniture in the sun. The direct heat is a great way to air out that musty smell from furniture, especially if it's been sitting in a dark, damp area where mold loves to grow. Be sure to open all the drawers and doors. You will have to leave it out for a week or so, so be sure to check the weather forecast and make sure you're in a dry climate. Texas can be humid, and that's not good for wood. This is just one way, but not the best, in my opinion.
STEP 3: Liquid In A Bowl Method
While I haven't tried these other methods because the bleach method usually works for me, you can fill a bowl with vinegar, coffee grounds, kitty litter, baking soda, or even vodka and set the bowl on the inside of the furniture and allow it to remain there for several days. This may help absorb some of the odors. If you try this, please let me know how it works.
STEP 4: Wood Deodorizer And Conditioner
And after cleaning the wood, I grab my Big Mama's Butta! Hee hee! I love saying that. This one smells like oranges, but it also comes in several other scents and an unscented. Not only is it a deodorizer, but it also rejuvenates, enhances the wood grain, and protects in one use.
Here's What I Use

Apply Big Mamma's Butta with a dry cotton cloth to the inside of the drawers and the wood surface outside. You can use a brush (my favorite method) to get into all the grooves and buff away the excess.
I Don't Paint Everything!
And for this beauty. I used the bleach and water method, direct heat with the sun, and finished it off with the wood deodorizer and conditioner inside and out. Sometimes it takes more than one method to remove those musty smells from wood furniture. There's no shame in my game, and I will do whatever it takes to rescue these noble beauties.
And how about that shiplap wall??? It's not shiplap. Do you want to see how I did it? CLICK HERE Have a comment about this makeover; I'd love to hear from you. Please drop me a comment below! 🙂
Until the next project… xo Do