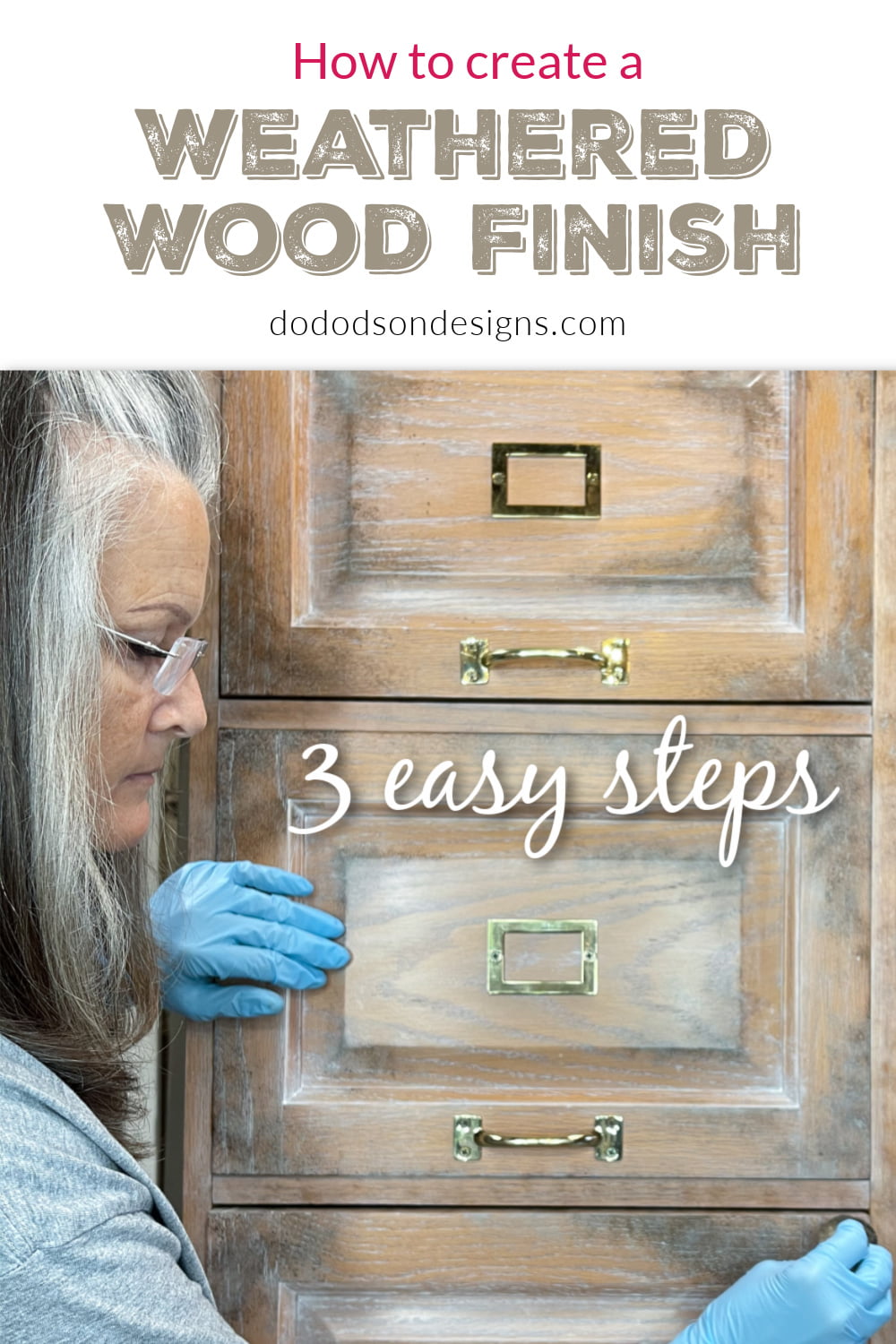 Hello creative friends! Want to learn how to update a factory wood finish with Gel Stain? It's seriously easy as 1, 2, 3. I turned this golden oak file cabinet into a weathered wood-gray finish that looks amazing… if I say so myself. But you be the judge.
* As an Amazon Associate, I earn from qualifying purchases and through other companies as well. You are not charged extra to use any of the links, but any income I make helps me create more amazing DIY projects to share with you! To see my full disclaimer, click here!
DIY Weathered Wood Gray Finish In 3 Easy Steps
The best thing I had to say to Mr. Honey Do about this file cabinet was, "well, it's wood." I don't know about you, but the yellow oak (golden) screams 1980s. While it was a popular wood color back in the day… I had them, too; it's time for an update, and the No Pain Gel Stain I'm using on them is surprisingly easy to work with.

SUPPLY LIST:
What You Should Know About Know Before Using No Pain Gel Stain
No Pain Gel Stain is an oil-based product with a built-in sealer. So there is no need to apply a topcoat.
You do not have to strip off the existing finish before applying the gel stain to the wood. As long as the existing finish is in good condition, you can apply it right over the wood.
It is highly pigmented but will not give you full coverage when using over an existing finish. It will add a tint of whatever color stain you chose to use. Apply more than one coat for a darker finish. But if you are staining over bare wood, it gives a deep full coverage. You can blend the colors as you apply them for a unique look. Gel Satin can also use gel Stain over paint.
Gel Stain can be applied with a lint-free cloth, paintbrush, or applicator pad.
Additional dry time is needed with No Pain Gel Stain. I recommend overnight in a controlled environment.
STEP 1 Weathered Wood Gray Finish
Clean the wood surface with White Lightning to remove any hidden specks of dirt or oils that could cause your finish to fail. Furniture and cabinets are typically dirty even when it isn't visible.
STEP 2 Weathered Wood Gray Finish
Apply the gel stain over the wood. I used Pickilin White Gel Stain for this cabinet makeover. I applied it with a low-lint cheesecloth and wiped back any extra. Basically, I just changed the golden oak into a lighter and brighter wood. It still has some yellow undertones but so much better.
Next, to create the weathered look, I used the cheesecloth and applied Walnut Gel Stain to create an aged look by dabbing it lightly in selected areas, followed by Weathered Gray Gel Stain.
STEP 3 Weathered Wood Gray Finish
The sides on this cabinet were tall, so I decided to use all three gel stain colors and blend them with the oak wood grain with long strokes. I love how the white gel stain grabbed the wood grain. Isn't it gorgeous?!
And that's it, my creative friend. No topcoat or sealer is needed.
Weathered Wood Gray Finish With Gel Satin
This one surprised me. I would have never thought about using gel stain to create a weathered wood-gray finish in this manner had it not been for my furniture finding hubby that said no to paint. He's a real peach!
So what do you think about this makeover? Have you tried using gel stain? Let me know in the comment section or just say HI. I always love hearing from you. It's what feeds my DIY soul.
Until the next project… xo, Do