Hey friends, today I'm sharing how to create a DIY chipped paint look with chalk paint and a texture additive. Just one more step in the transformation of my builder-grade home into the house of my dreams. If you have been following me for a while, you know what I'm talking about. I'm living in a modest, small "I wanna be a modern farmhouse someday." So the dream continues, and I'm making it happen one project at a time.
THIS POST IS SPONSORED BY DIXIE BELLE PAINT CO.
* As an Amazon Associate, I earn from qualifying purchases and through other companies as well. You are not charged extra to use any of the links, but any income I make helps me create more amazing DIY projects to share with you! To see my full disclaimer, click here!
Before… Chipped Paint Look
Today I'm working on my traditional fireplace to give it more of a vintage feel with this DIY chipped paint technique. Why not incorporate a little vintage feel in the mix. I do what I love in my home, and I can't wait to share this with you.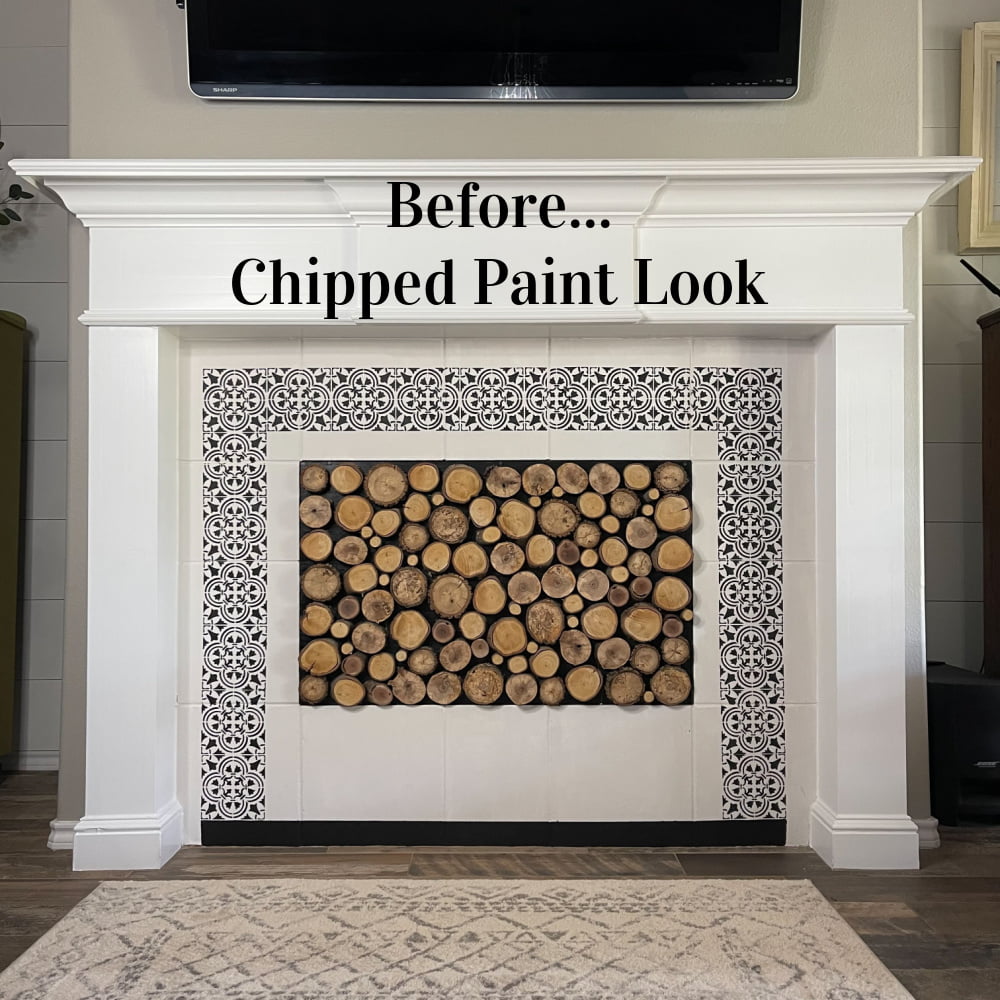 How To Create A Chipped Paint Look
Chose your chalk mineral paint colors. For this vintage makeover, I chose a few colors that coordinated well with my living room. All neutral, of course… that's my jam. Since I'm going for a chipped paint look, I want to see layers of paint like you would normally see in a multi-layer (it's been painted multiple times) aged piece.
STEP 1 Creating Texture Paint
The first layer of paint should be on the darker end of the color pallet of neutrals. MIx your chalk mineral paint with a texture additive to thicken the paint. The mixture depends on how thick you want the texture. Add the paint to a disposable bowl, and then add the texture a little at a time. I mixed mine to the consistency of drywall putty.
The consistency has everything to do with the finish, and the thinner the paint mixture, the more cracking you will get. At least, that is what I have found.
With a plastic spatula, apply the texture paint over the surface you want to add the chipped paint look to. This is super fun, by the way… go ahead and channel your inner child. 🙂
STEP 2 Layering
Allow the first coat of texture paint to dry ( I waited overnight) and add the second color ( a bit lighter than the first) in the same fashion. Same process. Allow the paint to dry completely and repeat with a 3rd color if you want. It all depends on the look you're going for. I thought about adding a green to the mix, and then I chickened 🐔 out. But wouldn't it be pretty?! I can always add it later.
STEP 3 Getting A Chipped Paint Look By Sanding
Once the layers of chipped paint are dry, paint over all the yummy texture you created with the color you want to be predominant. For me, that is COTTON. The shiplap in my living room is white, so that this color should tie in nicely.
STEP 4 Sanding The Texture
Here is where you'll really start seeing the chipped paint goodness. With an electric hand sander (or hand sanding), smooth out any rough patches (well, pretty much the whole thing) to allow the colors underneath to peek their lovely self out. This still gives me the warm fuzzies just talking about it. It's like I was in magical chipped paint heaven. But there's more!
Adding An Aged Feel To the Chipped Paint Look
STEP 5
Glaze! This is a great way to add that aged feel. Super easy. The glaze I used was water-based, so I applied it lightly over the whole fireplace mantel and wiped it back with a damp paper towel.
STEP 6
And lastly, to give the appearance of a chipped paint look, I used CAVIAR (black chalk mineral paint) and used the same plastic spatula to drag the paint across the surface and on the corners and areas that I wanted to show off the chipped paint look.
This technique is super simple. The trick is to use a minimal amount of paint on the tip of the plastic spatula.
The Finished Chipped Paint Look On My Fireplace Mantel
My builder-grade home just became a little more farmhouse with this chipped paint look, and I couldn't be more pleased with the results. Yes, the before wasn't bad, but why not change it to what you love? It's your home, and your home should be your happy place. I smile every time I walk into the living room. That's a good thing.
Thanks for joining me today. Would you like to see more of my DIY Home projects? Check out the related post below for more DIY inspiration. Or let me know what you think about this DIY technique. What will you try it on?
Until the next project… xo, Do