Hello creative friends! Today I want to share my easy DIY chalk paint stenciling technique that you can use on your painted furniture makeovers. I was so happy when I figured out that I could add global patterns subtly to work with my neutral farmhouse decor. I did my best to create a Moroccan farmhouse vibe, and I'm pretty happy with the results. You're totally going to want to add this to your furniture painting technique portfolio.
This post contains a few affiliate links to help you find the products I use. You are not charged extra to use any of the links, but any income I make will be used for more amazing DIY projects to share with you! To see my full disclaimer, click here!

Product List For This Project
The Morocco Stencil!
I need this pattern in my life! That was my first thought when I received this new Morocco Stencil from Dixie Belle Paint Co. But a Moroccan pattern would be hard to mesh with my farmhouse style. But after some thought, I decided to use a neutral color pallet using a chalk paint stenciling technique.
How To Stencil With Chalk Paint – 5 Easy Steps
Let me say that using chalk paint to stencil on a large surface can be challenging. But using chalk paint also allows you to blend paint colors right on the stencil. And that is the look I was going for. Always wash the stencil between each use. Chalk paint dries quickly, and I find that having a sink of cool water and mild soap works best. You will not get all of the chalk paint off the stencil, but it won't matter for this technique.
Step 1 Chalk Paint Stenciling
Paint a base coat color on your furniture project first. I used Butter Cream and Cotton chalk mineral paint for this buffet table and blended the two in random areas to create a mottled (blotchy) effect. This will be the background for the stencil to overlay. Allow the paint to fully dry (at least overnight) before the next step.
Step 2 Chalk Paint Stenciling
Secured the stencil on the furniture with painter's tape. I don't recommend using the spray adhesive because it can get messy and leave glue on the painted surface. You'll want to keep the stencil as clean as possible for reuse.
Chalk Paint Stenciling – The Blending Technique
Step 3 Chalk Paint Stenciling
Here is the fun part! Use 2 similar colors (I used Cotton and Sandbar chalk mineral paint) and apply the paint like you would over any stencil using a flat natural bristle brush. I call this technique dabbing. Apply the chalk mineral paint sparingly using an up-and-down motion, never back and forth. As you dab the chalk paint over the stencil, you will need to add the two colors in different areas and overlap them. Use a paper plate to offload the paint from your brush and mix the colors slightly as you go. Use a minimal amount of paint for the best results. This will blend the two colors and create a small raised texture with the chalk paint stenciling.
Using similar colors with this chalk paint stenciling technique allows room for imperfections. Because we all know there is no such thing as a perfect stenciling job. If it bleeds a bit under the stencil (and it will), it's not that noticeable because of using 2 similar colors. It's just a beautiful blend of 2 colors with a faint stencil pattern. Very chic!
Step 4 Chalk Paint Stenciling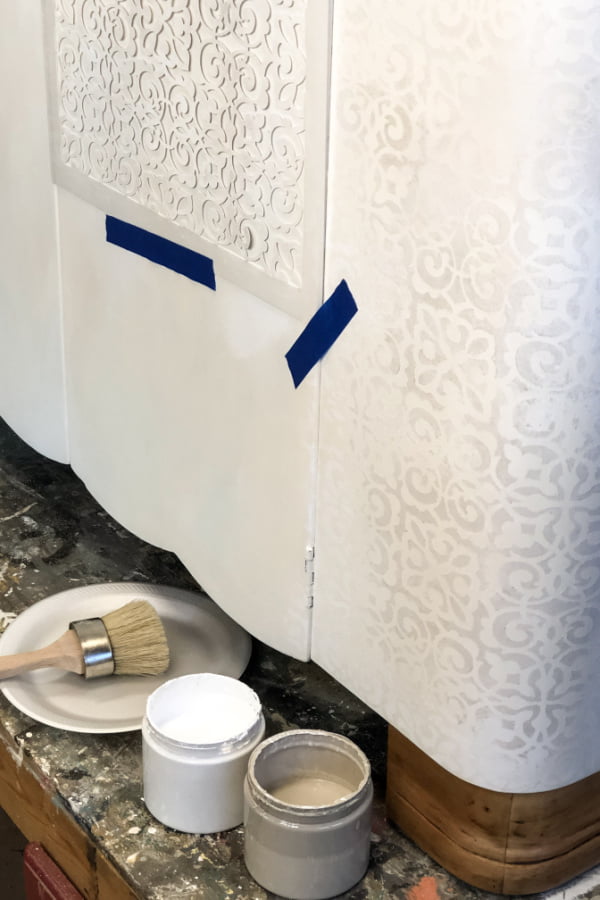 Remove the stencil to reveal your beautiful chalk paint stenciling. Clean the stencil immediately after each use and repeat the process. If you are doing a large area, you will need to match up the stencil where you left off. This can easily be done by matching up the design with the stencil. Overlapping is okay and necessary to get a consistent pattern. Oh, and I L-O-V-E the way this stencil bends easily around the corners of this buffet table.
The final step is to give the painted surface a light sanding to smooth out any imperfections. I chose not to apply a sealer to the painted finish because Dixie Belle chalk mineral paint does not need to be sealed. It will fully cure in about 30 days to a hard, durable finish. I love the look of a chalk matte finish. However, I would suggest using a top coat of Gator Hide if your piece is in a high-traffic area and you need that extra protection.
Vintage Moroccan Farmhouse! This stencil definitely has a global influence that, when applied using this technique, looks rustic and well-traveled. Below are some pics of how it looks in my home. Just in time for Thanksgiving dinner! You better believe I'm filling it up with some of my family's favorite desserts. I can't wait to surprise them when I open the doors.
Vintage Morrocan Farmhouse Buffet Table Makeover
As you can see, the chalk paint stenciling design is very subtle, and that is exactly how I wanted it: beautiful neutral colors but just enough pattern showing not to be boring. Thank you for joining me today, and I hope this inspires you to try some stenciling on your painted furniture. I'd love to hear your thoughts about this project and, as always, welcome any comments or questions. It's how we learn.
Until the next project… xo, Do