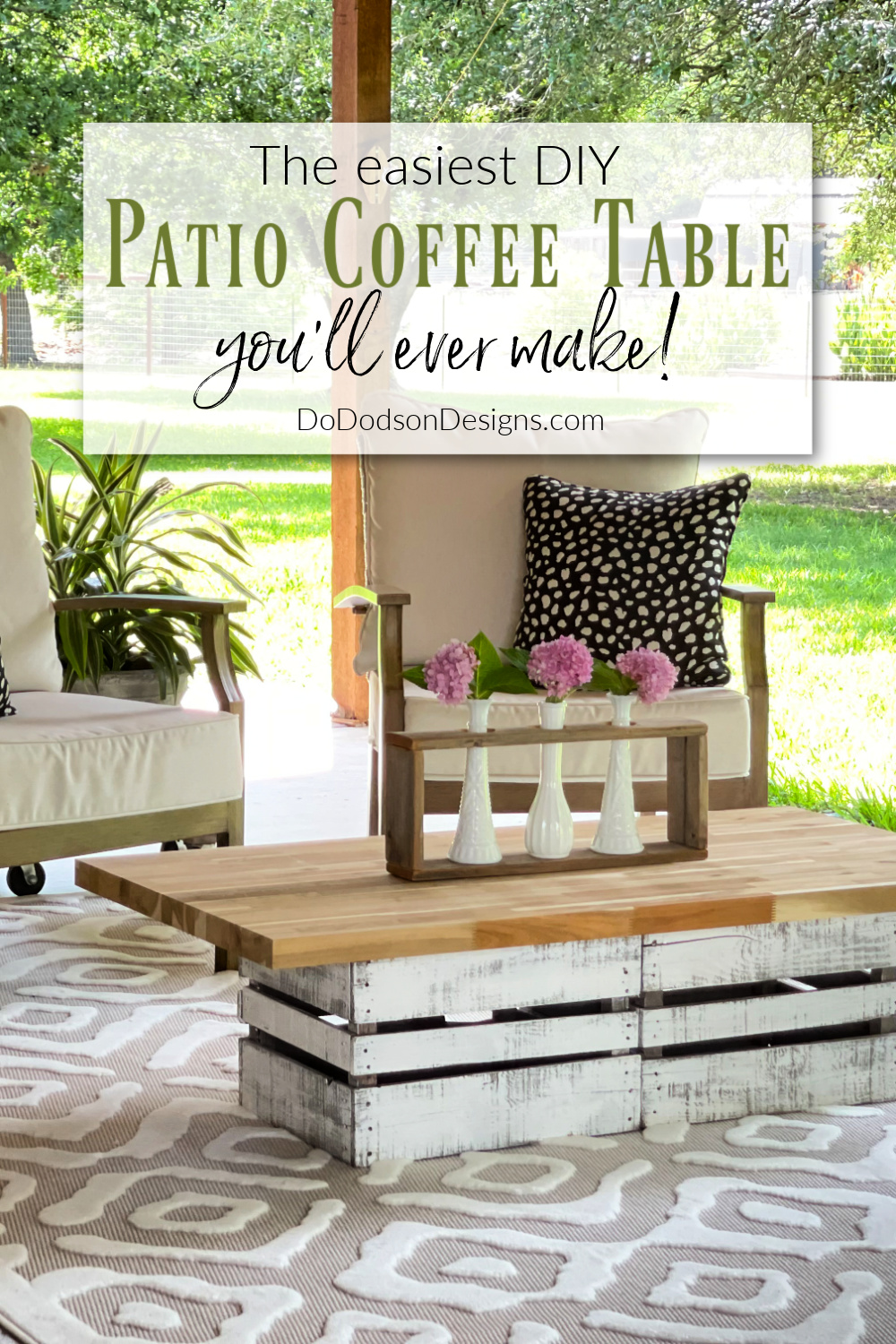 It's the easiest outdoor DIY patio coffee table I have ever dreamed up! I used rustic wooden crates and a piece of butcher block for a quick addition to my outdoor living space.
Thanks to Dixie Belle Paint Co for sponsoring this post. While I was compensated to write this post, all opinions are my own.
* As an Amazon Associate, I earn from qualifying purchases and through other companies as well. You will not be charged extra when you purchase through these links, but any income I make helps me create more amazing DIY projects to share with you! To see my full disclaimer, click here!
Easy DIY Patio Coffee Table
It's been a few months since we settled into our Ranch Home, and it was time to venture outdoors now that Summer had arrived. Don't get me wrong, I love the inside of our new home, but I need some fresh country air.
We have a great outdoor living space but unfortunately, there's not a lot left in the budget for outdoor furniture. You know, after the remodel inside. I'm broke. LOL
So, I did what any good DIYer would do; I went shopping in my storage shed. It's the place where all the scraps and leftover goodies go until they find a new purpose, just like this amazing extra piece of butcher block that was leftover from our kitchen remodel.
I think it will make the perfect DIY coffee table top for our patio. Initially, I intended to add hairpin legs to the butcher block top and call it good but I wanted something a little more rustic to pull in that farmhouse feel.
What You'll Need
SUPPLY LIST:
As luck would have it, I found some old crates I had painted last year and used them as a porch display. THESE will make a great base for a DIY coffee table.
I almost feel like I cheated with this DIY. It's almost too simple, but that's how I roll. Why make it complicated when you can do it simply?
BAM!!! Instant DIY Patio Coffee Table Charm
You better believe I was over the top excited about how easy this was. And it was FREE! Well, free to me.
All I did was stack both crates side by side and sit that big, beautiful piece of butcher block right on top. No nailing, no screwing, no cutting, and no work! Nothing makes me happier.
Add your favorite table decor and enjoy.
With the final addition of a new outdoor rug, my outdoor living space has been transformed into a place where I can sit every morning and have several cups at my new DIY patio coffee table.
Thanks for joining me today, and as always, I would love to hear any feedback you may have or just let me know you were here. I'll save you a spot at the table. Pinky swear!
Until the next project… xo, Do