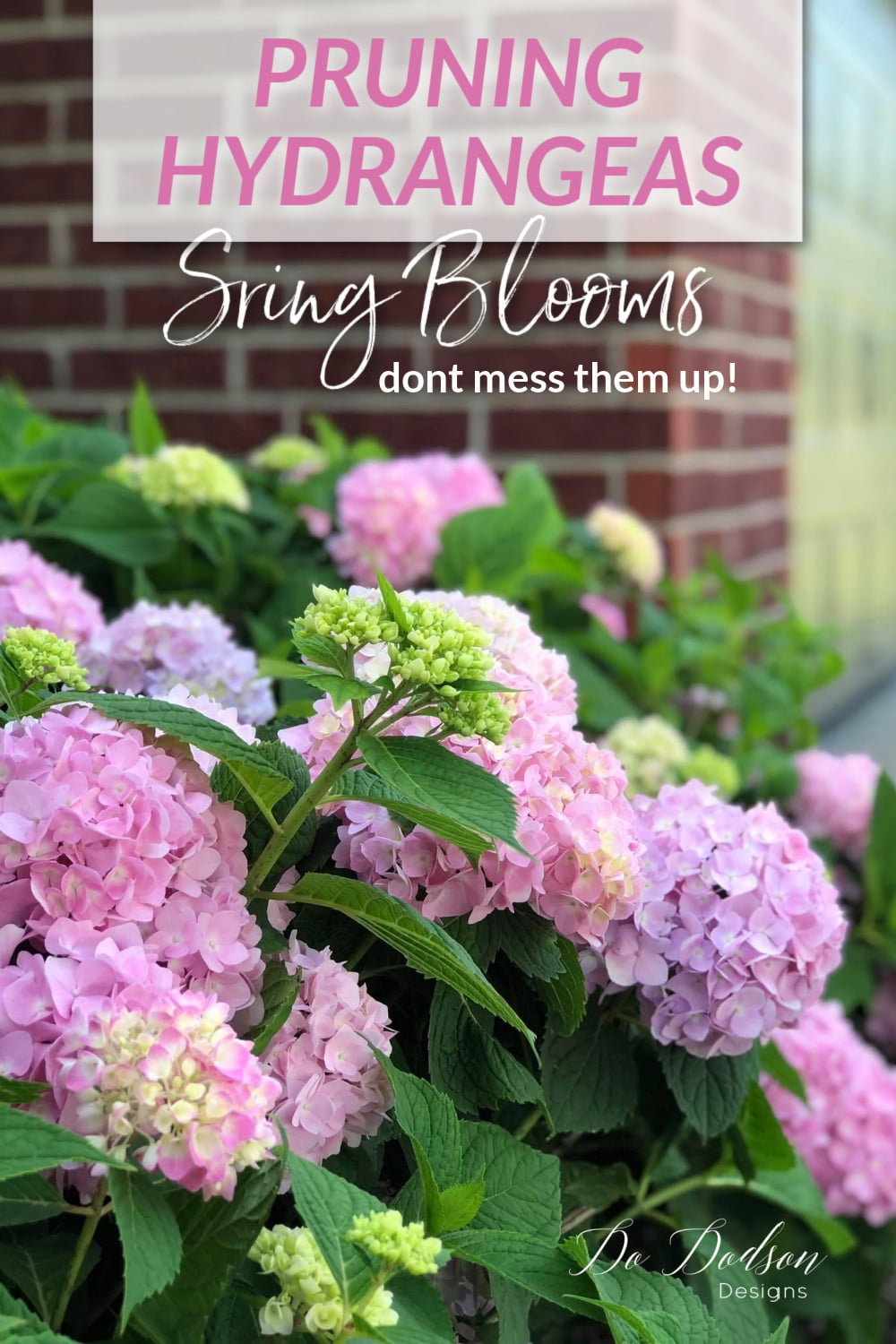 It's that time of year when all the gardening tools get to come out to play. And one of my favorite things to do in the garden is to deadhead or trim back last year's growth so that all the energy goes back to the plant. Pruning hydrangeas is no exception to this rule. Today, I'm sharing how I prune mine for the best Spring blooms and how not to mess them up. I learned the hard way as usual.
* As an Amazon Associate, I earn from qualifying purchases and through other companies as well. You are not charged extra to use any of the links, but any income I make helps me create more amazing DIY projects to share with you! To see my full disclaimer, click here!
Pruning Hydrangeas – Last Years Growth
Here in Texas, I start seeing new Spring growth around March on my hydrangeas. It may be a little later for you, depending on the zone you live in. But for me, it's the perfect time to be Spring pruning hydrangeas. In the past, I tried doing it in the Fall, and every time I did, it stunted the blooms. (insert unhappy face)
Some varieties of hydrangeas bloom on new growth, and some only bloom on old wood. And then there are varieties that bloom on both!
If you're unsure of the variety you have, I have found that this works best for me. It can be a real guessing game, and you should do some research before pruning to learn what variety you have if you can.
Of course, I prune or deadhead old bloom throughout the blooming season, but today I'm strictly talking about Spring pruning.
What You'll Need To Prune Hydrangeas
Purchase a quality pair of pruning shears, and you won't be sorry. I use mine throughout the year, but be sure to clean and oil them regularly. This will also help prevent transferring any plant diseases or bugs you may not see from one plant to another. I clean my blades with alcohol before use.
The Best Time For Pruning Hydrangeas
For me, I wait until I see the new growth in the Spring, and because we had such a crazy cold winter, I waited extra long to make sure I didn't over-prune. Many of my plants died this past winter, but so far, my hydrangeas are looking great.
Start with the dead stems (easy to spot) and run your hand down the stem until you see the first bud or green growth. This is where you'll start pruning the hydrangea stems. Sometimes I leave a few dead stems in the middle to help support the new growth and snip off the tops.
Large blooms can really weigh down your bush, and this will give it some stability and help hold up those beautiful blooms.
Using this method ensures that the new growth is protected when pruning hydrangeas, and since I started doing this, my Spring blooms have resulted in large luscious blooms. As big as my head, if you can believe that.
Of course, these are last year's blooms, but I know that my hydrangeas are on track to producing a bumper crop this year.
I have plans to preserve some of the blooms for a floral arrangement or to decorate my fireplace mantel with them. I'll be sharing more on that as soon as I get some good blooms to try it out on. I can't wait to share that.
Thanks for joining me today, and I hope this answers some questions about pruning your hydrangeas. April showers bring May flowers!
xo, Do