If it weren't for my precious (puppy), I would have never discovered how amazing a patina finish would be on my exterior studio door. A white door and big ole puppy feet aren't a good match. The pic below is actually after I cleaned it. (shaking my head with an eye roll) Quick, please give me a paintbrush!
This post contains a few affiliate links to help you find the products I use. You are not charged extra to use any of the links, but any income I make will be used for more fun projects! To see my full disclaimer, click here.
Before The Patina Finish On My Metal Door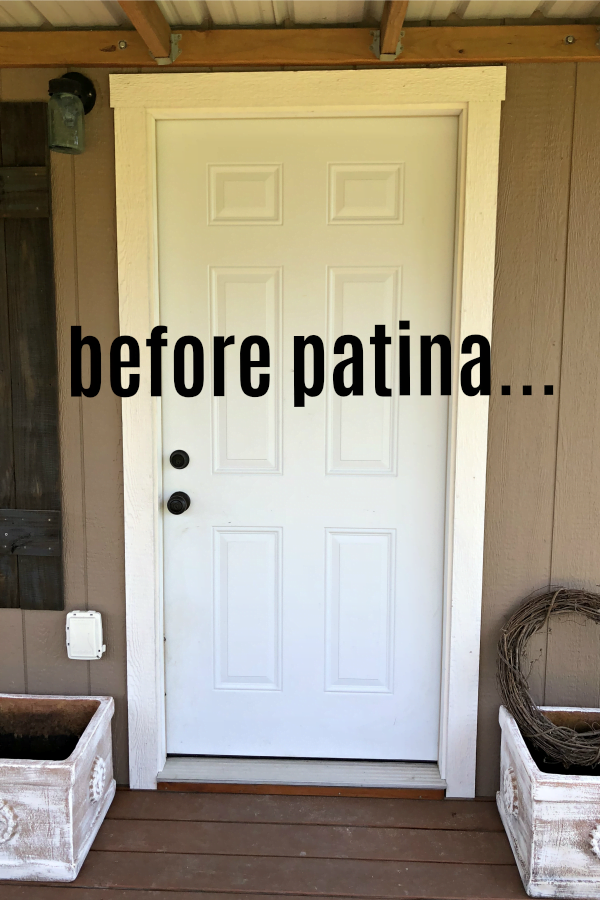 The Reason Behind This Makeover
Hey all! Meet Lexi. This is the dirty girl that leaves paw prints all over my door. Let's say she is the reason for this makeover. She has a bit of separation anxiety and does her best to follow me to work. Maybe someday she will be allowed inside when she learns that my paintbrushes aren't chewing toys for a pup. Ha! My Father in law rescued her from the side of the road in a ditch after being abandoned. I'll never understand how anyone can be so cruel. Well, she's safe now and rules the porch AND door! I love my fur babies.
Priming The Metal Door/Aged Patina Finish
I started by cleaning and then priming the metal door with BIN primer. The door had a factory primer when I purchased it, but it's been exposed to the weather for a few years. To be safe, I painted 1 coat of primer over the whole door to be sure. Also, since I was planning on using a patina paint and spray activator, a primer must be applied to protect the metal door from the corrosion of the patina activator. Don't miss this step on your metal projects.
* If you're painting a wood door, the primer isn't necessary. The patina activator will not damage the wood.
Painting The Base Color Of The Door
Before applying the patina paint, I painted the base of the door with a beautiful blue color called Bunker Hill Blue by Dixie Belle Paint because I want the predominant color to be blue.
Spray Activator For The Patina Finish
After applying the patina paint in just the areas that I wanted the patina, I sprayed the activator while still wet. I was right about the patina and blue combination. It worked! The whole door was sealed with Gator Hide from Dixie Belle to protect the patina finish. It's perfect for projects that require a little extra protection from water and humidity. I think the puppy paw prints are a thing of the past.
Aged Patina Finish Perfection!
How about this finish on furniture??? I gotcha covered! CLICK HERE to see how this looks on second-hand furniture. Thanks for hanging out with me today. I hope this will inspire you to play around with these fun products. "Creativity is intelligence having fun." ~Albert Einstein~
Until the next project… xo, Do