New Office Studio Makeover Ideas

Notice: Undefined offset: 4 in /www/clients/dododsondesigns.com/htdocs/wp-content/plugins/ultimate-social-media-plus/libs/sfsi_widget.php on line 1356


Please follow and like us:

I made it! My new office space is complete just in time for New Year's day 2018. Happy New Year everyone!
New Office Studio 2018
On December 15th, 2018 I decided that Mr. Honey Do and I should NOT be sharing office space. My studio is about 750 square feet including the room above that wasn't being used. I never thought about moving my office out there until my better half brought it up. For some reason, he doesn't approve of my decor. HA! I was just trying to make it pretty. Men! They have no taste.
I had 2 weeks to get this done before the New Year and was on a mission to make it happen. So, now that it's done, I'd love to give you a tour. I'm so proud of my space and a lot of things that I used to decorate with have a significant meaning to me. I'm a bit of a sentimentalist and I save almost everything that relates to a good memory. I call my design for this new office space, Modern Eclectic Farmhouse.
This post contains a few affiliate links to help you find the products I use. You are not charged extra to use any of the links, but any income I make will be used for more fun projects! To see my full disclaimer, click here.
New Office Studio Makeover
As I said, this space has been empty for a year and I have been using it for storage. It's a great space, but storage wasn't the greatest idea being upstairs. Carrying things up and down is a bit on the dangerous side.
I decided when we built the studio that I wanted ship-lap walls. After pricing the materials, we came up with another plan. That stuff is crazy expensive! Instead, we used fence pickets. I sanded each and every board before nailing them to the wall. We were careful in spacing and staggering each board to give it a realistic look. I just love the gaps in the wood. It was a lot of work, but it saved us a ton of money. We spent about $300 on 2 walls, trim, and the stairway walls.
The flooring is simply particleboard. I had plans for carpet, but for now, the painted floors will have to do. It's a rustic office for sure! I'll just use rugs.
I found this cool wooden piece off of an old buffet table. It had great details, so I saved it. And wouldn't you know… it fit perfectly above my window.
For the trim, I used a primer before painting. B-I-N Primer is the best for blocking wood tannins. I painted the trim and the walls with Sherwin Williams Paint in a cream color. The same color that was used on the trim, I made a whitewash using 1/2 paint and 1/2 water. I rolled it on and used a paintbrush to cut in the corners.
New Office Tour 2018
Welcome to my new office! Can anyone ever have too much mercury glass and tufts? I think NOT! A mercury glass table lamp is timeless and adds class to any space. I found a similar lamp HERE.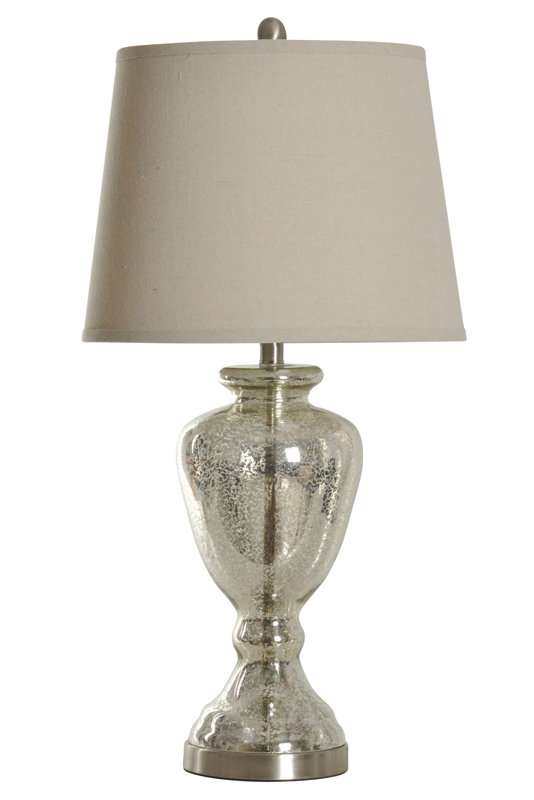 My office desk chair I purchased from Wayfair. Look at those tufts! It's super comfy and heavy-duty.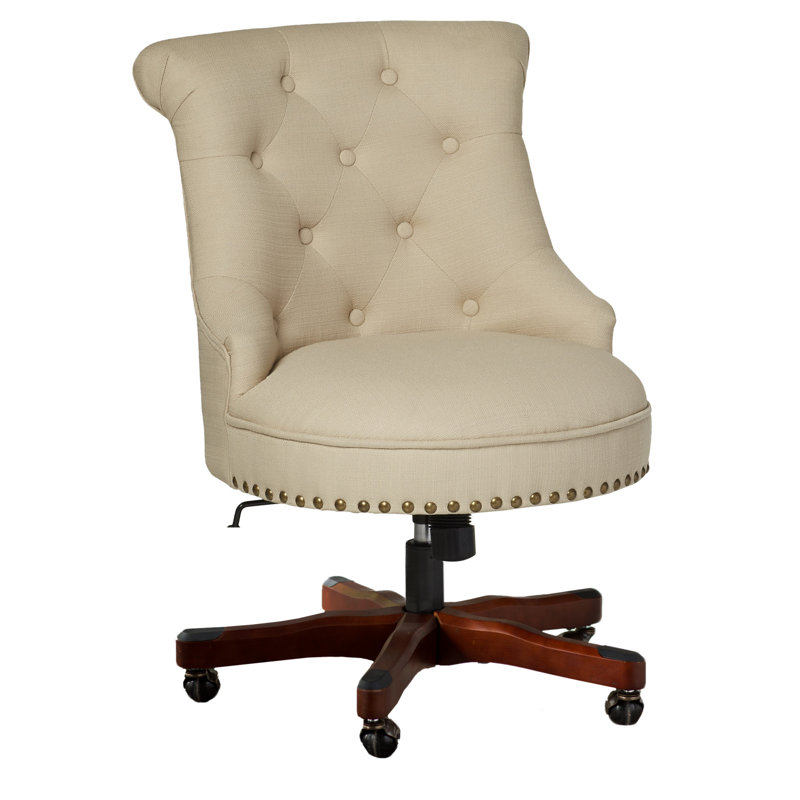 The shelves were made from Wooden boxes that I had found. CLICK HERE to see the full makeover.
And that RUG! I still swoon every time I walk in my office.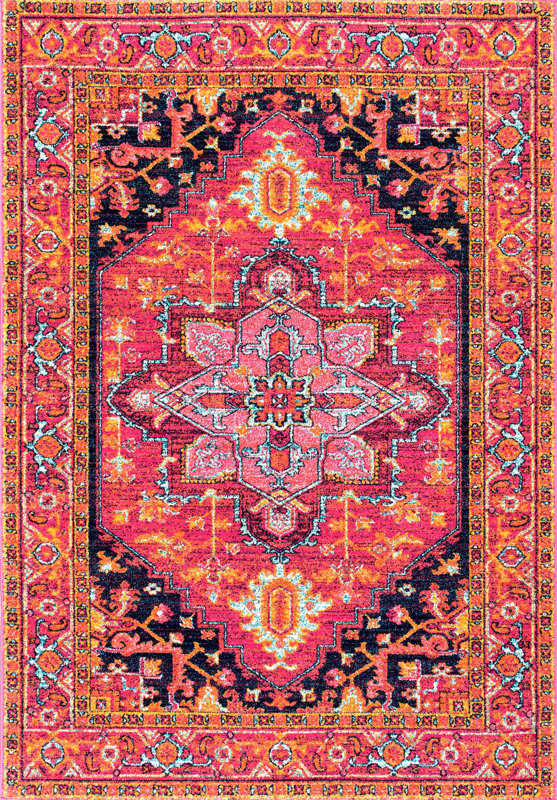 Lined baskets are perfect for magazines and tucking them under chairs saves space and keeps the clutter down. They come in handy when you need to do a quick clean up in a hurry. I love the lining too.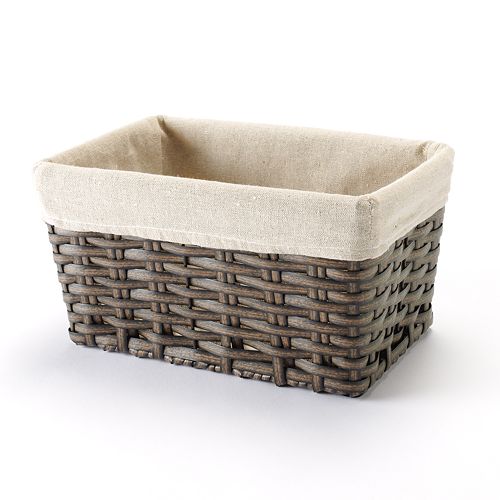 A girl needs nice pillows and I love me some fur! These Mongolian Fur pillows add a bit of softness to the room.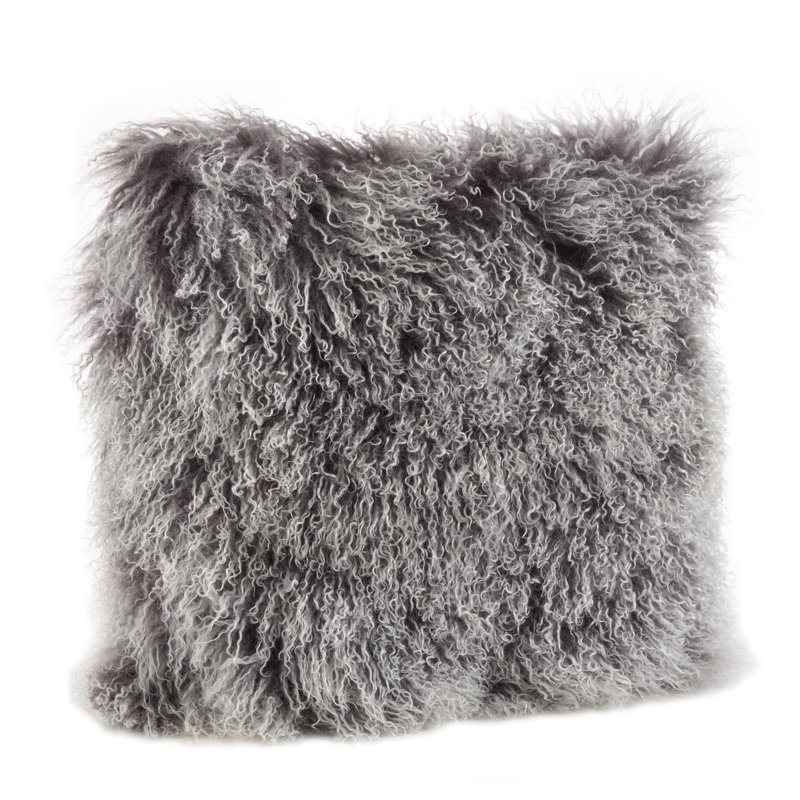 I used a mandala stencil that I made with my Silhouette Cameo 3 to accent the dry brushed finish on this old chest. The handles painted with Rustoleum Gold spray paint. It's my favorite for adding gold bling to hardware.
New Office Vintage Vignette
The entryway to the office has a loft that overlooks the downstairs. I chose to leave the wood on the walls and the stairway raw and unfinished. I may whitewash it later. The jury is still out on that one.
The quatrefoil patterned rug is from Target. I needed a pattern to break up that solid color floor. It really changed the whole look of this space.
You must be asking yourself by now, why does she have that old dilapidated chair in her office. Time and life take its toll on us all… we become old and feel useless. To me, the chair in my office represents a life well spent. Just waiting for the final day. She has good bones and someday, I'll make her new again. Until then, she lives with me.
Therefore if any man is in Christ, he is a new creature: old things are passed away; behold all things become new.
2 Corinthians 5:17 KJV
The chippy goodness on this old table wasn't reproduced by me. I would love to take the credit for that. This is the perfect example of a great patina produced by time. I simply sanded and put a clear-coated on it to preserve all that chippy goodness. Isn't it amazing?
Nesting trays are a quick and easy way to decorate a table and prevent things from getting bumped off the table. Especially if you have pets as I do. We all know my little darlings would never break anything. Ha! See the nesting trays at Ballard Design. I got these from my Mother in law for Christmas. She has great taste!
The Coffee Bar In The New Office
Ahhhh yes, the Duncan Phyfe table… another freebie. The table was painted with WISE OWL PAINT. The stripes were created with GOLD LEAF.
I've been wanting a three-tiered galvanized tray for my coffee bar. Filling it up with teas, cocoa, and specialty coffees will be fun. I got mine from Decor Steals. I found a similar one HERE.
This cool chandelier stencil that was used to create my wall design was purchased from the Cutting Edge Stencils.
The metal claw feet were cleaned up and accented with gilding wax called RUB N BUFF. It's a great way to add a fresh new look to old hardware and it comes in multiple colors.
The Gallery Wall
I started creating this gallery wall downstairs shortly after the studio was built. I add things I love in a random fashion. Scraps of old wood and metal always add interest. It makes me happy.
The railing was created from copper piping. Mr. Honey Do knocked that one out of the park!
Modern Eclectic Farmhouse
Thank you once again for joining me today. Wishing you a happy and healthy New Year in 2018. I can't wait to see what 2018 brings. Blessing to you all.
Until the next project…