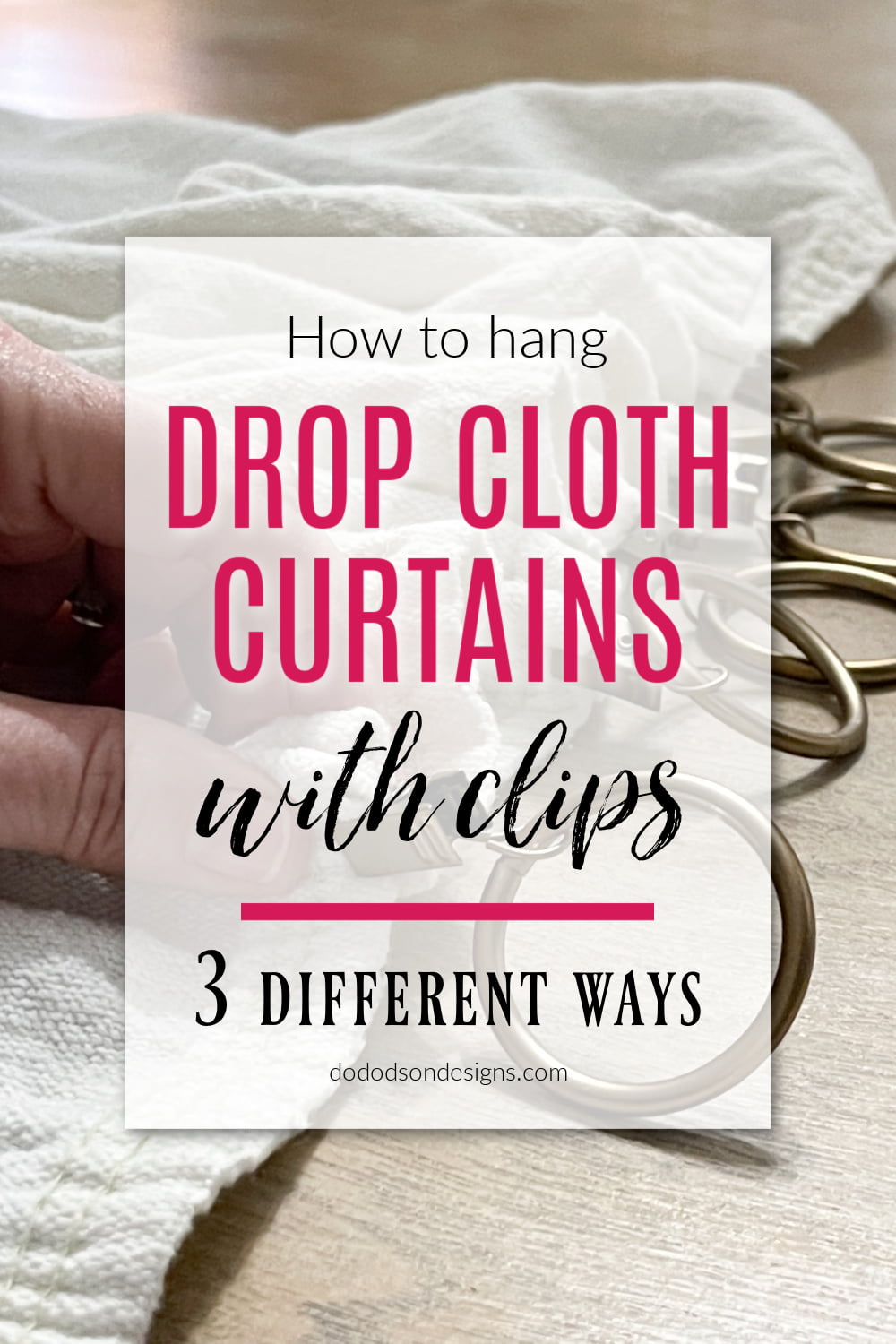 DIY drop cloth curtains are super easy to make, but what about getting them hung over your window? What about the hardware to hang them with? What color hardware should I use? What size hardware do I need? How do I style them? Do you make pleats or not? These are the questions I received after my recent post on making drop cloth curtains, so I thought I'd answer these questions here.
* As an Amazon Associate, I earn from qualifying purchases and through other companies as well. You are not charged extra to use any of the links, but any income I make helps me create more amazing DIY projects to share with you! To see my full disclaimer, click here!
How To Hang Drop Cloth Curtains With Clips
I have to say that these clips are everything when it comes to hanging your drop cloth curtains—no sewing required and minimal effort. Just clip and go. That's my kind of DIY.
Curtain Ring Clips – What Color Or Size Do I Chose?
Do your homework before you make your DIY drop cloth curtains. You will need to choose a color or finish and the clip size to hang them from. There are many options to choose from, but here are some of the ones I like to help you decide on.
What Size Curtain Rings Clips Should I Use?
The curtain ring clip's size will depend on the curtain rod that you choose or already have. You want to ensure that the rings are large enough to slide freely on the rod, so get them a little bigger than the rod.
What Style Should I Use To Hang Drop Cloth Curtains?
How you style your DIY drop cloth curtain should be a reflection of your style. Do you lean more toward the modern side or love the farmhouse vibe? Here are a few simple examples to help you choose.
Should I make Pleats Or Not? If so, how?
Style #1

Casual
Great question! That depends on the look you're going for. You might choose this simple, carefree method without pleats for a casual look. This look is popular with farmhouse style, and the amount of hang depends on the spacing of the clips. I used 7 clips for each 6X9 panel for this look. Try using 5 clips if you want the top of the drop cloth curtains to have a larger hang between clips.
Be sure to space the ring clips for an equally uniform look. This is easily done by measuring the width of the drop cloth panel and finding the center. Place your first clip on the center, and then work your way out the ends. Fold back the end pieces before attaching the ring clip for a clean look.
Style #2 Elegant Pleats
Making pleats on your drop cloth curtains is super easy and doesn't require a sewing machine. It's all in the ring clip, baby. Here's an example of how-to pleat drop cloth curtains with ring clips.
You could always choose to iron the pleats for a crisp look, but I prefer the organic, all-natural look. Hello! It is a drop cloth. 🙂
Style #3 Traditional Valance
And lastly, if you're a traditional valance lover… try this method of folding over the top part of your drop cloth curtain 12-14 inches for an instant valance. Because it's folded over (double fabric), you won't be able to add pleats to this style using ring clips. I personally see no need for it. It looks lovely as is, and it hangs nicely. I really like this style.
My Style
I'm very pleased with how these DIY drop cloth curtains look in my office. Airy and bright, I get lots of natural light filling my space. The curtain ring clips are a game-changer!
Thanks for joining me today, and I hope this has answered any questions you may have had on hanging drop cloth curtains with clips. I'd love to hear your feedback on these methods, and if you have suggestions for more no sew methods, please share them in the comment section below. I'd love to hear from you. 🙂
Until the next project… xo, Do