Have you ever wondered how to paint a piano? Well, before you even consider painting one, you might want to head to the gym and pump some iron! I'm not even kidding. These suckers are heavy! These regal beauties can weigh anywhere from 300 to 900 lbs. My guess is the 500 lbs area. Thank goodness it had rollers. But guess what? They were rusty! Kind of like me. Ha! I don't roll as well as I used to either. I would give anything if I had a video of how we (hubby and I) got this sucker in the house. Let's just say it ain't happening again. It is here to stay!
This post contains a few affiliate links to help you find the products I use. You are not charged extra to use any of the links, but any income I make will be used for more fun projects! To see my full disclaimer, click here.
How to Paint a Piano in 1 day!
Watch the replay LIVE below as I teach you how to add highlights on painted furniture.

Cleaning and Prepping the Piano For Paint
Prepping is the most important step in painting furniture. That's why I use Dixie Belle products. I know that I'll get a great finish every time and they know how to paint a piano! Here is what I used for this makeover. Purchase your Dixie Belle Products HERE.
How to Paint a Piano with Chalk Mineral Paint
After the prep work was done, I painted 2 coats of a beautiful grey color called Driftwood. It's one of my go-to greys in the Dixie Belle line. I blended another lighter color called Fluff (a beautiful white) on the areas that would normally receive the first light. What is the first light? Well, let me share a tip with you about highlights. The first light is the area of the furniture that is touched first by the light. That would be any protruding area. Here's the best tip for highlighting these areas. Put your piece near a window and look at where the light hits it first. These areas will be lighter. This is called highlights. I like to add these highlights to my furniture to give it the appearance of light. I do this with a lot of my pieces, and it really makes a difference.
Applying Easy Peasy Spray Wax
I love a waxed piece! For furniture that isn't considered a high traffic piece… meaning it won't be touched a lot, I still prefer wax. Easy Peasy Spray Wax is a game changer! No more messy brushes and sore shoulders from buffing. Spray it on, let it dry, and lightly buff. That's it!
Highlighting With White Wax
After the Easy Peasy Spray Wax had dried, I used a white wax to create even more highlights in specific areas. This was applied with a chip brush and blended to a flawless finish. When using colored waxes, using a clear wax first will help you control the look you want. Of course, I had to add a bit of gold. Those big beautiful legs deserved the attention.
And… this is how to paint a piano in 1 day!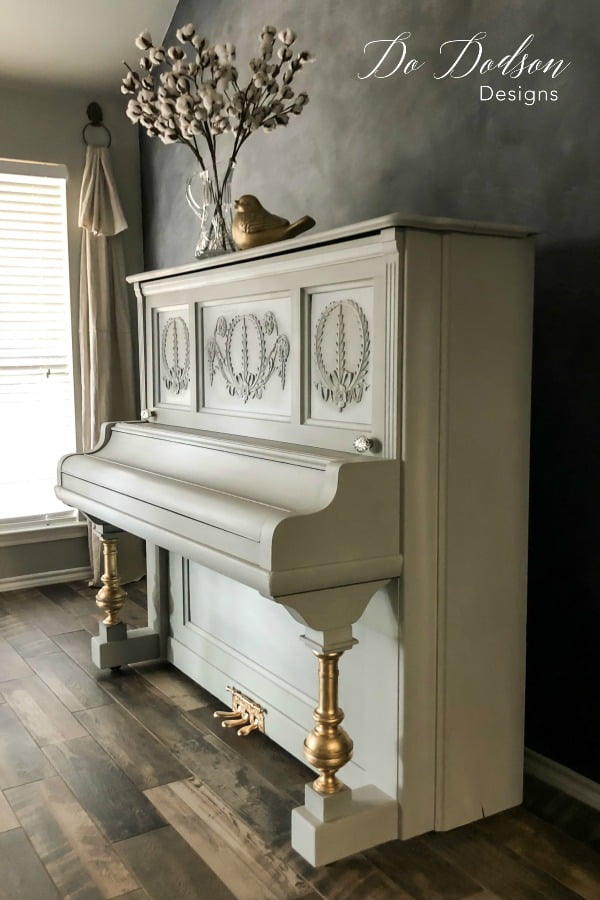 Did you enjoy this project? I'd love to hear your thoughts about painting a piano. Drop them in the comment section below. Or if you would like more paint makeover inspirations… Check out this colorful makeover!
Until the next project… xo, Do