Hey creative friend! This week's blog is all about turning trash to treasures with a chippy paint technique. Literally! Because we have been sheltering in place, the Dodson household has created a lot more trash than usual. I've heard the term "trash to treasure" in the DIY world but never really gave it much thought… until now. So, I did a little research on the subject. I was amazed at what you can actually create from items in your garbage can. 🙂 Yep… I'm painting trash today! Join me on my trashy rendition of TRASH TO TREASURE makeovers.
This post contains a few affiliate links to help you find the products I use. You are not charged extra to use any of the links, but any income I make will be used for more fun projects! To see my full disclaimer, click here.
Chippy Paint Technique: From Trash To Treasure Home Decor
Take a look around… what do you see in your home that you salvage? All you need is a little imagination and a DIY chippy paint finish to transform those items into Hobby Lobby quality home decor. A DIY chippy paint finish can be applied to metal, glass, or wood. Think of the endless possibilities! ♥

Product List For A DIY Chippy Paint Finish
*Just so you know, the can of corn was supper and the bottle of wine was dessert. 🙂
Application Of Paint
Firstly, clean the items well you have chosen with soapy water and rinse well with water. Towel or air dry. Be sure to remove any leftover glue that could be on the surface from labels that may prevent the chippy paint finish from adhering.
Next, apply a heavy coat of chalky paint using the stippling technique with a 2-inch chip brush. You'll need to dab the paint on instead of brushing it on. This also creates texture and that exactly what you want in a chippy paint finish. So don't be stingy with the paint. 1-2 coats will be needed depending on the color you chose. Allow the paint to dry thoroughly between coats. I don't paint the bottoms of the cans or bottles.
How To Use A Broken Candle Stick For A Chippy Paint Finish
Hey! I used what I had! I know that wax repels water and my chalky paint is water-based, so I grabbed a broken candlestick. Don't ask me why I saved these things… 🙂
Thirdly, rub the wax over the first color of the paint. Rub it in the areas you want the paint to chip away. Here's a tip… warming up the candlestick helps a lot with the application. I used my heat gun to soften them up but not melted. Just enough to rub the wax on at the end of the candlestick. Like a crayon! It won't be smooth. You will see the wax and that's okay. It's there for a reason. A chippy paint reason!
Then apply the second paint color of chalky paint over the wax using the same method "stippling" or "dabbing" just as the first paint color. You can even use the sides of the paintbrush to give it more texture. Yep, just blob the paint right over the wax from the candlestick. One thick application of chalky paint is all you will need. Don't be stingy! Allow the second coat of paint to dry thoroughly. We want that texture for an amazing chippy paint finish.
Dixie Belle chalk mineral paint is my go-to for all my projects. It adheres to almost any surface you can imagine.
Easy Peasy Chippy Paint Technique
By now you should be seeing some subtle cracking in the paint after it has dried. This is exactly what you want. Applying the chalky paint on thick will make it crack. Kinda like a crackle finish but not as much. This adds even more character and textured goodness in the chippy paint finish.
Grab a piece of sandpaper or R.A.D. pad (my favorite abrasive) and go to town. As you rub on your painted surface, the wax from underneath will peel away to reveal the darker color underneath. And like magic, instant chippy paint finish! You can see how strategically placing the wax can give a realist look to your project.
How To Add A Weathered Look To Chippy Paint
Super-fine steel wool… have you ever tried it? It's like sandpaper that leaves a beautiful grayish color behind. It's gorgeous and works well on other chalk paint finishes like this NO- FAIL chippy paint technique I recently did on an antique door makeover for a client.
DIY Home Decor Trash To Treasure Results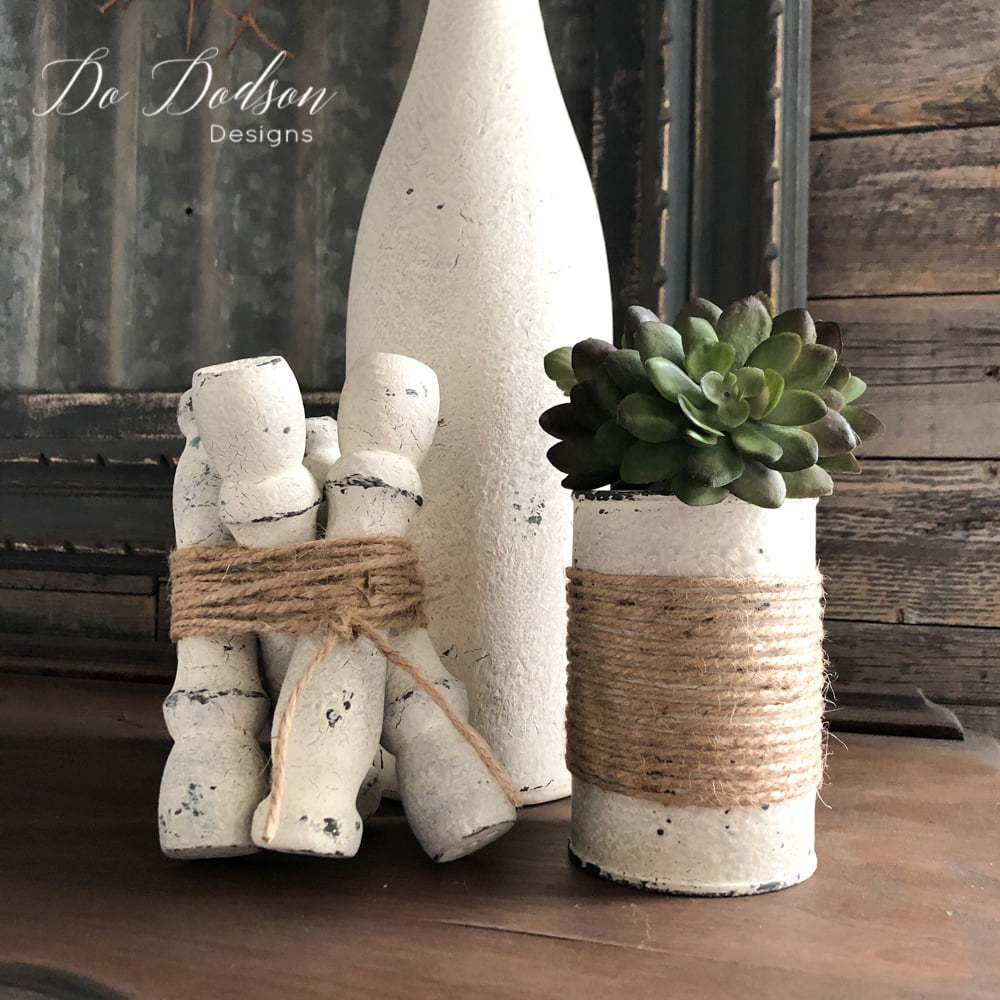 Now that's a budget-friendly DIY home decor hack. I'm pretty dang proud of how my trash turned out. I dressed my trash up a bit more by adding jute twine and secured it with some hot glue. Look out Hobby Lobby!
From Trash To Treasure
So, what do you think??? Would you turn your trash to treasure using this DIY chippy paint finish technique? I'd love to hear from you and welcome any and all comments. What would you do differently to dress up your trash? Drop me your ideas below.
Until the next project… xo, Do