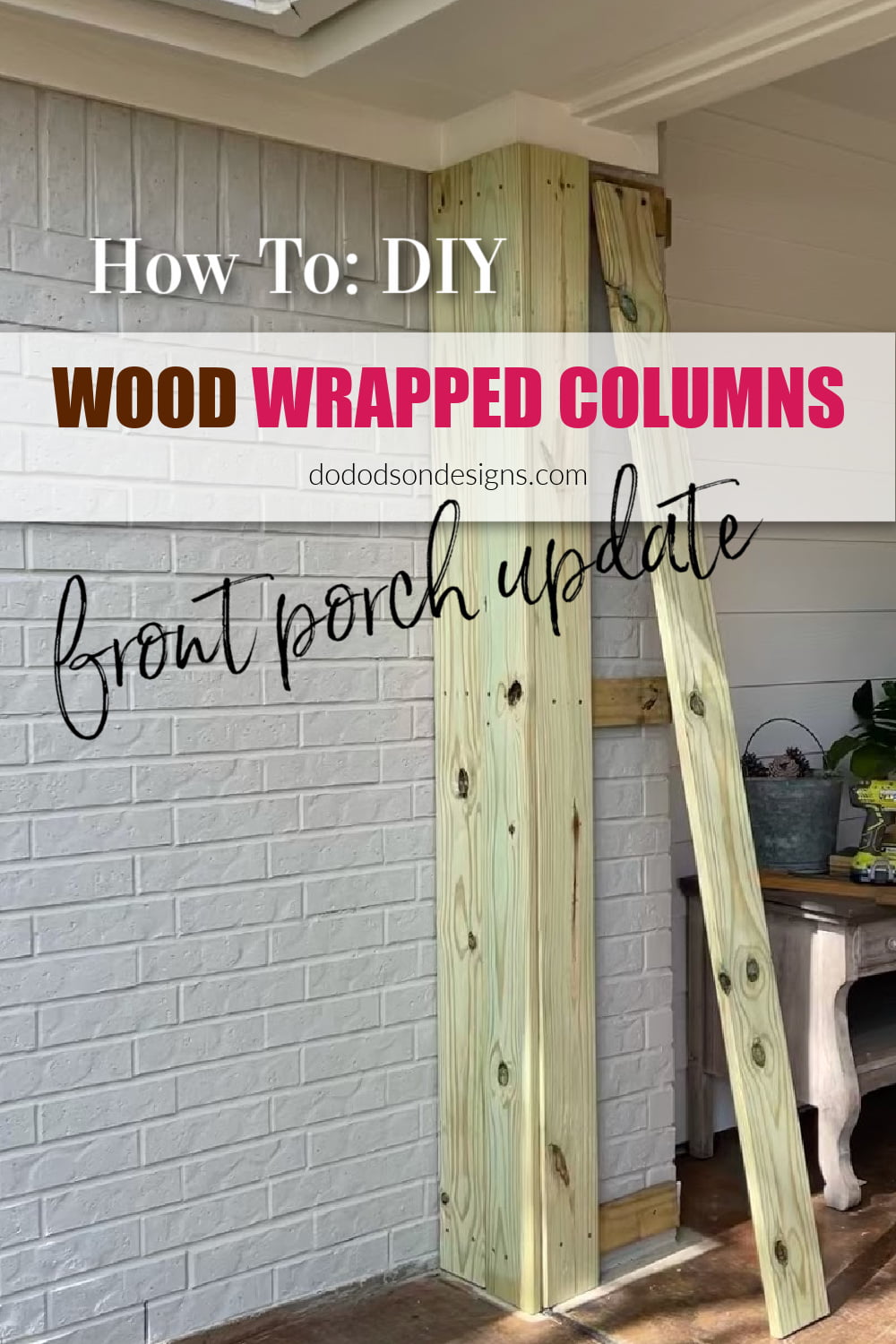 I always wanted beautiful wood wrapped columns on my craftsman-style porch since… forever. But I also wanted an old fixer-upper farmhouse before that. That didn't happen!
* As an Amazon Associate, I earn from qualifying purchases and through other companies as well. You are not charged extra to use any of the links, but any income I make helps me create more amazing DIY projects to share with you! To see my full disclaimer, click here!
How To DIY Wood Wrapped Columns Over Brick
So, there's no reason I can't make wood wrapped columns happen as I do with so many other things around our home. But you know how the menfolk are. "There's nothing wrong with the brick."
Are you talking to me??? Did you forget who I am? Silly man! He knew right after he said it that I had an idea. And we all know what that means. Let's DO this!
SUPPLY LIST:
treated lumber (we used 1X6 boards)
To get the natural wood look finish on the treated lumber, I used these products.
Wrapping Wood Columns
Okay, so these really aren't considered columns, but it is a design element with potential. We have been working on updating the exterior of our home for a bit now, and this is the last thing on my list to tackle.
Last month I made new DIY wood shutters, and today I will be repeating that design element for a cohesive look. Also, check out my modern house numbers sign I made out of treated lumber.
As you can see, the brick decorative columns blend right in with the "painted brick," which I'm in love with. Wrapping the brick with wood will break up the transition from brick to the siding on my front porch.
STEP 1 Wood Wrapped Columns
Before wrapping a brick column (or any column that's not wood), you'll need to do the first thing before wrapping a brick column (or any column that's not wood) to give the wood something to attach to. We added wood pieces at the top, middle and bottom and attached them with concrete anchors. I cringed a little when we drilled into that beautiful brick.
But we made sure that we only drilled into the mortar so if we ever decided to remove the wood, the holes could be filled easily. There was no damage to the brick.
STEP 2
Next, we cut 1X6 treated lumber to the length we needed to wrap the brick columns. This will take a little finesse. We were fortunate that we only had to rip down a few boards to fit.
I secured the treated lumber with galvanized decking screws since it will get exposure to the outdoor elements. This is important because rust happens, and you don't want your beautiful wood-wrapped column to fall.
Here you can see how beautiful this will be when it's completed. What a huge difference this will make on the front porch!
I did some light sanding on the treated lumber to remove the stamped ink letters on the wood before finishing it out.
STEP 3
And lastly, we added a trim board at the top and bottom of the wood-wrapped columns. I used a combination of stains to get the natural wood tones I wanted and sealed the wood with a waterproof coating of Gator Hide. It's my FAVORITE top coat.
I could love the results any more than I do. It is exactly how I wanted to transition and frame my front porch. Wrapping the brick columns with wood gave it a homey, warm feeling. Just in time for the 4th of July!
Like this idea? Don't forget to share and pin it for later. And let me know what you think of this in the comment section. I always love to hear what you have to say. Or just say Hi!
UPDATE: Since completing the remodel of this home, we purchased a ranch fixer upper and we've started all over again. UGH! CLICK HERE to our new home and the renovations that we've done so far to make it our own.
Until the next project… xo, Do